When I recently swapped to a GoPro Hero 9 camera after using Drift cameras for years I was pretty disappointed by the GoPro motorcycle helmet mount options. Out of the box, your only option is a sticky pad to plonk the camera on top of your helmet. Fine if you don't mind looking like a telly tubby and having a huge air brake dragging your head back.
Alternatives either bolt the GoPro sticking out at the side of your helmet or near the chin. Both often use some convoluted sequence of brackets off a sticky pad on the side. All because the GoPro's do not have a rotatable lens or a side mounting like the Drift cameras, so must be mounted upright from a mounting on the base. The problem with all these scaffolding brackets is a) you need to buy them separately b) they add extra weight to your lid and c) too many can introduce a source of wobble screwing up your footage. That's when I came across the Motoradds GoPro Motorcycle Helmet Mount chin bracket which appeared to be a far better solution.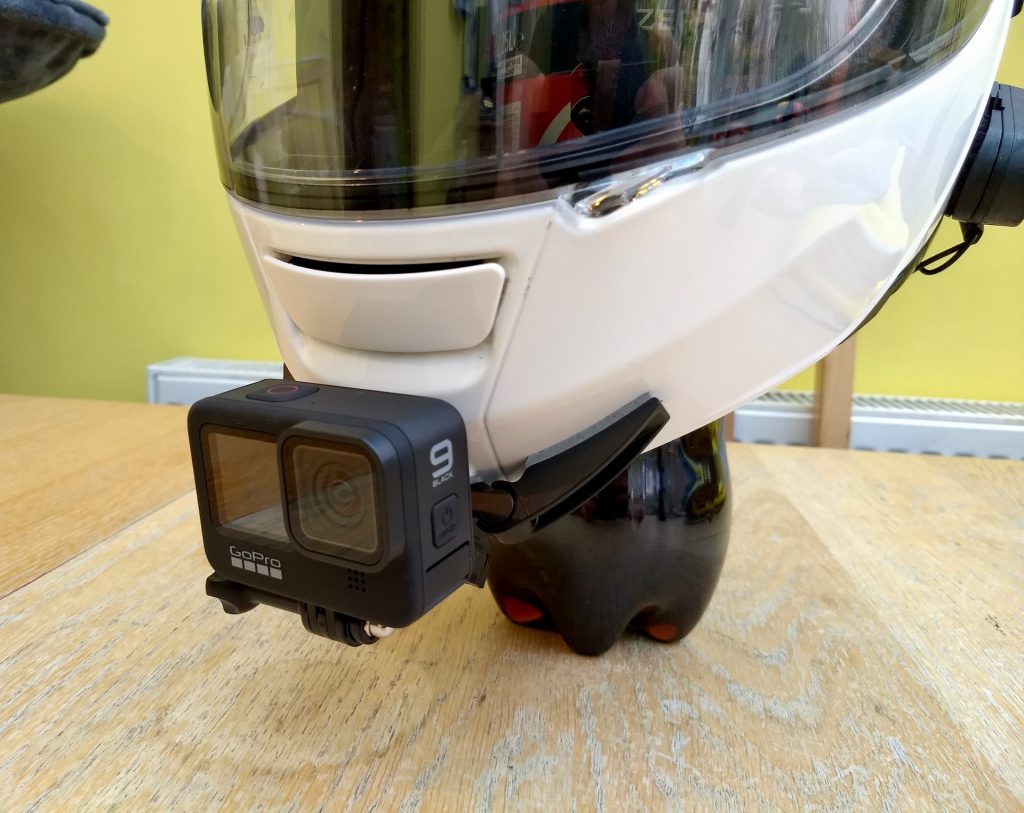 → Buy the Motoradds GoPro helmet chin mount from Amazon
The Motoradds GoPro helmet chin mount is a US-manufactured product that comes in at around £30 but doesn't feel like cheapo flimsy plastic like many far Eastern accessories you see littering Amazon. It comes in three parts, a central GoPro mount plus two hinged arms that extend on either side. All three parts have strong 3M adhesive pads on the back. It's this articulation that is key, it means the arms can be moved to follow the contours of whatever helmet you have, whether it has a rounded or more pointy chin shape. Although it has a lot of flexibility, it may not fit all helmets especially really pointy chins. Check the Motoradds website for a list of helmets known to be compatible or not.
I fitted it to my Shoei Neotec flip-up lid with no hassle. I had to place it quite low down to leave access to the chin vent and switch, but the central pad and arms of the Motoradds GoPro motorcycle helmet mount still nicely sat flat to give good adhesion. However this low angle of mounting using a simple P bracket on the camera left it aiming too low, it was just too close to my helmet to angle back enough. So I had to opt for a short 35mm bracket to place the GoPro far enough forward to let me angle it up straight.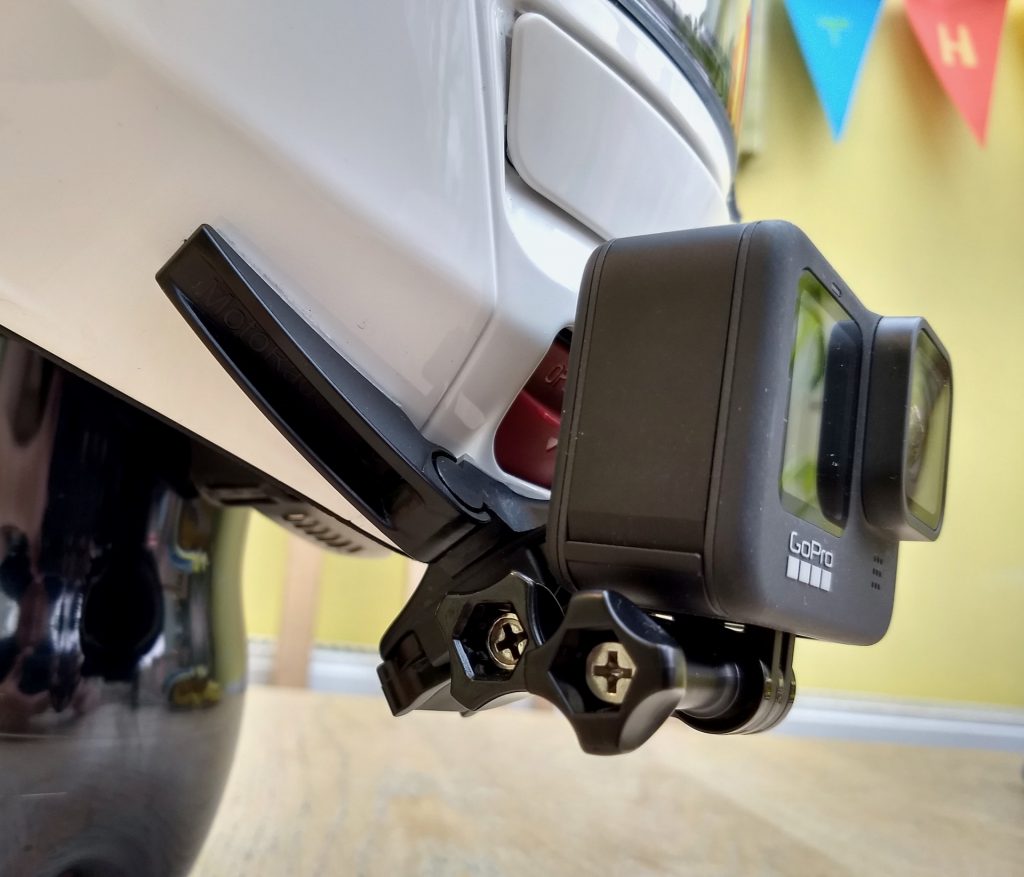 On the road, the Motoradds GoPro helmet chin mount has held up fine with no issues. The adhesive has held strong and shown no signs of coming loose. I'm getting great stable footage at a good angle (and no helmet spoiling the shot). It's streamlined and only adds a mere 50g of additional weight. Considering the GoPro Hero 9 with a bracket weighs 200g, so really just a small proportion. I didn't notice the combined weight being unduly uncomfortable when riding, though it was very noticeable once I flipped my helmet open.
Trying to use the camera or clip/unclip is quite tricky whilst wearing the helmet, but this will apply to any helmet mounting and can be overcome by using the GoPro phone app or remote. The only downside with this chin mounting is I can't keep recording good footage with my flip-up helmet open – I'd just get sky shots! But that's not a complaint you can level at the Motoradds mount, it's just a downside to a chin-mounted camera.
Motoradds GoPro Motorcycle Helmet Mount Conclusion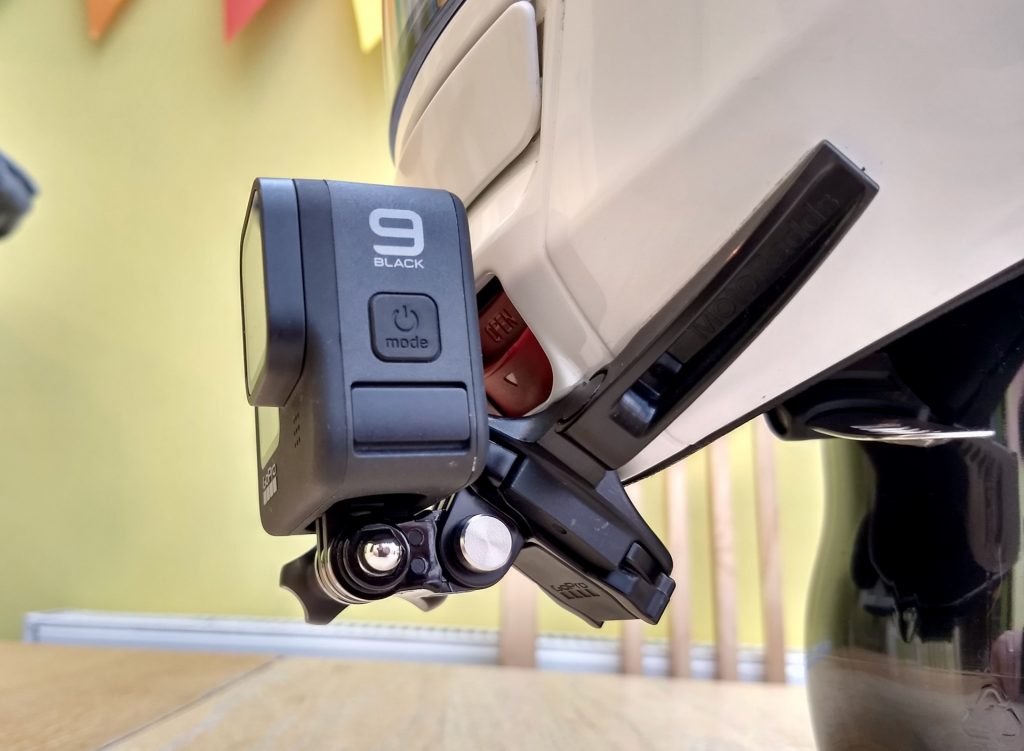 It is not the cheapest mount on the market, but it's a quality product that fits a niche very well and comes with a lifetime warranty. If you're after a chin mount for your GoPro, you can't go wrong with the Motoradds, I highly recommend it.
Rating 4.5 / 5
→ More details and buy direct (in the US) from the Motoradds website