The problem with reviewing cold-weather motorcycle gear is you actually need some cold weather. This Autumn it's been strangely mild in the South East of England. I'm starting this review in mid-November, it's blue skies, sunny and I have the conservatory doors wide open. I don't know if this is climate change, but as beautiful a day as it is, it doesn't make this Exotogg review very easy…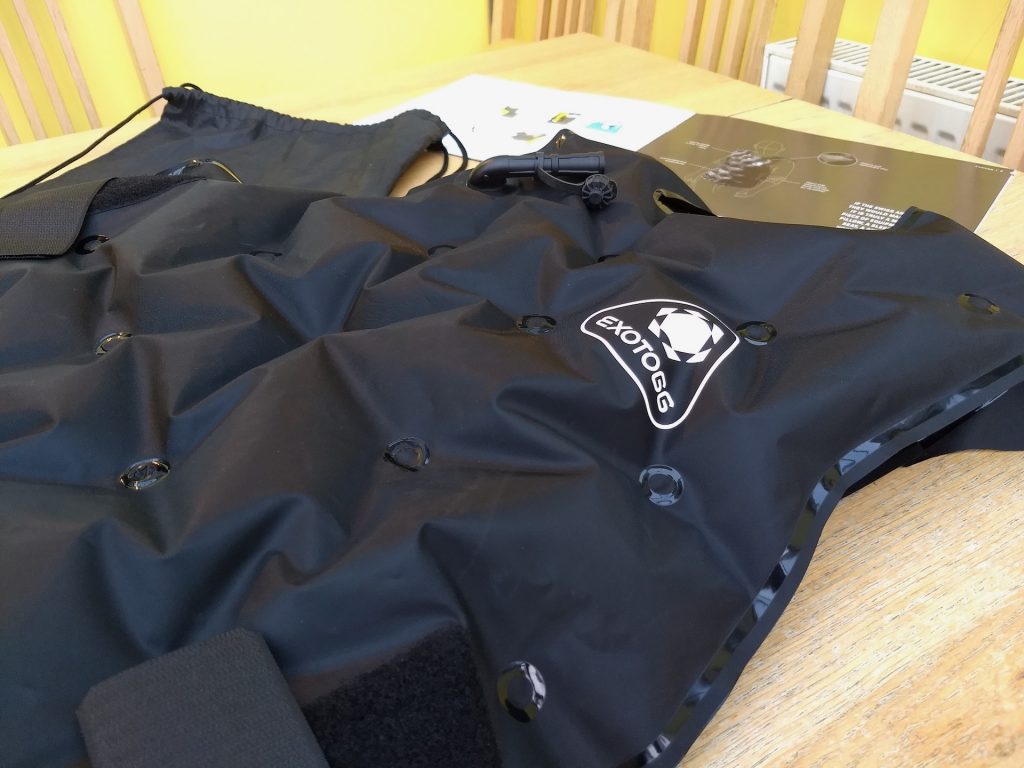 The Exotogg body warmer is not your usual cold-weather layer, it's essentially an inflatable gilet/vest that you don under your bike jacket, which you then inflate with three or four puffs of breath, whereupon it'll form a nice layer of air that will keep you warm. If you get too hot, you simply open the valve and squeeze the air out. The idea being you inflate or deflate it as and when needed, easy-peasy.
Using a layer of air to insulate against the cold is however a tried and tested method to maintaining warmth. Materials like fleece, down and wool all trap a layer of air to keep your body warm. So, the science behind the Exotogg vest is sound, but what advantages down it have over traditional layers?
You can inflate or deflate the Exotogg as the need arises. Unlike traditional layers which you need to put on or strip off, which is more hassle when they're under your jacket.
The Exotogg is made from TPU which is waterproof, whereas traditional layers are not good at trapping air once they get wet.
The deflated Exotogg packs down very small and is lightweight (260g), far more transportable than traditional layers. Great if touring through varied conditions.
The Exotogg Body Warmer in Use
Marketing claims are one thing, but the million-dollar question, is just how well does the Exotogg work in practice?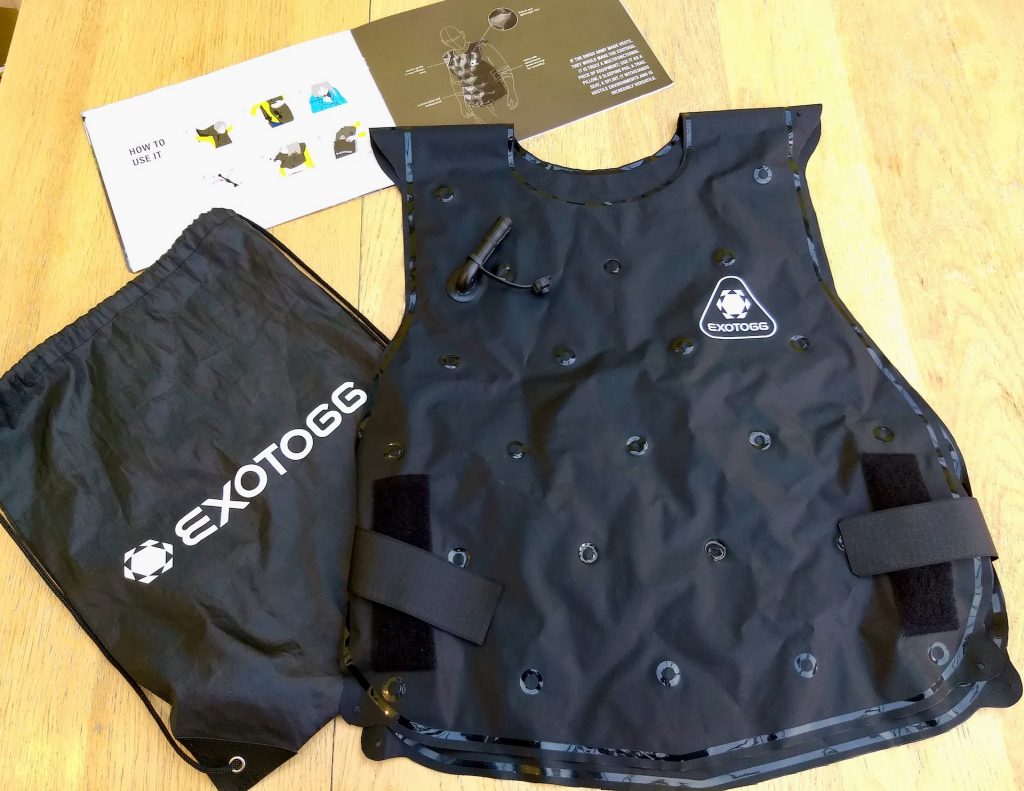 As simple and effective as the Velcro straps are in practice, they look and feel almost too rudimentary for such a premium product
Putting on the Exotogg is straight forward, it's just a simple gilet that goes over your head, not unlike a life jacket to be honest. It is then secured at the side via some Velcro strips. This is literally just a strip of Velcro that spans around your sides to stick to corresponding vertical strips on the Exotogg itself. A simple design, that allows lots of flexibility in fitting, for those with higher/lower waistlines and varying girths.  As simple and effective as it is in practice, it does however look and feel almost too rudimentary for such a premium product.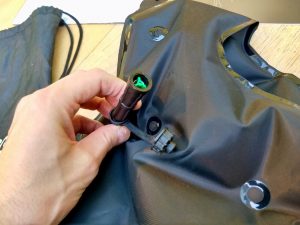 As the Exotogg vest is inflated underneath your jacket, you obviously need a jacket that's not too tight-fitting. Both Mary and I had no problem wearing it under our Modeka and Rev'It textile jackets, but my snugger Alpinestars GP-Pro leather jacket is a bit too tight for comfort with the Exotogg, but then, leathers are more for summer wear when I'd hope I wouldn't need it. Being inflatable, it does puff you up a bit, more so than other winter layers and can give the outward appearance you've eaten too many pies! Off the bike with your jacket off, it can look somewhat akin to a life jacket, definitely not the most stylish of garments you want to rock up at the pub in. As much as practicalities should trump aesthetics, for everyday wear, I think few would wear something they don't think looks good on them. Mary certainly was put off wearing something that made her looker fatter! A sentiment I'm guessing many women bikers would share.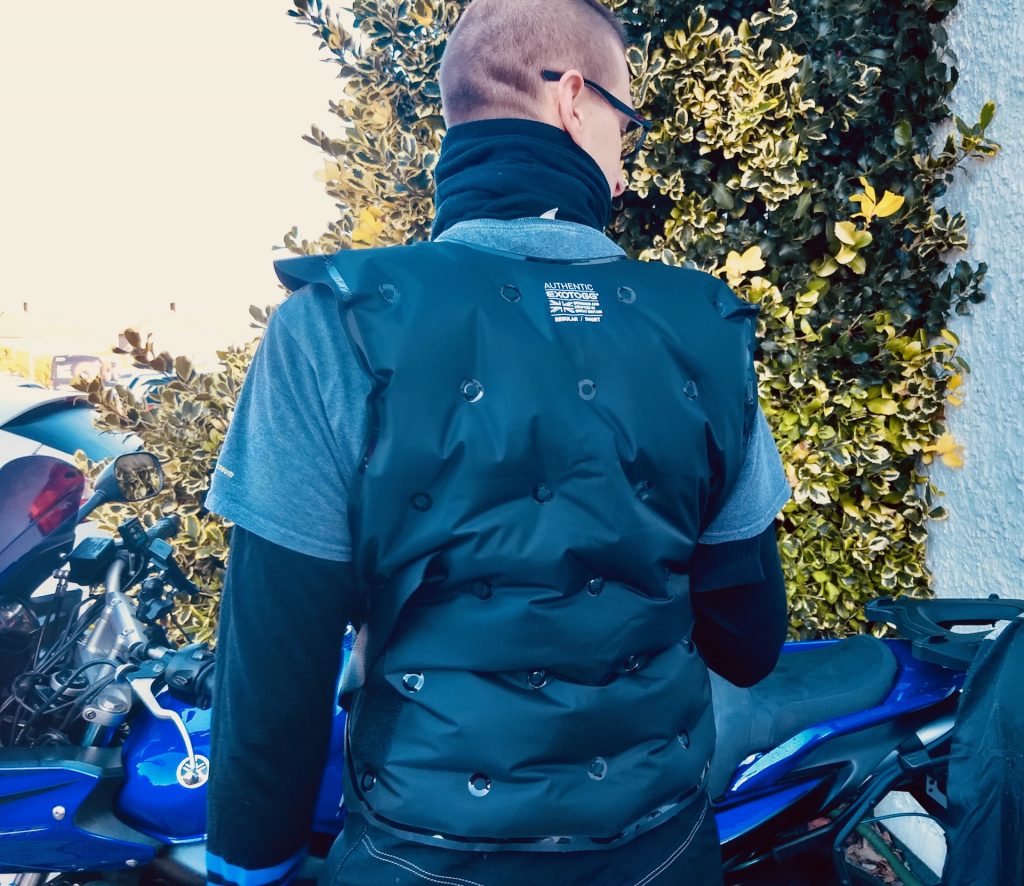 The TPU plastic the Exotogg is constructed from is strong, lightweight and does not go brittle at low temperatures, perfect for extreme climes. It is supposed to be strong enough to also double up as a camping mat or pillow too. Mary certainly found it a very handy pillow to get a brief bit of shut-eye on breaks from her nightshift at the hospital. The TPU plastic is also antimicrobial and antibacterial, so all your puffs of moisture into it should prevent it going mouldy or stinky. The Exotogg does make a slight crinkly noise when worn. Obviously, this is not noticeable when riding, but it can distract when off the bike whilst walking about. For further peace of mind, it is also backed by a generous 5-year no-quibble warranty.
Even with just a t-shirt under the Exotogg, I quickly found myself too hot and in need of a pit-stop to deflate it!
When riding on some recent cold days where the temperature was hovering around 8-10°C, the Exotogg certainly kept us very warm. I wore it with my Rev'it Sand 3 jacket, which is a typical 3-layer garment, as I figured one would typically zip in any jacket thermal liner they have regardless for the winter months. Even with just a t-shirt under the Exotogg, I quickly found myself too hot and in need of a pit-stop to deflate it! On colder days below 5°C, the Exotogg still took the edge off the cold, but after an hour or two riding, I did find I needed more than just a thin t-shirt underneath it. Mary tested it with a Modeka Manda textile jacket which does not have any thermal liner (Modeka: why not?!) and so found the Exotogg even more invaluable, but did find her arms were left cold.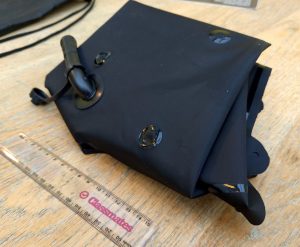 The manual says it can be deflated by pressing the valve and giving oneself a gentle hug, however, I found pressing the inside of the valve (even with the cover upturned) was fiddly and I could never fully deflate it whilst wearing it. To get all the air out I had to fold it up on a flat surface to squeeze everything out. That said, when fully deflated, it does pack very small, making it ideal to pack for emergencies or changeable conditions on a long tour. Earlier this year I was stuck on the side of the road on a cold evening waiting for breakdown recovery, the Exotogg would have been great that night (my rectifier and battery had died so even my heated gear wasn't much help).
A unique selling point of the Exotogg body warmer is the ability to inflate and deflate when required without needing to strip off all your bike gear. This is true, to a point; to use the inflation valve you will still need to remove gloves and helmet (unless you have a flip-up), then half unzip your jacket. Certainly less hassle than removing everything to add or remove a thermal undergarment, but more hassle than switching on/off a heated vest.
Exotogg Competition
There are very few other inflatable body warmers on the market, but plenty of competition from traditional thermal layers and electrically heated garments. With the Exotogg retailing for £97, that prices it above most traditional thermal or Merino wool gear and very close to many heated items. As a comparison:
You can also pick up cheaper Merino wool jumpers from Aldi or other clothing shops (I personally like Charles Tyrwhitt jumpers), and super cheap Chinese heated vests off eBay. Although cheaper, normal thermal layers can be bulky to pack on a bike when not worn, Electrically heated gear is only a little more cash and is lovely and warm, but will need plugging into a battery, so less useful off the bike unless you want to cart a big battery pack around.
Exotogg Review Conclusion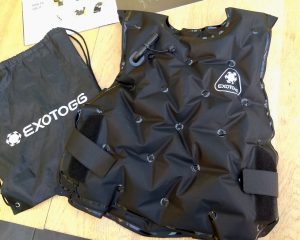 The Exotogg vest is definitely a decent piece of cold weather motorcycle gear, but is the Exotogg really worth forking out £100 quid on? To be honest, that's a tough one. It does have some key unique features that could seal the deal for you; namely, the ability to pack small and not rely on an electrical source, which could make it a better choice for a longer tour or exotic adventure through varying climates or those on and off the bike all day for work e.g. couriers, instructors etc. However, for those with a short commute or just like to enjoy weekend rides, it's a tougher one to justify the outlay.
Although we've reviewed the Exotogg vest from a motorcyclist's perspective, it should certainly be noted that it is a universal product that could prove invaluable for other outdoor activities, such as hiking, skiing, rowing, caving, shooting, fishing or even just taking your dogs for a walk on a brisk winters day.
Rating: 4/5
Visit the Exotogg website to find out more and purchase.