When your riders have hundreds, if not thousands, of destinations or clients to visit, planning routes manually is a time-intensive and inefficient solution.
In many industries, driver wages and fuel costs alone make up 59.8% of the total operational cost per mile. So even small improvements to your driver's routes can not only help you deliver packages or serve your clients faster, but can have a significant impact on your profit margin
With proper route optimisation tools, your business could save up to 20% in mileage and improve your order capacity by as much as 100% without increasing your fleet.
In this guide, we'll give you a complete breakdown of what route optimization is and how it can benefit your business. We'll examine real-world examples and provide use-cases for your industry.
We have a lot to cover, so let's get started.
What is Route Optimisation?
Route optimisation is the process of improving routes and schedules for any type of delivery or service call. It helps businesses maximize completed orders while keeping the number of riders and bikes to a minimum.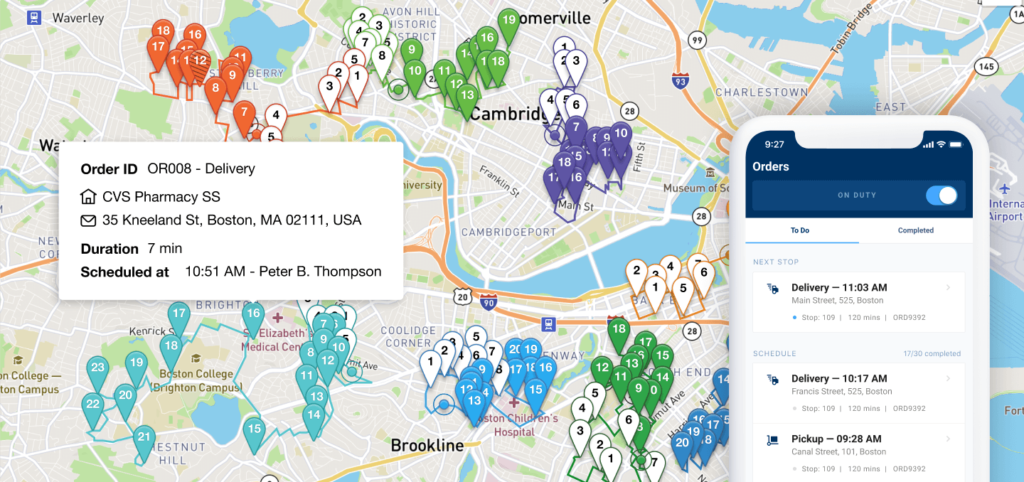 Route optimization is relevant to your company, whether you offer direct-to-consumer deliveries, business-to-business despatching or are in a service industry where your technicians visit client homes or businesses.
Routing your riders and technicians can be a costly and frustrating process, but with the right tool it can be automated — saving you time, money, and improving customer satisfaction.
Let's get into it!
Can't I optimise and plan my routes manually?
As your team, orders, and business grows, manual route optimisation quickly becomes impossible. There are multiple areas that get impacted when you do things by hand:
| | |
| --- | --- |
| | Efficiency: Are your riders using the best possible scheduling and routing? Are you using too many bikes/riders to meet demand? Beyond a few riders, manually solving these problems is almost impossible. |
| | Scalability: It takes lots of hours and intimate knowledge of your business to manually plan routes based on requirements such as area, availability, certifications, and more. As a result, you need a large amount of dispatching and operational staff to manage even small fleets. |
| | Accuracy: Are all the time windows, capacities, qualifications, and skill discrepancies considered? The more complex the schedule, the higher the chance for human error — even the best operational staff will make mistakes. |
| | Flexibility: If a rider calls in sick, or you get last-minute orders, what do you do? At scale, a planning team needs hours to adjust — this can cause delays, failed deliveries, and unhappy customers. |
| | Robustness: If your route planners, dispatch staff, or operational assistants quit, how easy is it to replace them? When relying on spreadsheets and simple tools, they need a lot of local and institutional knowledge to complete the job. |
I run a small business. Is route optimisation only for big companies?
Absolutely not. 
Route optimisation isn't just a concept reserved for enterprises and shipping empires. Modern route optimisation is an excellent tool for small businesses as well.
By managing your fleet of riders or drivers more effectively, you can lower your operational, fuel, and driver payroll costs significantly — and that's something that SMBs and enterprises can both appreciate.
With modern route optimisation software, your dispatchers or managers can also save hours of planning every day and focus on building their business/improving their customer experience.
For instance, local pool spa installation and maintenance company, Gallagher Pools and Spas, was able to plan their routes 100% faster with OptimoRoute. The owner-operator didn't have to spend all his time routing and planning his technicians, he was able to outsource those tasks to less-knowledgeable assistants and take some much-needed time off.
Find out more how route optimisation can benefit your business.
This article originally appeared on optimoroute.com