I returned to the AGV helmets brand for this K5-S helmet after having many fond memories of my first helmet – an AGV K4. I had grown somewhat disappointed with the robustness of the more expensive Shuberth S2 I currently wear. So, I decided to go for a middle-of-the-road helmet suitable for daily commuting and touring. For me, the key requirements were safety, good fit, a sun visor, good ventilation, quietness and of course price.
I picked up this AGV K5 S helmet in an end-of-line sale for a very reasonable £200 from Infinity Motorcycles, so can't complain about the price. The K5-S comes in many colour styles, some plain and some patterns, I opted for the 'Typhoon' design, as I preferred a little fluorescence to help stay visible. It's a 4-star Sharp rating, granted this test scheme isn't the be-all and end-all, but hopefully gives some indication of the potential protection it can offer.
K5-S AGV Helmet Review
The K5-S has a drop-down sun visor, which for some reason is getting omitted from many new models on the market (like the newer K6), but something invaluable for year-round commuting. I found this sun visor drops down plenty enough, though the cutaway for your nose is a little on the large size. The level of tinting on the sun visor is adequate, darker would have been better, but I understand it's limited by regulations.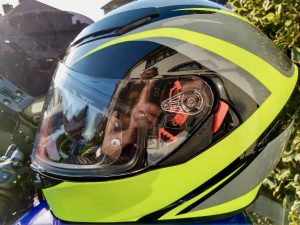 The switch to flip the sun visor is located by the main visor hinge, rather than along the base as per many other lids. I found the switch doesn't protrude enough and is quite stiff, making it fiddly to use with fat gloves on whilst riding. Though it does get easier after a couple of weeks of familiarity.
The K5-S has loads of vents: a chin vent, two forehead vents, a vent on top, an exhaust vent on the back, and a catch to prop the visor open a fraction for even more ventilation. However, the front chin vent switch is awkwardly hidden inside the helmet. Why?! You have to poke your fat gloved finger through the chin curtain to slide a depressed switch up and down. A right faff, and only after a couple of weeks of use am I getting the hang of doing this whilst riding… Additionally, this front chin vent lets through an absolute wind blast, great for hot days or steamed-up glasses, but on cold days it'll freeze your face off and can even make the inner surface of the Pinlock cold enough to steam up – not good. Also, be wary of using the top vents in the rain, water can leak through and dry on the retracted sun visor.
Comfort-wise the K5-S is pretty good, there's good padding, a nice amount of space to accommodate ears without them getting squashed and room to wear glasses without discomfort. My only minor complaint is the Velcro that holds the padding in place along the forehead can sometimes scratch a little when sliding your head in. This appears to be caused by the padding getting rucked up a bit inside, exposing some rough Velcro beneath. I also found the K5-S noticeably louder than my previous Schuberth S2. There's less padding around the neck to form a good seal which lets a lot of noise and cold air up into the lid.
The visor has good clarity, even with Pinlock in place. Always good to have a Pinlock bundled with a lid, this one came with the Pinlock70 which is their middle-of-road model for performance. Removing the visor is easy enough, just a yank down on the red catches either side. In the box also came a number of spares to replace the hinge components and offer different steps as to where you prefer the visor to click open – definitely a nice inclusion. I did find the lip on the visor base to push it open a bit awkward. Firstly, it only sticks out on the left side and secondly, its position is immediately above the front vent, so I kept finding myself pushing against the edge of the vent rather than pushing open the visor; not ideal when you're all steamed up and hurtling towards god knows what!
Overall, the AGV K5 S helmet seems a quality built helmet, but there are various aspects to it that I find less than ideal for riding in cold or wet weather. It's definitely better suited to warm riding weather. In the winter I have been frustrated by the cold draft and awkward vents.
Rating: 2.5/5
Check out AGV K5 S Helmets at SportsBikeShop