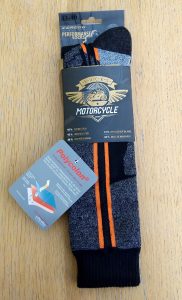 How much for a pair of sock?! Socks are socks, aren't they? As a self-confessed cheapskate frugal shopper, I purchase almost all of my socks and underwear from budget supermarkets opting for whatever socks seem sturdy enough to last a while. So when Soxsmith asked me to review some technical motorcycle socks, I was very interested to see how they stacked up and if they're really worth the extra outlay. Yep, I must be getting old to appreciate being given socks…
On first impressions, the Comodo motorcycle socks seem like a pretty reasonable pair of socks with an interesting black, grey and orange pattern adorning them. They are certainly very comfortable to wear, with no irritating seams and with a decent length on them that suits my Alpinestars SMX boots. The calf elastic is neither too tight to dig in nor so loose that they fall down – nothing worse than a sock slipping down into your boot to form an uncomfortable lump. The pattern on the socks is asymmetric, but there's no indication if either is specifically intended for left or right feet. They're certainly comfortable either way round.
The socks are of artificial fibre makeup (DRYTEX and Schoeller Polycolon) but are cleverly designed to be anti-bacterial, breathable, comfortable in varying temperatures and keep moisture at bay. What this means is you don't get sweaty or smelly feet. Even when out on the bike all day, from chilly morning through warm afternoons to long evenings, I had no bother from my feet and could just concentrate on riding. And when the boots finally come off, that usual pong is noticeable absent much to the relief of my wife. Definitely, a bonus to keep expensive boots in tip-top condition and avoid being the smelly anti-social pariah.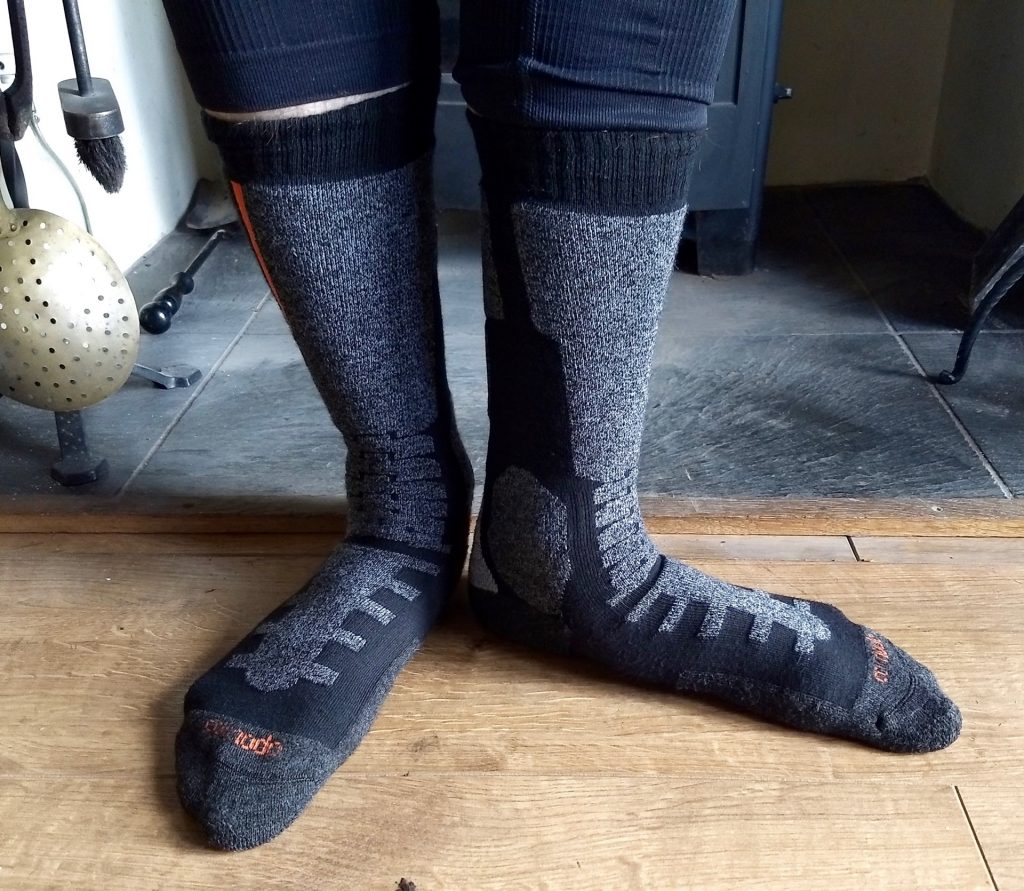 There's also no hassle come wash time, they happily go through a standard wash cycle with no shrinkage or loss of elasticity. The DryTex yarn also ensures they come out almost dry after a spin cycle. I can see this being super handy when touring and resorting to ad hoc washing in a hotel room sink, having fast-drying socks ready for the following morning.
Overall I've been very impressed by these socks, definitely a revelation to the use of more premium technical socks. Which when you do compare prices for similar technical socks, £16 a pair is actually pretty competitively priced. Yes, they are a big step up in price from generic supermarket socks, but you really do get what you pay for. The ability to prevent sweat and odour is well worth the money for healthy feet and maintaining good relations with partners. I for one will certainly be investing in a few more pairs.
Score: 9/10.
Buy the Comodo socks from Soxsmith.