Finally got myself a new bike to replace my old Fazer with… another slightly newer Fazer. The looming ULEZ about to come into force in central London I'm forced to switch to something else to avoid the £12 a day charge on my daily commute. However, London's recent motorcycle crime wave makes things very awkward getting anything very posh of fancy when it comes to insurance (or just keeping hold of it full stop). So, I've been trying to find a good balance between cheap commuter hack and newer enough to confirm to the Euro 3 standard. This Yamaha FZ6 S2 ticked all the boxes.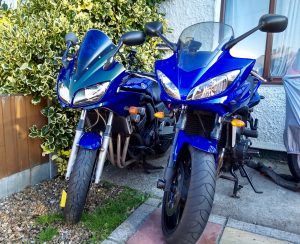 This FZ6 S2 is just on the cusp of Euro 3 on a 2007 plate, but was very low mileage, in tip top nick and a good price – should do the job well.
Quite a different feel to my older FZS600, the FZ6 has more low down torque and usable power, which should make for more fun. Riding position is more forward, placing you over the bars more. Bikes does need some new rubber though, it's currently wearing some vintage and rather squared off Pilot Road 1's with a 2010 stamp on them, so that'll be first job this week.