Lomo's waterproof tank bag is an impressive bit of kit for a company relatively new to this market. It has been designed as a fully waterproof bag utilising a with a very different approach to construction. Lomo recently entered the motorcycle luggage market, their main business lies in producing wetsuits, drysuits and dry bags for kayaks and canoes. It is this expertise in waterproofing and hardy construction which sees them making big impact within the motorcycle luggage market.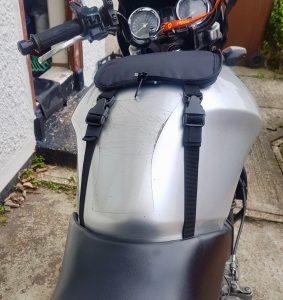 The Lomo tank bag is available in two different flavours of mounting,  depending upon whether you have a plastic or metal petrol tank. To secure your bag to a plastic tank, a material mount is provided which has a strap to go around the headstock, and two straps to secure around the frame of your bike.  The slightly more expensive magnetic mount version is very similar, it has a strap to secure the mount around the headstock, but instead of the under seat straps, it utilises 4 magnets located in wing flaps to stick to your tank. Once the base mount has been secured to your tank you can then zip the bag  on and off the mount as you come and go from the bike.
It is the non-magnetic mounted version of this tank bag that Lomo have provided for review, though we have tested it on more traditional metal tanked bikes. The fitting was easy and straight forward, the most awkward bit being Mary's CBF500 needing a wrench to unbolt the front seat to gain access to loop the straps around. Handy clips on the straps then allow you to pop the mount out of the way to access the fuel cap when filling up.
Designed with a roll top opening and thick PVC tarpaulin with strong RF welded seals to maintain a fully water tight bag, so much so it will stand full submersion
The bag itself is 15 litres in capacity and is more akin to a traditional roll top dry bag, that is a bag with no zip but rather an open top you roll down a couple of turns and then clip in place at the sides. If you're not familiar with roll top bags, this design provides a better water tight seal compared to a zip. The body of the bag is constructed from a thick PVC tarpaulin with strong RF welded seals to maintain a fully water tight bag, so much so it will stand full submersion in water for a short period of time, though I hope you don't need to do an Eskimo roll on your bike…  On the underside of the bag are rucksack style shoulder straps, great for carrying the bag on your back when away from your bike. A much better design than a single shoulder strap you have to dig out and clip on and off the bag that is common on other motorcycle luggage.
The top of the bag has a clear window to a separate pocket within the bag that's accessed from the same roll top opening. This is ideal for placing maps or your phone, and it's worth noting phone touch screens were still usable through this window too – perfect for navigating with the likes of Google maps or Waze.
To be critical, the one minor issue we found was the bag could slightly hinder the handlebars at full lock and would sometimes catch the horn button when pulling a U-Turn or trying to fit with bars fully left on steering lock. The roll top lies at the front of the tank and is slightly wider than the rest of the bag with its rigidity resisting any folding back. Not enough to completely prevent turning full lock, but just hinder as the bars or your wrists press into the bag. This was with the mount lying as far back on the tank as the front headstock strap would allow, a longer headstock strap may help here. That said, I've had similar issues with other tank bags and would expect similar issues with all but the dinkiest of tank bags. The second minor niggle is the zipping on and off the mount can sometimes be a spot awkward when the bag is fully packed and bulging. Nothing that can't be resolved by a shuffling of things in the bag, but a slightly more rigid base may have helped here.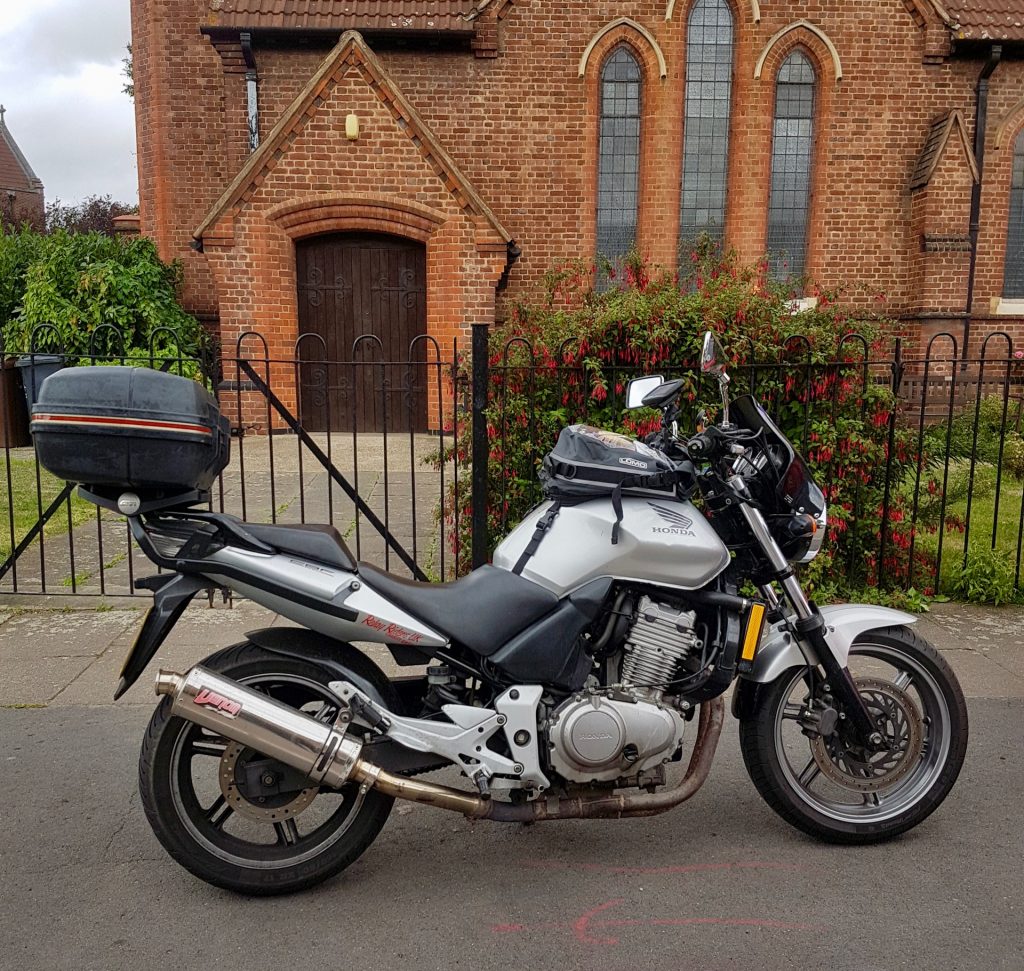 Pros
Very competitive price
Totally waterproof
Touchscreen phones usable through clear window
Strong and high quality construction
Ruck sack straps really handy off bike
Cons
Slight hinderance when turning full lock
When fully packed, slightly tricky to zip bag onto mount
The bottom line is a top quality bag, that's totally waterproof and works very well, for the very fine sum of £46. Yep, that's right, half the price of a Kriega and about the same as something entry level from other brands with a crappy pull over rain cover or too small to be useful. Testament to how spot on Lomo have got the design of this bag is, is the fact Mary has now appropriated it as her main daily bag, both on and off the bike. It's well made, effective and simply practical for a price that you can't grumble at.
Review score: 4.5/5