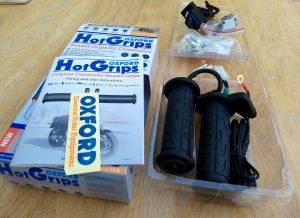 No one likes cold fingers on a motorcycle. It's uncomfortable, distracting, hinders fine control and can get painful. It's also all too easy to underestimate the wind chill factor when travelling fast on a bike. It may be a bearable 5°C outside, but on a 60 mph blast, the wind will chill you down to cool -3°C, which will inevitably give numb fingers after a short while, even with thick gloves.
I've written about a number of approaches to tackle the cold hands on a motorbike issue in the past, but here today I have a pair of Oxford Commuter Hot Grips up for review. Intended to replace an old set of failed heated grips on Mary's Honda, we picked these up as a freebie gift with a Ride magazine subscription last year. Annoyingly they took ages to turn up leaving Mary with cold hands for the first half of the winter, but finally, I fitted these last January and they've been tested thoroughly since.
The first thing you notice when you look at buying Oxford Heated Grips is the huge number of subtly different versions, grips for sports bikes, adventure bikes, touring bikes, cruisers, commuter bikes, I wouldn't be surprised if they did a version for exercise bikes… The version we have here is the basic (and cheapest) Commuter version, which has just a couple of heat settings and slightly lower power drain for smaller bikers (3 amps). The Premium versions draw 4 amps for more heat and tend to have at least 5 different settings, should you need such tuning of temperature.
Fitting the Oxford Heated Grips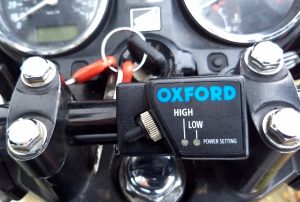 The Oxford Heated HotGrips came with a nice detailed manual which describes everything you need to know about fitting if you're the sort of person to read manuals… Also are all the bits needed for fitting. The control switch is supplied with parts to fit in a number of different manners; mounted on handlebars, on a flat suffice with a sticky back pad, or on a bracket sharing your switchgear bolts.
Before I could fit the Oxford Hot Grips I had to remove the old grips that had failed (some ancient Motrax ones). This turned out to be the biggest hurdle with installation as much super glue had been used in the past to stop the old grips slipping round and round on the throttle. I had to cut and break them off in pieces using a lot of brute force. Next, I prepared and cleaned the suffices ready for the new grips.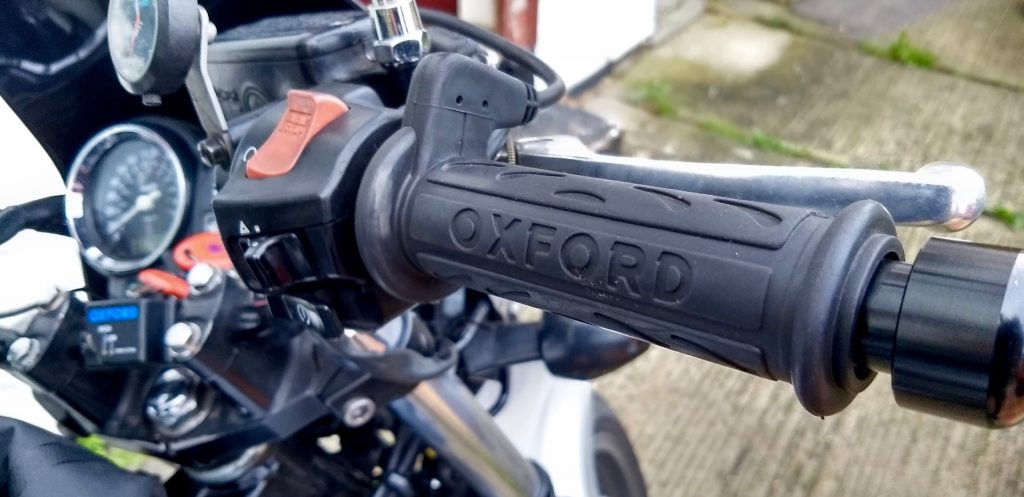 First things first, you should do a dry fit where you position everything with no glue to confirm positions, lay wires from grips to switch to battery, and ensure you have free movement of the throttle and no hindrance or snagging cables when turning lock to lock. The grips can also optionally have a few millimetres chopped off the end if required to avoid hindrance with awkward bar ends or hand guards (exact details for safe cutting in the manual).
The laying of wires to the battery often needs your seat, fuel tank and maybe some panels removing for access, a bit of faff but necessary. The supplied wiring being plenty long enough and has a 5 amp inline fuse. Although a direct connection to a battery will work fine, it is easy to forget to turn off heated grips and drain your battery whilst parked up. As such, I would recommend wiring in via a relay to ensure power is cut when the ignition is off. Read more on wiring in a relay and a fused distribution box I wired into Mary's Honda.
Once you have everything just right, it's simply a case of removing the grips, applying the supplied glue then refit the grips in their perfect position. The supplied glue has held up well over last 9 months, no issues with spinning grips on the throttle.
Final Verdict
Overall, the Oxford Heated Grips have done their job well with no issues. The switch is robust and easier enough to use with thick gloves on and has little LED's on it to show when on a high or low setting. The low setting only being used on the odd cool evening when caught out in summer gloves, but winter riding always calls for the high setting. Although these Commuter Hot Grips are marketed for motorcycles with smaller batteries or more modest charging systems, Mary's never complained they're not hot enough, only that the backs of her hands remain cool – an issue that affects all heated grips.
At just under £40, they don't break the bank, the Oxford Heated Grips for Commuters are perfectly adequate, have a decent build that's held up thus far (a 2-year warranty gives reassurance too). However, if your bike will handle it (round  250cc plus), for another £5-10 you may as well opt for one of the Premium versions which kicks out a little more heat.
Rating: 4/5
Latest Prices: