Gone and binned the bike. Again. Was attending a (road skills) track day with ELAM & EuroTrax at Folembray in France, when I lost it during the last session.
I went too wide powering out of a gentle left-hander, kissed the grass which spooked me a little, but kept it upright. However I was out of shape and going too fast for the upcoming chicane, combined with a chap overtaking on my inside, I bottle it and tried to safely just run off rather than just tipping it extra hard to get around. Unfortunately, I was just carrying too much speed to keep it upright on the grass and down I went. The bike came fell hard on the front fairing and I went sliding before coming to rest sat on my ass.
Being a road skills day we never taped up our mirrors, and being aware of faster riders behind me, it was too easy to feel pressured or want to move over to let them past – probably my undoing. Should have just concentrated on riding my own ride and ignored all behind.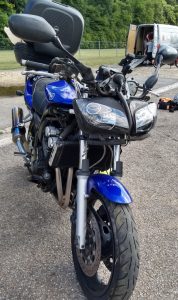 My Alpinestars leather suit, gloves, boots and Forcefield back armour served their purpose and I walked away unharmed. The soft grass helped, no slide damage to gear. Similarly, the bike was only damaged from impact rather than the slide. The super helpful EuroTrax guys straighten up my forks again and helped re-sculpt the front end into something vaguely roadworthy using countless cable ties and much gaffer tape. It got me back to Blighty nonetheless, even if 3 hours on the Autoroute at 85mph with no fairing or screen completely killed my neck…
I'm now scouring eBay, various breakers and Fowlers for spares and hope to patch up the Fazer again. With 52K on the clock and nearly 15 years old, it's a tough call and tricky one to keep it economically worthwhile. However the remainder of the bike is largely unscathed, so it seems a shame to scrap it.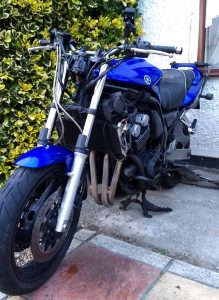 I have toyed with the idea of turning it into a naked streetfighter, but I'm lacking fabrication skills and tools. Mounting the clocks on a naked Fazer is seemingly a tricky task and difficult to avoid it looking naff. Overall it is unlikely to be a huge saving in cash and a standard bike will likely be more resalable in the future.