Throughout the years I've been riding my Yamaha Fazer I have always found the seat a bit of a weak point. It suffices for short journeys, but after a couple of hours it's less comfortable. But what really annoys me is how slippery it is, especially when wet, worse than Bon Jovi. In the past I've worked around these issues by strapping a Triboseat grippy cover on top, but it's not perfect.
Recently I splashed out on a replacement seat from Wijalis, a small Polish firm that recover and rebuild all kinds of motorcycle seats. This particular seat was one ready built upon a standard Yamaha seat base, and although I was offered options to customise it further, I opted to stick with it as built, and thus set me back £100. Wijalis also sell seat covers on their own or you can send them your seat for remoulding as you desire.
On arrival of the seat the first thing to stand out is the chunky hump to plants ones arse against. But the whole finish is great, the black vinyl with silver piping finish and embroidered 'Fazer' text give a smart and understated look. Fitment was good, but a tiny bit gappy front and back, most noticeable between seat and tank, though after some use this has settled better and doesn't affect use. It's too early to judge longevity, but the quality appears top notch.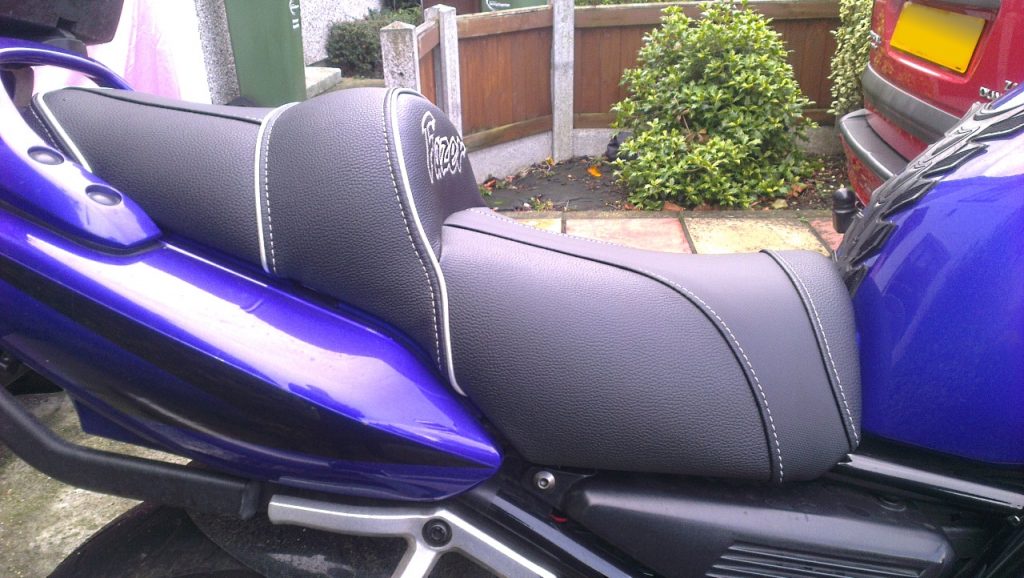 On the road the seat is more comfortable and the chunky hump is perfect to plant ones arse against. The seats material is also grippier than the stock Yamaha seat, a big plus in my book as I hate sliding forward into the tank when wearing textiles or when the weather is wet. However it's still allows some slide to shift your weight side to side on bends. From a pillion point of view it gets the thumbs up from my wife, who also found it more comfy. However the pillion part of the seat is definitely higher the the stock seat, so she struggled to get her leg over (oooh-err!)

So, if you're not happy with your stock seat, do check out the seats Wijalis have or better still, get in touch to get something custom in your favourite colours or shaped just as you desire. I'm sure you won't be disappointed by their service and quality, I certainly wasn't and definitely feel my £100 was well spent.
Rating: 4.5