The ABUS Granit Detecto is a big chunky, yellow disc lock with a built in alarm. But, as we already have big chunky security chains, why did we buy this disc lock which is surely not as effective? Yes, it's true, chaining your bike to something does make it more secure, but lugging a 10kg of chain and padlock around where ever you go is less than ideal. Especially as a Givi Monokey top box is officially only rated for 10kg…
Thus the choice to use a disc lock that is easier to transport and still reasonably effective as a theft deterrent is appealing. For example, when touring and you're already carrying tonnes of luggage, the last thing you want to pack is a huge chain as well. That and spotting this lock reduced on Amazon prime sealed the deal.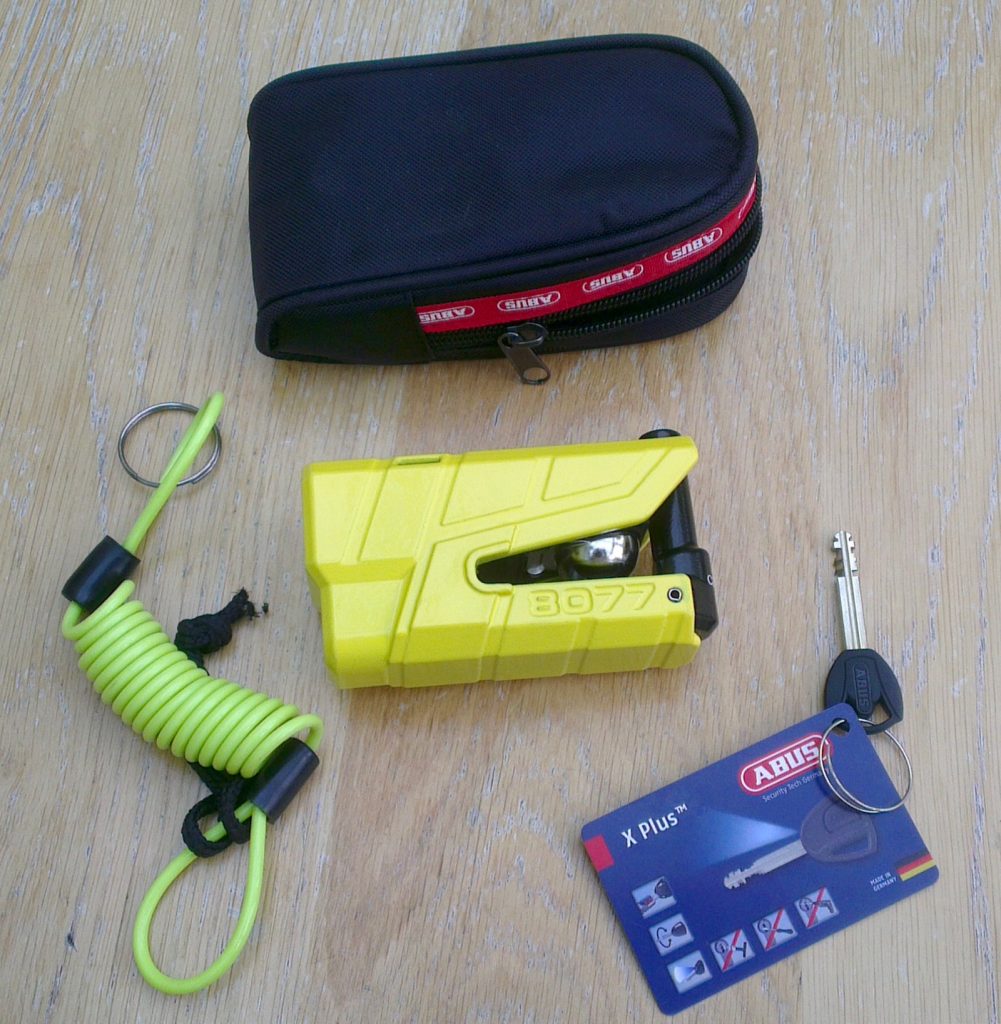 This ABUS disc lock weighs in a 880g and comes with a nice padded pouch to transport it in, so definitely wins on ease of transportation. It's supplied with two keys, with one of the key fobs incorporating a handy LED light to help you unlock your bike in the dark, definitely a good idea.
Using the lock is straight forward; key in, open it up, pop it through your brake disc, then clamp it shut – job done. The holes on Mary's CBF500 brake disc were pretty tight for the locks 13mm locking bolt, so it took a bit of wiggling to fit it. Fitting to my Fazer was much easier however. It's generally advised to apply to the rear disc to make it harder to attack, however the CBF500 rear brake disc doesn't have any handy holes suitable. Once locked in place, it gives off a single beep to indicate the alarm is armed.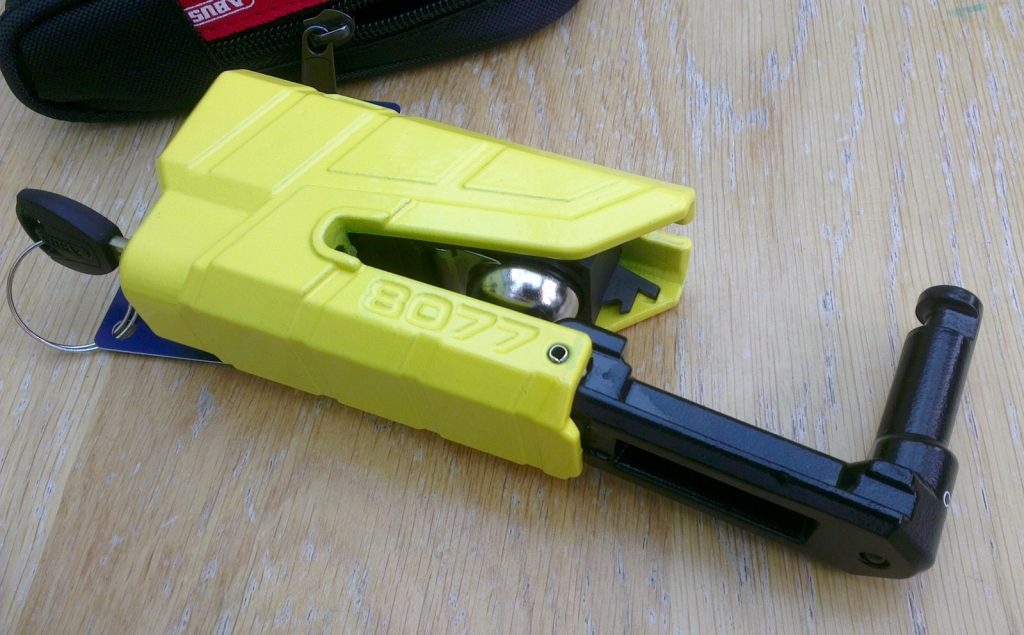 The alarm is pretty sensitive with even a minor nudge causing it to give a warning beep. A further nudge and it will kick making a full on racket! The stats reckon it'll put out 100dB in 15 second blasts, it's certainly plenty loud considering it's powered by just two AA batteries.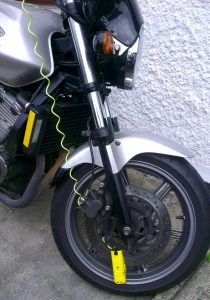 I picked up an elastic lock reminder bungie after hearing many stories of people forgetting to remove their disc locks and attempting to pull away… TBH the sensitivity and noise of the alarm is enough to prevent you doing this.
Normally the ABUS 8077 retails for between £100-£140 ish, but I picked it up for £70 as an Amazon Prime special. Still not cheap, especially when you consider 1.5m of Pragmasis 16mm chain and a Squire padlock sets you back £160 and will let you chain your bike to something offering greater security. Ultimately, this ABUS disc lock fits a specific use case where you need some security away from home when lugging a huge chain just isn't practical, and this it covers well.
Rating: 4/5.
Latest Prices:
Also check out latest deals on Amazon
Stop Press: This Abus 8077 lock is back on sale at Amazon – £114 as of 22/11/17.