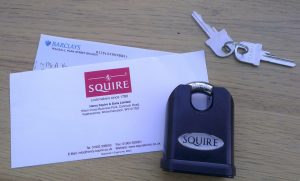 Last week when my wife tried to take her bike out she discovered the Squire padlock had seized, leaving it chained to the ground! Neither key would unlock, we tried dousing it in WD40, GT85 and Halfords Shock'n'Unlock spray, even after been left to soak for a day or two. We tried tapping it with a hammer, but nothing would make the key budge in the lock.
Upon contacting Security For Bikes who we purchased it from, they informed us it was covered by a 10 year warranty and put us in touch with an engineer at Squire. They got back to very quickly with some advice, mostly what we had tried already, but as a last resort suggested applying pliers to the key to force the lock. This worked and the padlock opened, however it wouldn't unlock again subsequently.
As per Squire's advice we sent it back for repair/replacement. A couple of days later a brand new padlock arrived through the post with a cheque to refund us for postage.  So, a big thumbs up goes to Squire, for their top customer service, prompt responses and a warranty that really is worth the paper it's printed on.
You can purchase a Henry Squire SS65CS padlock from Amazon here.
→ Check out our full Motorcycle Security Guide