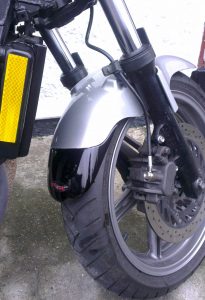 Mary's little CBF500 is very much a commuter hack and needs to run in all weathers. In an effort to winter-proof it I fitted this RedFox fender extender (or flick) a little while ago.
It's a very similar affair to the Pyramid fender extender I fitted on my Fazer some time ago. A small plastic extension to the front mudguard to help ward off dirt and crud being flung up against the front of the frame, radiator and engine. After having a struggle to remove the oil filter last service, I'm hoping this will help matter somewhat.
The RedFox Fender Flick came in a glossy black, but is also available in white, silver and carbon effect, and is made from ABS plastic. It was supplied with a pair of self-tapping screws for attaching to the front fender. However, I didn't fancy the idea of drilling through a good mudguard and so just glued the extender on directly with some PU Sikaflex EBT adhesive. This is still holding up well on my Fazer after a year and a half, so figured it would work well here too.
The hardest part of the installation was the removal and refitting of the mudguard on the CBF which requires the removal of the front wheel. A bit of pain when you have no centre stand, leaving me to faff around with a paddock standard and jack under the engine…
Overall, it's a cheap addition (~£20), looks reasonable and serves a very useful purpose of increasing the longevity of a year-round bike. I would have preferred not to have the RedFox logo on display, I think a more minimalist and understated aesthetic would have been better, but I'm being really fussy now. The only real negative is the hassle of removing the fender on the Honda CBF.
Rating 4/5