Over the past few months of lockdown, I've been watching many motorcycle films to while away the time until I could get back out on my bike. Of course, we all love movies with bikes, and so here I have rounded up a number of iconic motorbikes on film. Some are films portraying motorcycle (counter) culture, and some are just excellent stylistic choices supporting other narratives. All highly memorable and movie motorcycles I'm sure we'd all like to ride.
Easy Rider (1969)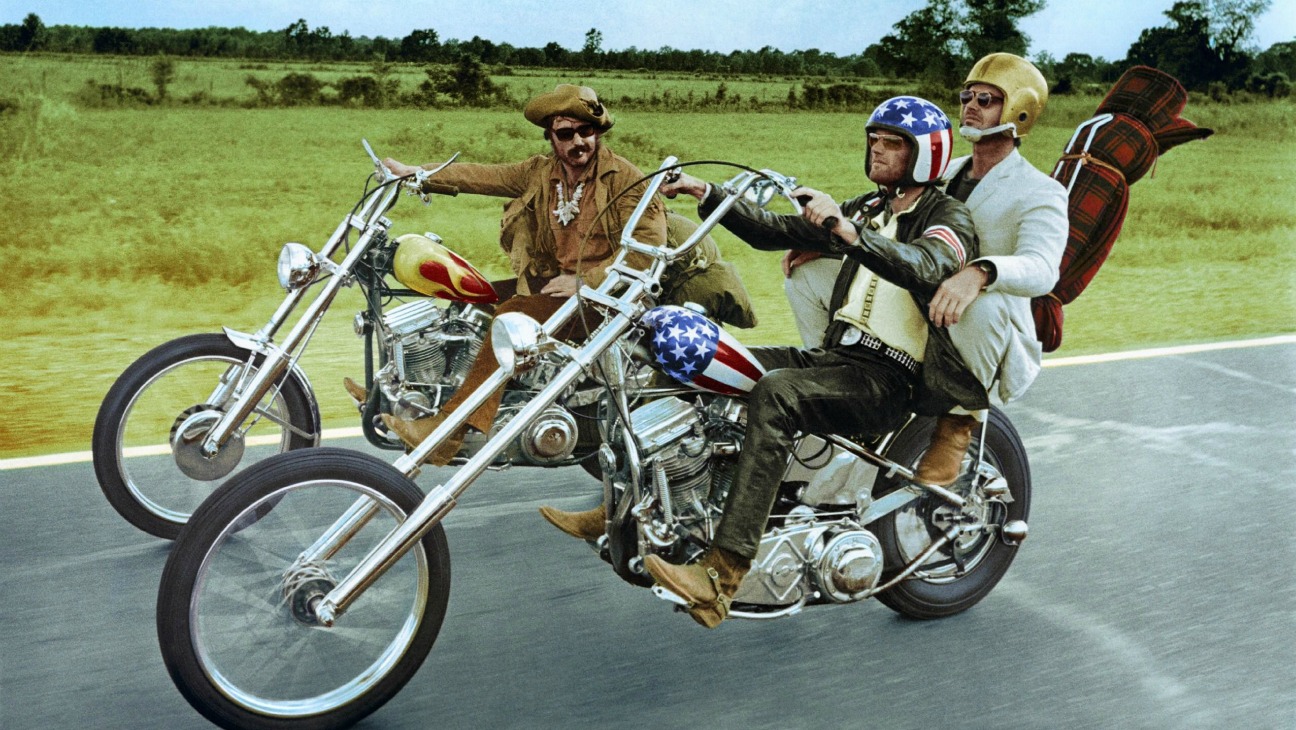 No list of bike films would be complete without Easy Rider and the story of Wyatt (Peter Fonda) and Billy (Dennis Hopper) checking out of mainstream society and undertaking a journey from LA to New Orleans Mardi Gras to discover America and themselves. They pick up Jack Nicholson en route for a drug-addled and tragic ride across middle America.
The custom choppers were built by Cliff Vaughs and Ben Hardy, from 1949, 1950 and 1952 Harley-Davidson Hydra-Glide ex-police bikes. Four bikes were built to provide backup in case some broke down or got trashed to avoid filming delays.
The Great Escape (1963)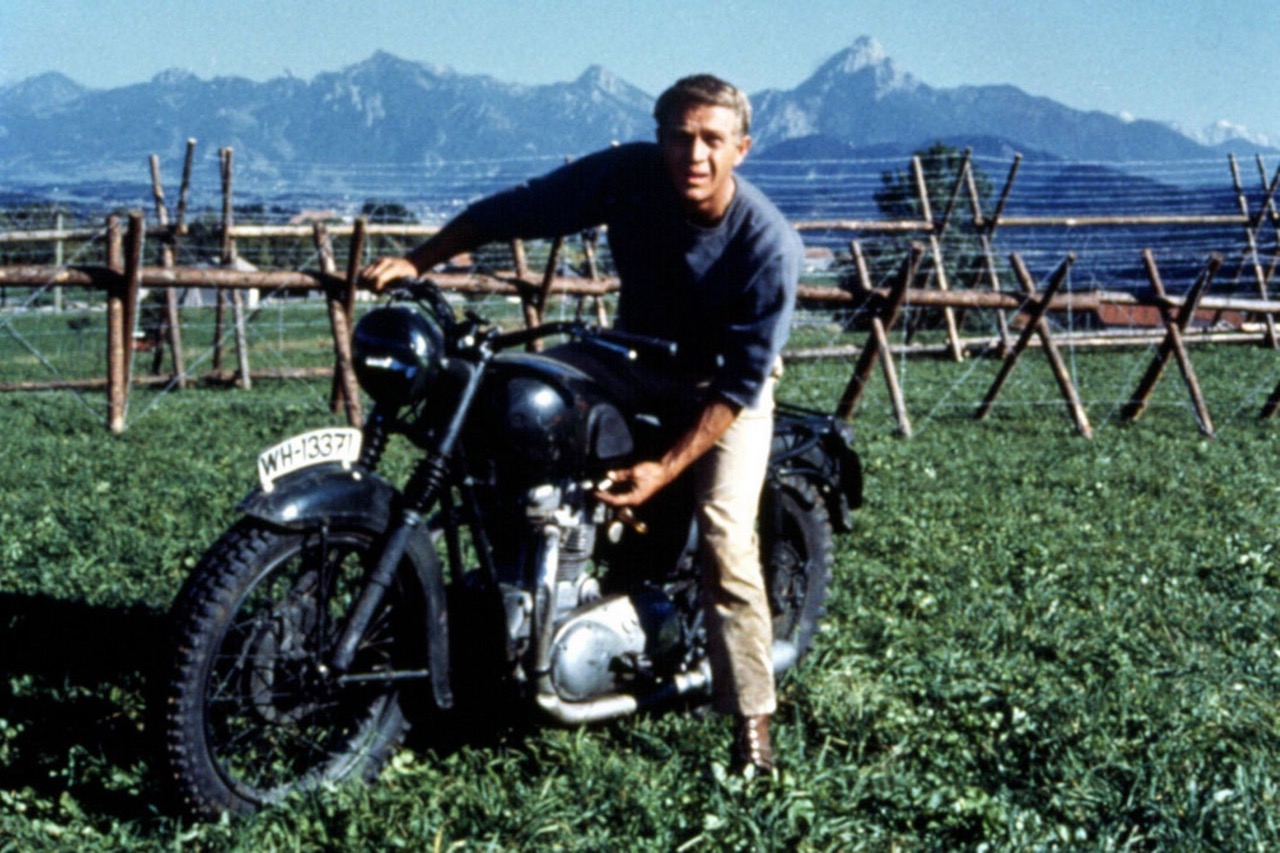 In this WWII film about escapees from a German concentration camp, Steve McQueen rides a modified 1960 Triumph TR6 Trophy, but a close friend and stunt double, Bud Ekins pulls off the infamous jump over the barbed fence. Clearly not historically accurate, with the German soldiers apparently riding 196o's Triumph bikes, but never mind.
Do also check out Guy Martin's recent documentary where he re-enacts the famous leap on a modern Triumph Scrambler and delves into some of the real-life history of the prisoners of war and their escape from the concentration camp.
Mission: Impossible 2 (2000)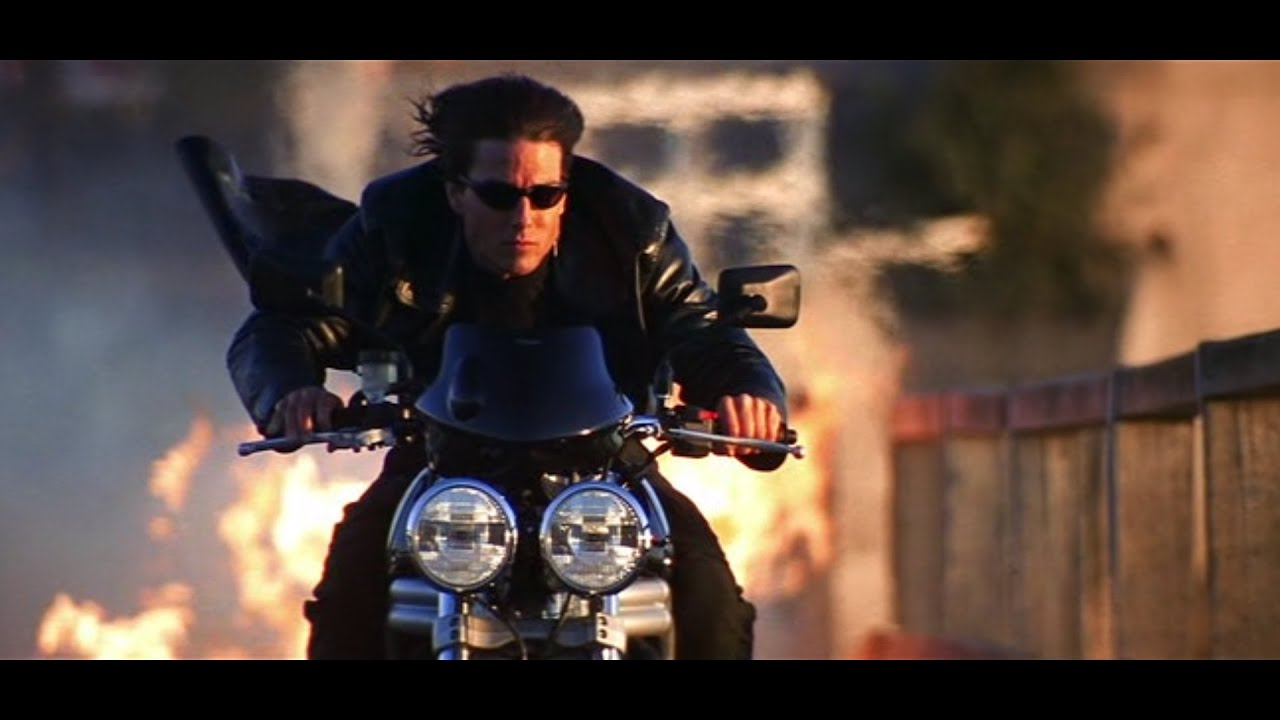 Tom Cruise is no stranger to motorcycles, having rocked a Kawasaki GPz900R in Top Gun back in the '80s and with a sizeable personal collection of bikes. In Mission Impossible 2 we see Tom hooning around on a Triumph Speed Triple whilst laying to waste plenty of bad guys in a gunfight. Lots of stunts, fast action and big explosions from this now-classic round twin head headlight Triple.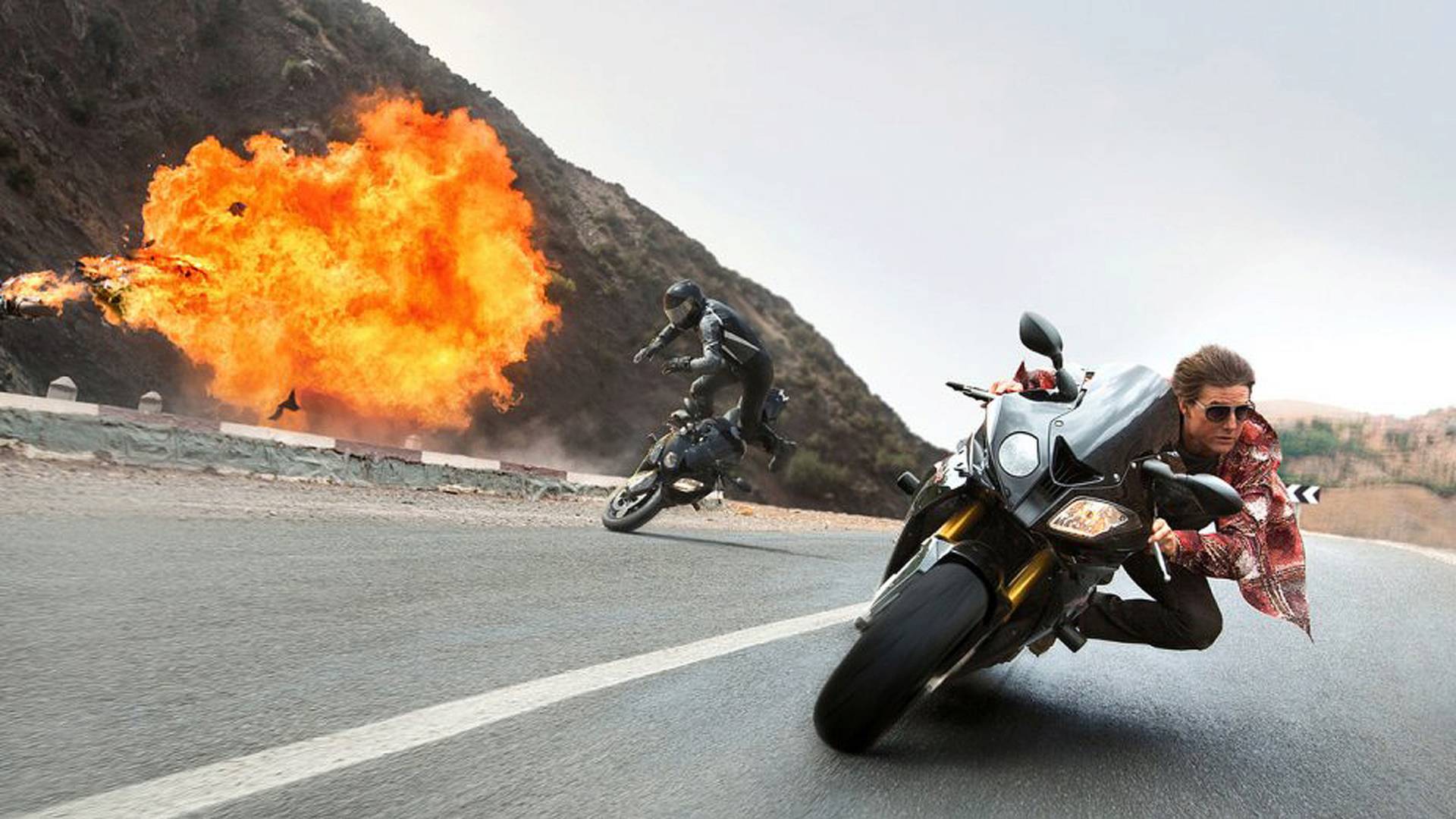 Later Mission: Impossible films see Tom switching to the BMW marque with the likes of an S1000RR and RnineT Pure. Tom claims to do as much of the riding and stunts himself, well the non-messy bits before CG takes over at least.
Find Mission: Impossible films on Amazon
Tron Legacy (2010)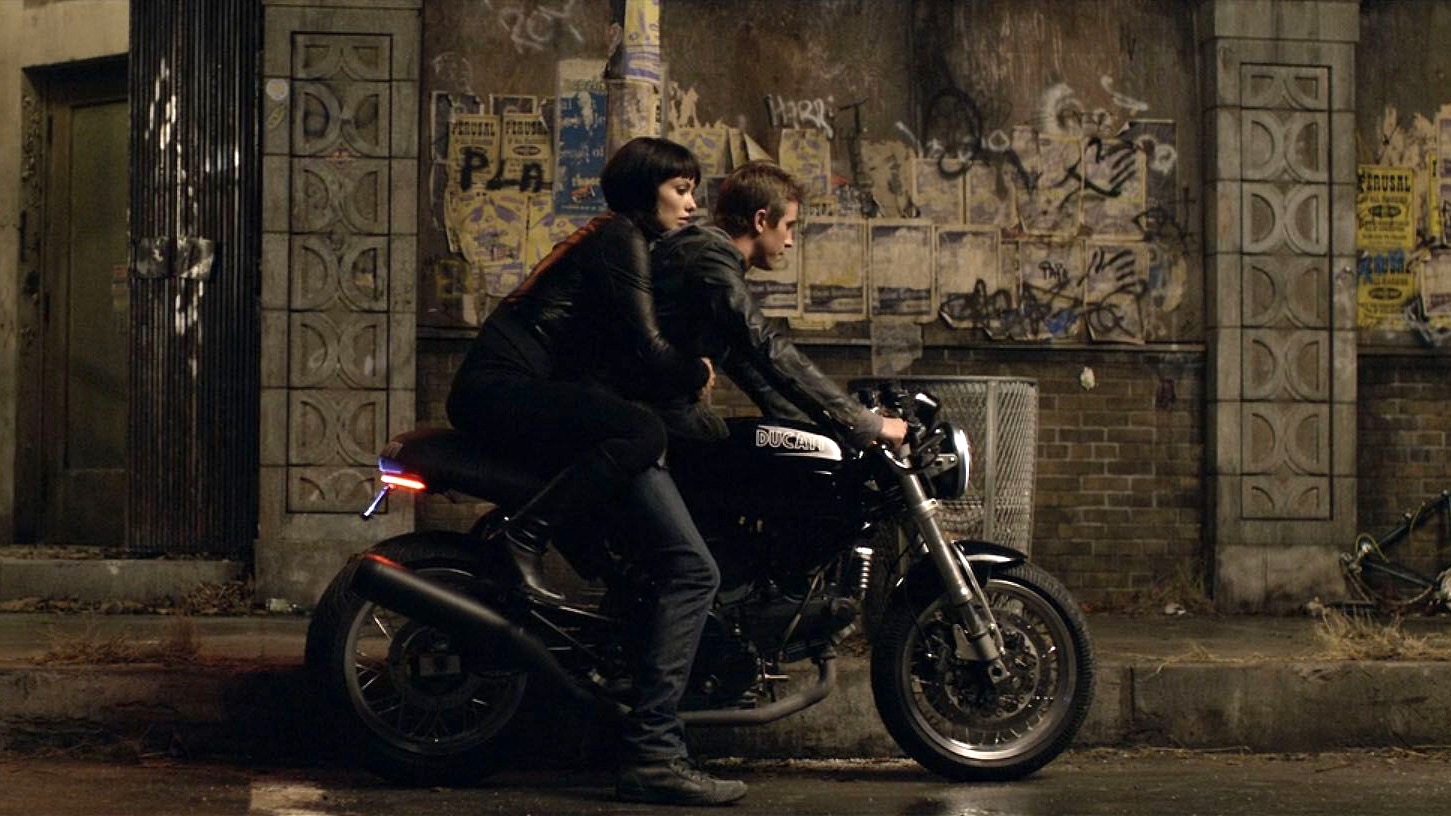 Aside from all the CG light bikes when in the 'grid', Tron Legacy features a super slick Ducati Sport 1000 Biposto cafe racer. With a 992cc L-twin engine, it was only produced from 2007-2010 and sadly too premature for the retro bike revival. Ridden by Garrett Hedlund, as Sam Flynn, son of Kevin Flynn (Jeff Bridges), It continues several years from where the original 80's Tron film left off, accompanied by a stonking Daft Punk soundtrack, it's actually pretty enjoyable for a Disney flick.
Kill Bill Part 1 (2003)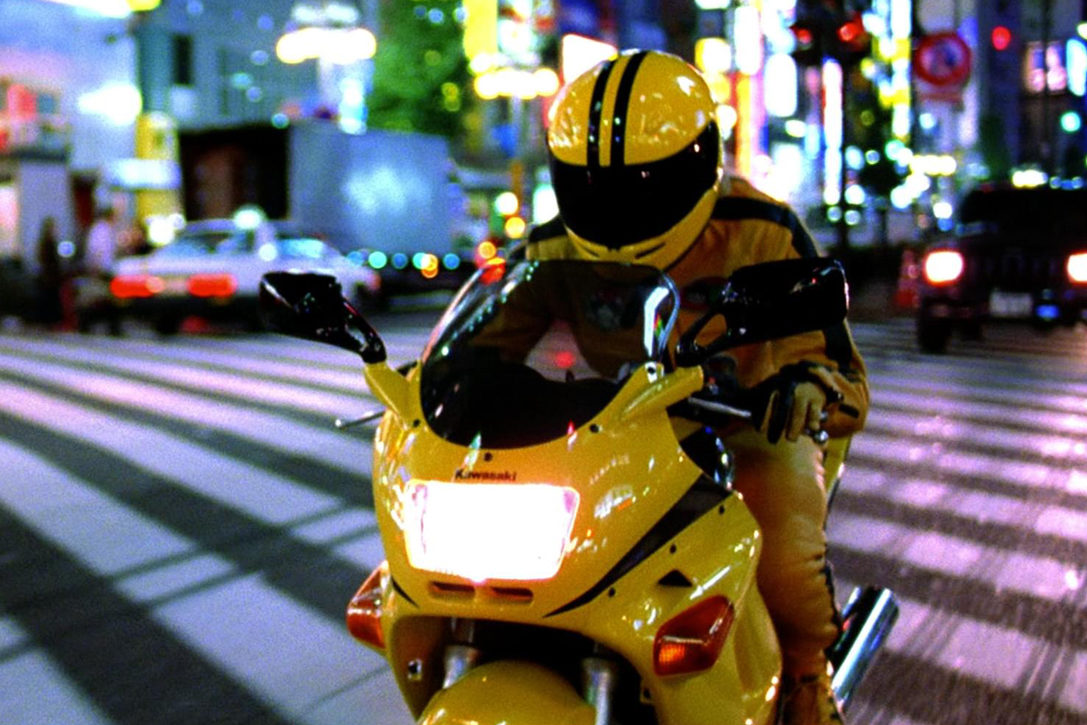 In this first part of Quentin Tarantino's epic kung fu double bill, Uma Thurman rides a yellow Kawasaki ZZR250 as Beatrix Kiddo, whilst her Crazy 88 gang foes ride on Yamaha FZS400's. Motorcycle action only lasts for a short scene, but still makes for a cool stylized dash across the Tokyo streets with handy katana swords mounted on all bikes.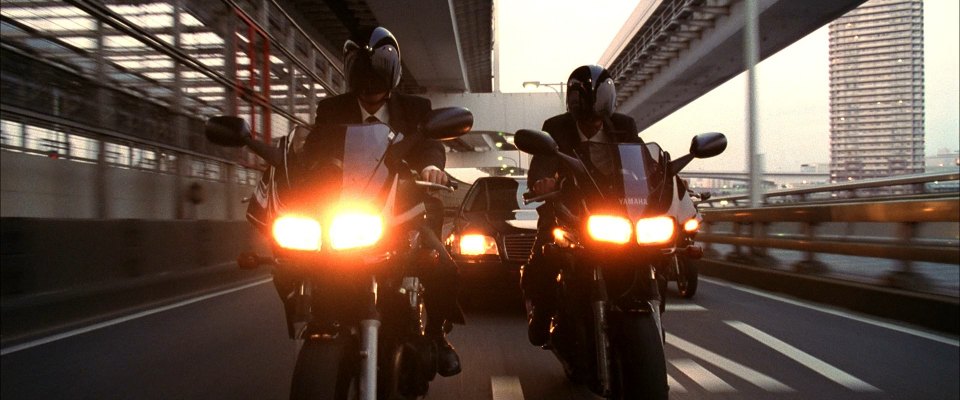 The small engine FZS and ZZR's are obviously Japanese only models targeting local emission/license restrictions and are rarely seen over here in the UK, where the 600cc variants of both were popular.
James Bond –
Tomorrow Never Dies (1997) & No Time To Die (2020)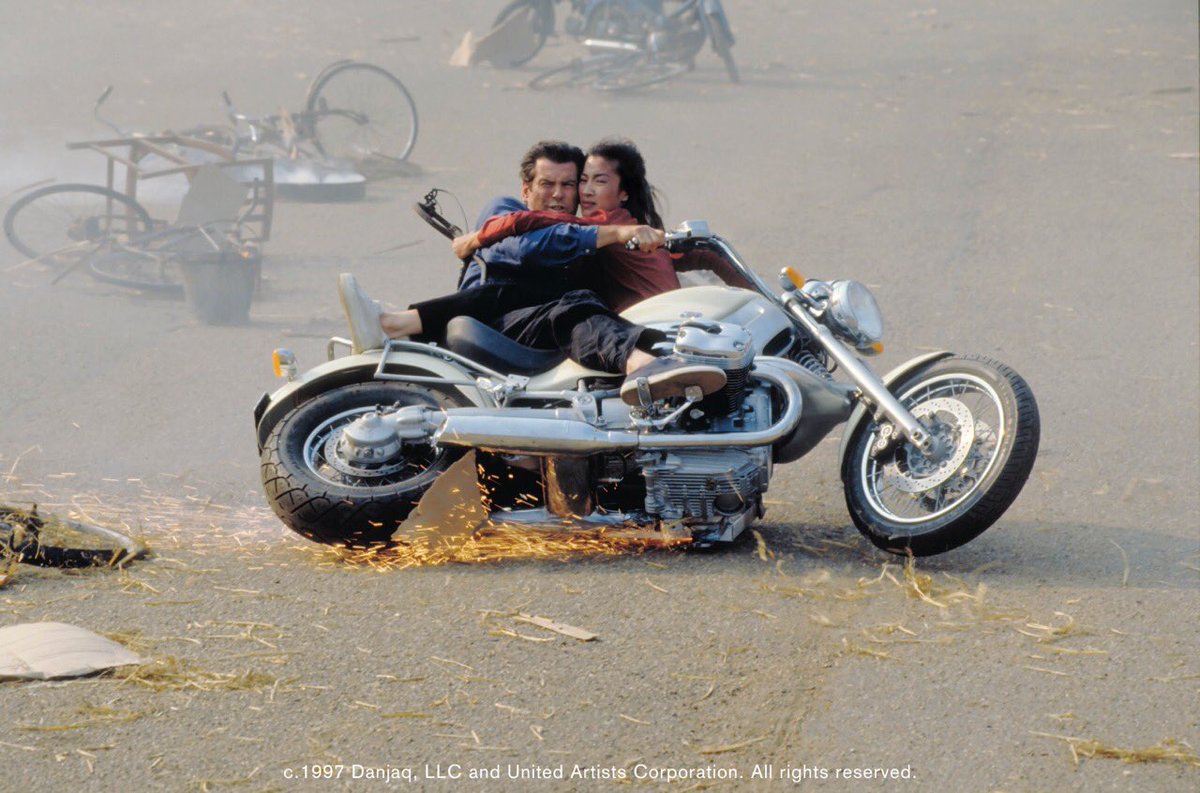 Many of the Bond series have featured cool motorcycles, more often ridden by bad guys giving chase (because motorcyclists are just bad and menacing!) The later films had some pretty heavy product placement. With the BMW brand heavily featured in Tomorrow Never Dies, Pierce Brosnan rides an R1200 C cruiser through a mad chase scene in Saigon. Stunt riders really pushed the bike to the limit including a 44′ rooftop leap, not bad for a 250Kg beast. Out of 15 bikes bought for the film, 12 were trashed, but you can find one of the surviving at the National Motor Museum in Beaulieu, UK.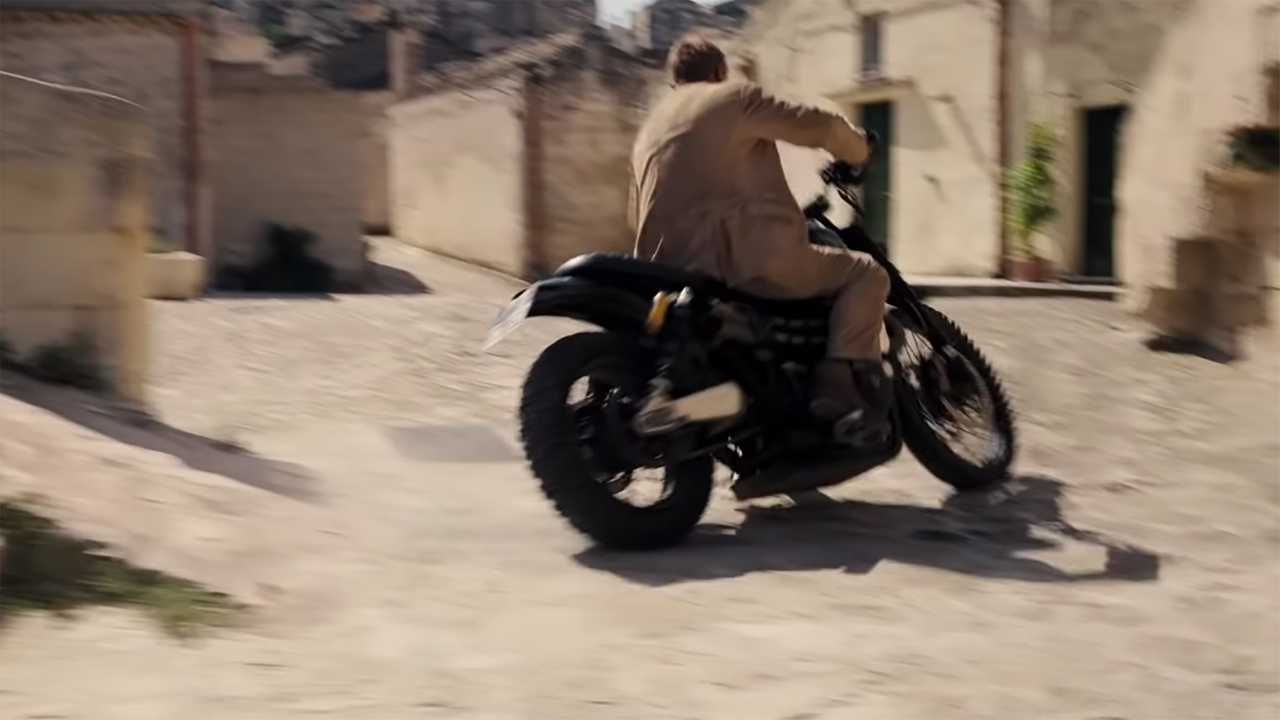 In No Time To Die, we see Daniel Craig riding a Triumph Scrambler 1200 XE, and of course, a limited edition run of tie bikes went on sale to coincide with the movie. Well, they would have done if the movie hadn't been delayed due to Covid19. The film also sees Bond on a Tiger 800, and baddies on Ducati Scambler 800's.
My Own Private Idaho (1991)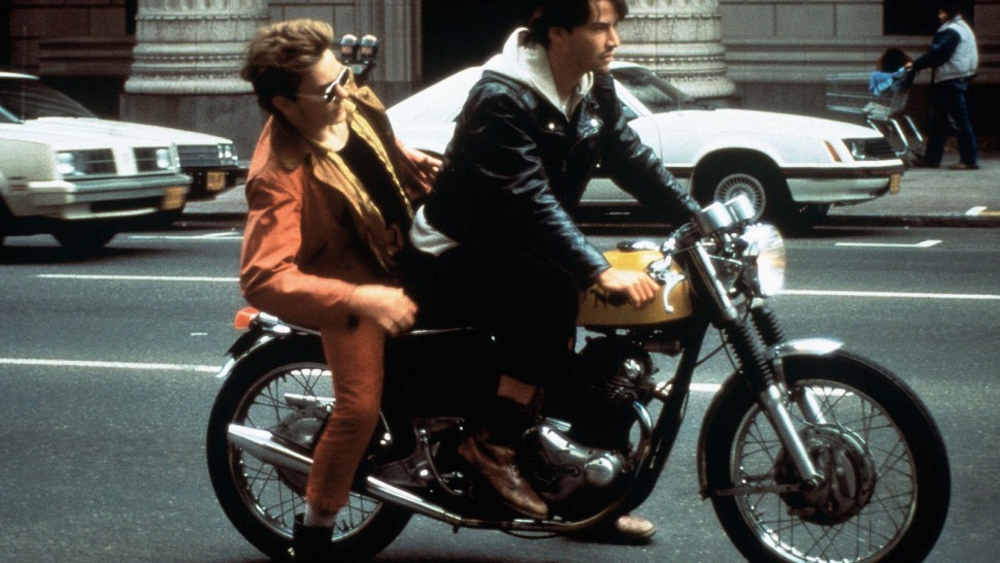 This less well-known film features Keanu Reeves and River Phoenix as drug-addicted hustlers living on the streets of Portland, who undertake a journey of self-discovery. Keanu rides a 1974 Norton Commando 750 20M3S, which was actually his own personal Norton. Prior to filming, Keanu rode his Norton 1300 miles from Toronto to Florida to personally persuade River to play in the film.
Keanu Reeves continues his affection for motorcycles today, as a key partner in Arch Motorcycles which build 'totally excellent' high-end customs.
Find My Own Private Idaho on Amazon
Matrix Reloaded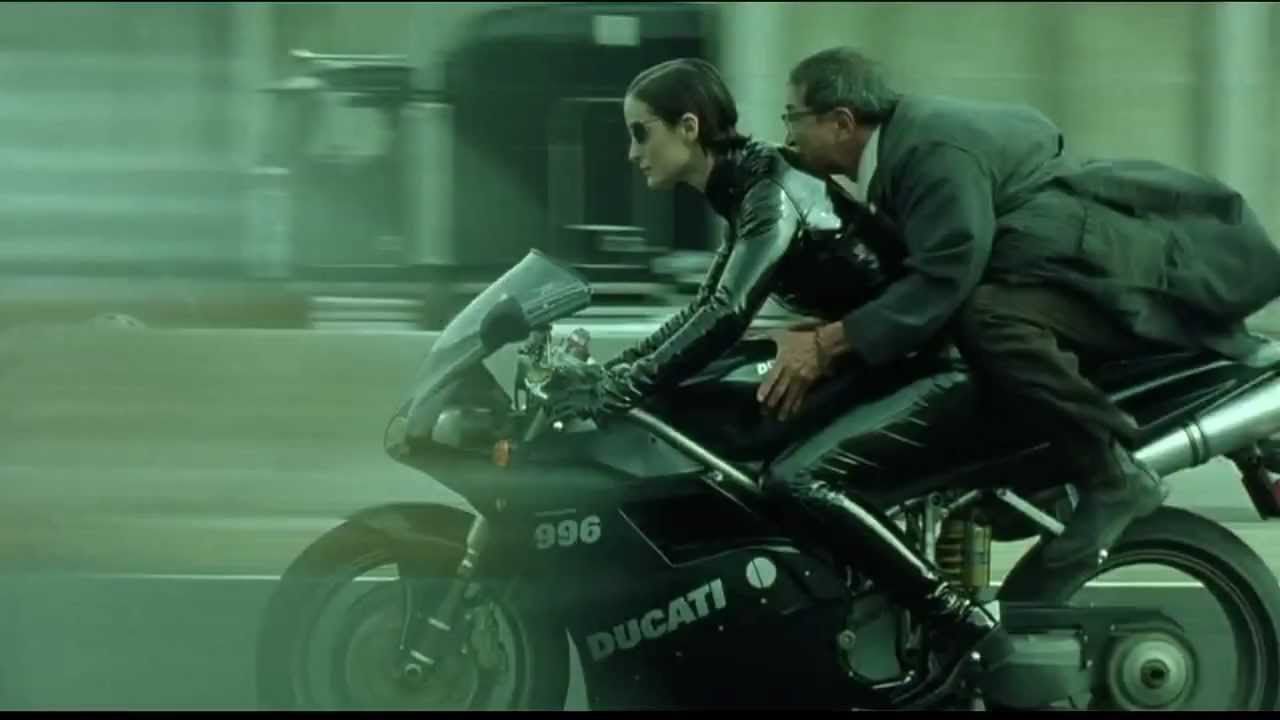 A classic motorcycle chase scene from the Wachowski's Matrix trilogy, sees Trinity (Carrie-Anne Moss) doing some rather advanced lane splitting on a 2001 Ducati 996 on a specifically built Freeway set. The whole scene is alleged to cost $2.5m to film, with nine Ducati's used in the filming, one of which now lives in Keanu Reeves' personal collection.
Ducati subsequently released a number of limited edition Matrix Ducati 998 in 2004. Yes, 998, not quite the same as the 996 in the film, but close enough I guess.
Find the Matrix trilogy on Amazon
John Wick 3 – Parabellum (2019)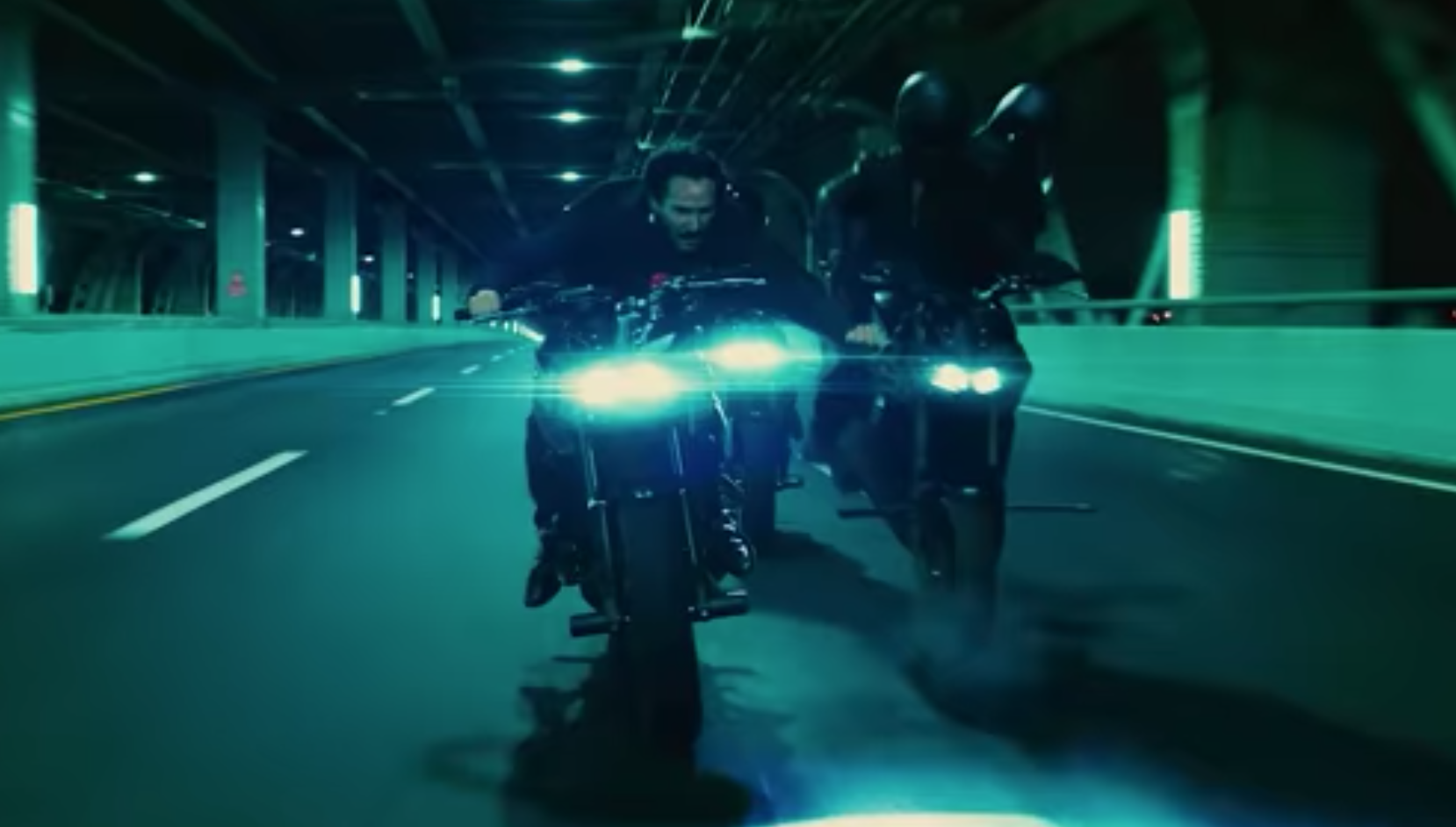 Continuing the Keanu Reeves theme, the third John Wick movie has a mental motorcycle fight scene, where Keanu fends off a whole bunch of sword-wielding bad guys. Everyone is riding Yamaha MT-09's, but suspend your belief as the scene is a clever inter-splicing of on-road footage and more static on set green screen footage where each actor's MT09 is on a trolley shoved around by lots of guys in green suits! CG magic makes the whole thing seamless, check out this behind-the-scenes making of the vid.
Find John Wick films on Amazon
The Motorcycle Diaries (2004)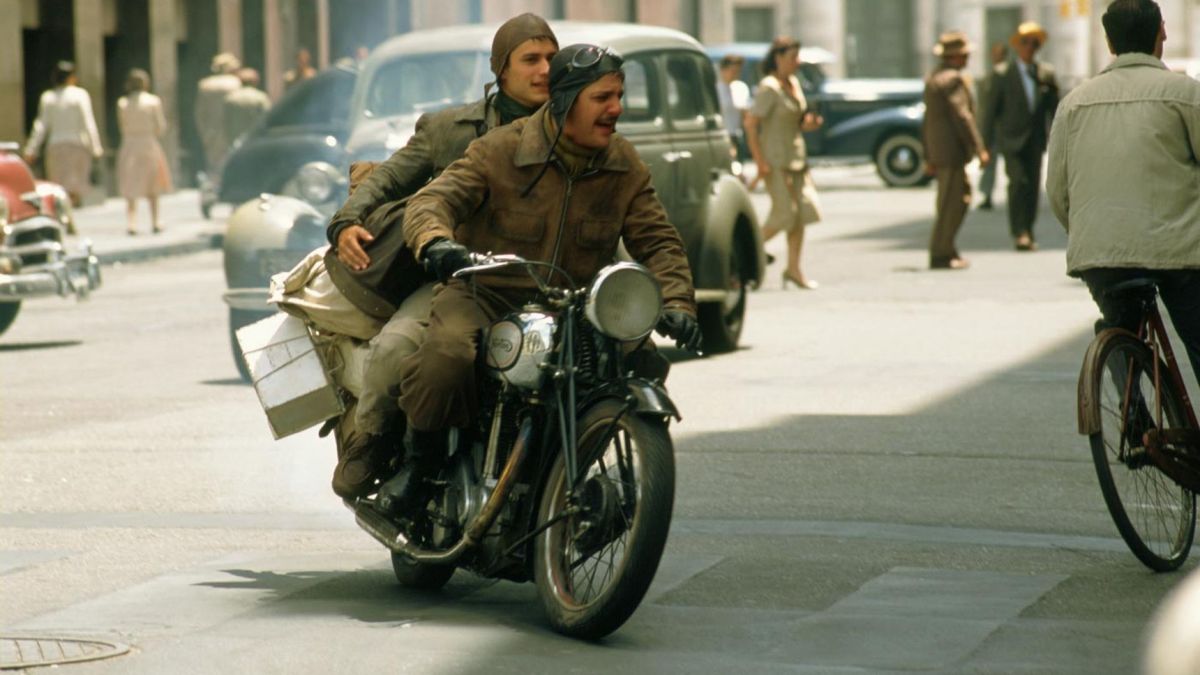 This Brazilian film tells the coming-of-age story of Ernesto 'Che' Guevara (played by Gael García Bernal) and his friend Alberto Granado (Rodrigo de la Serna) as they travel from Argentina to Puru in the 1950s. They set off on a battered single-cylinder 1939 Norton 500, which fails them halfway through. The journey is an eye-opener to Che of the oppression, hardship and poverty that so many suffer on the South American continent, ultimately driving his later revolutionary stance to address the injustices.
Based on Che Guevara's own travelogue from the journey, the film is beautifully shot and in stark opposition to the stereotypical motorcycle gang and outlaw image shown in other films for this time period. A must-see film.
Find The Motorcycle Diaries on Amazon
The Wild One (1953)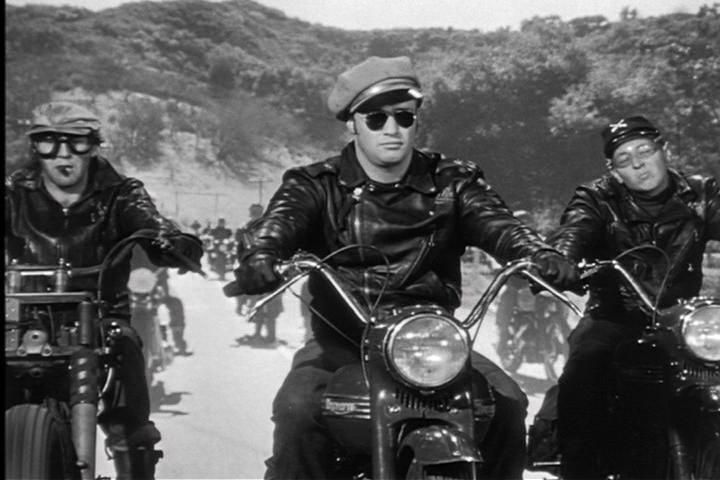 This 1953 film featuring Marlon Brando in his prime, tells the story of post-war US motorcycle gangs terrorising a small town. The macho gang lead Johnny Strabler (Brando) riding a 1950 Triumph Thunderbird 6T, became an icon for teenage rebellion and the film is considered the first to cover outlaw motorcycle culture. Highly controversial at the time and banned by the BFI until 1967, but all rather tame behaviour compared to today's standards.
The Harry Potter Saga (2001 – 2011)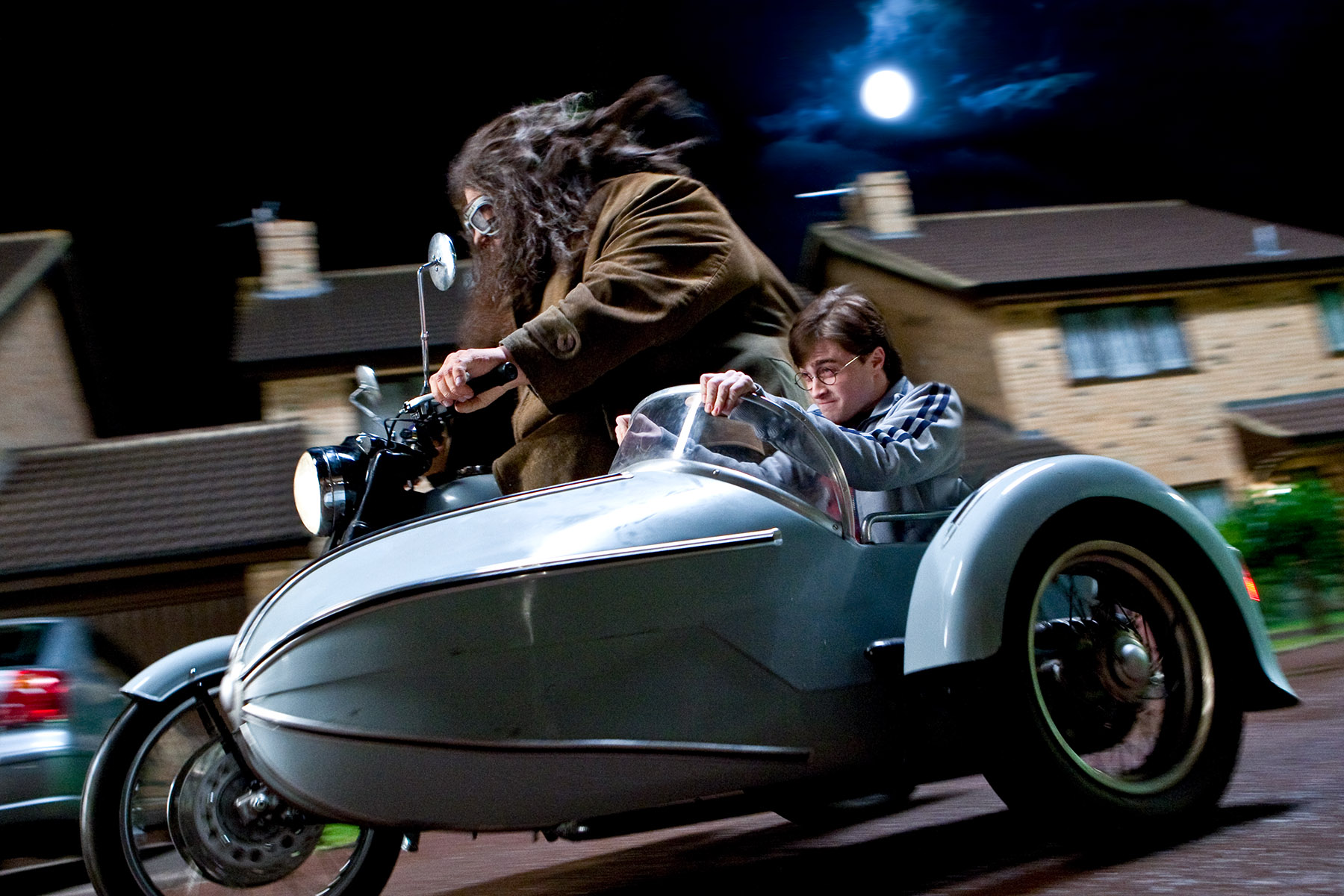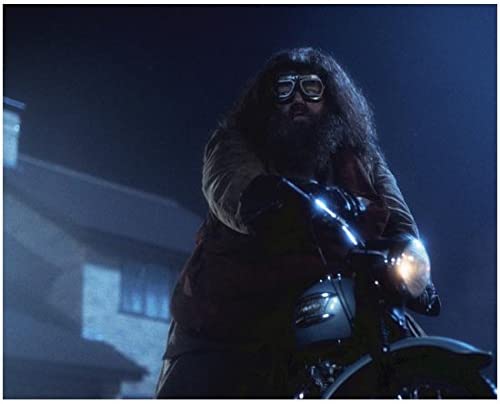 In Philosopher's Stone Hagrid (Robbie Coltrane) take Harry Potter (Daniel Radcliffe) for a ride in a 1959 Triumph 650 T120 Bonneville sidecar outfit. However, in later films, this was switched for a newer 2009 Royal Enfield Bullet 500, with a sidecar outfit built by Watsonian.
You can check out the Royal Enfield at Harry Potter World and enjoy Hagrid's Magical Creatures Motorbike Adventure ride at Universal Orlando.
Buy the Harry Potter collection on Amazon
The Girl on a Motorcycle (1968)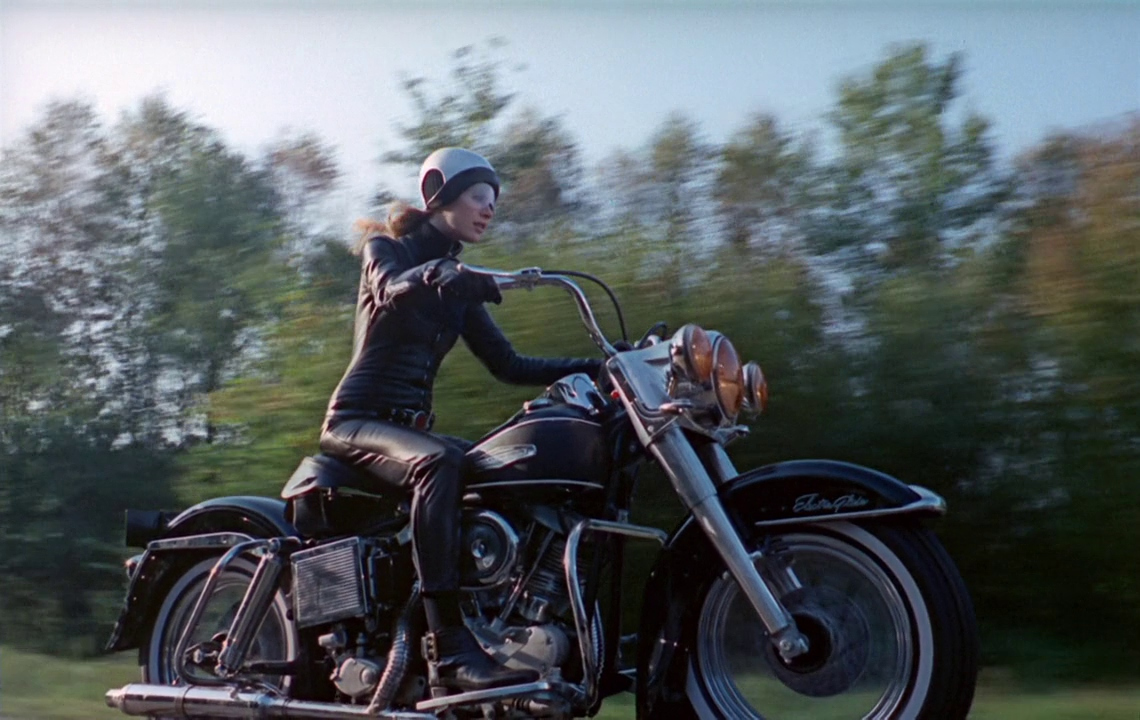 This Anglo-French '60s cult classic sees Rebecca (Marianne Faithfull) walk out on her husband, don a leather one-piece and set off on a 1967 Harley Davidson Electra Glide to chase down her lover in Heidelberg. Provocatively saucy, it is filled with psychedelic dream sequences and erotic fantasies, it was the first film to receive an X-Rating in the US. Somewhat style over substance, it certainly has a cult following.
Find Girl on a Motorcycle on Amazon
The Girl with the Dragon Tattoo (2011)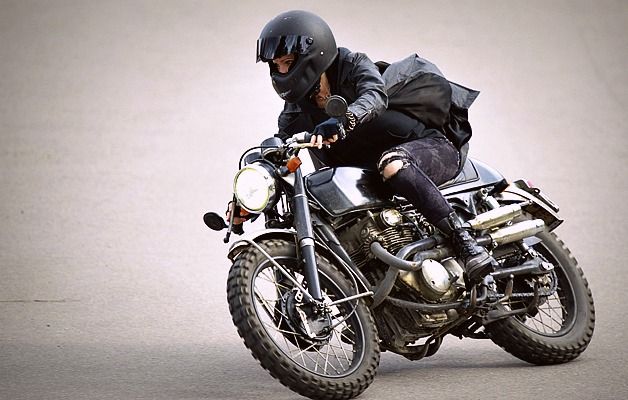 In the 2011 English language version of this film by David Fincher (not to be confused with the Swedish language 2009 film adaptation), we see Lisbeth Salander (Rooney Mara) create a custom cafe racer from an old Honda CL350. The bike was actually built by GLORY Motor Works for the film, with the basic and gritty-looking custom suiting Lisbeth's character in the film, true to Steig Larsson's original novels. That, or just bang on trend as the hipster custom cafe racer culture exploded around the same time. Either way, it's a damned moody-looking little bike that looks like it'd be a blast to redline.
Find The Girl with the Dragon Tattoo on Amazon
Akira (1988)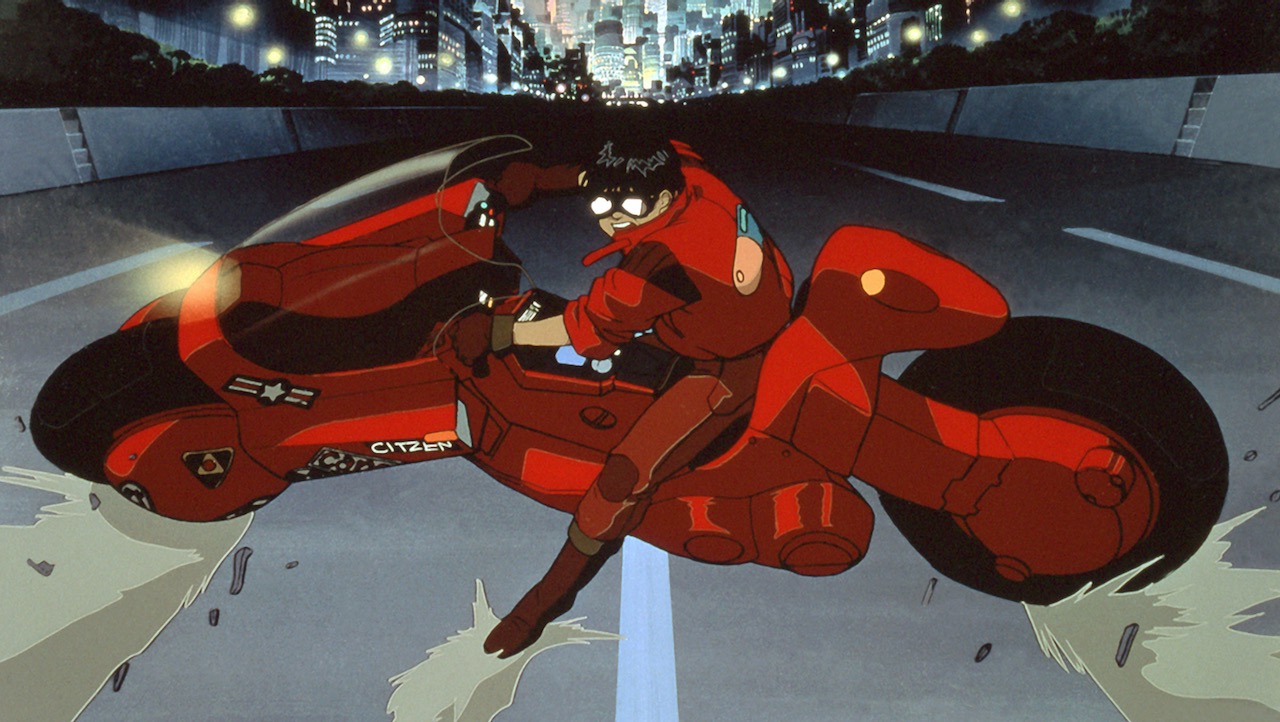 We can all dream about Katsuhiro Otomo creation in the Japanese anime Akira. Shotaro Kaneda's bike may not be real, but who can not love the scene of biker gangs chasing through the streets of Tokyo leaving a trail of destruction. The gorgeous animation, the streaks of tail lights and oodles of cinematic style. Did you know the engine sounds were made from splicing recordings of a MiG-21 fighter jet and a 1927 Harley-Davidson?
Some say the bike inspired the 2015 Honda NM4, though possibly a bit tenuous. However, in 2012 Masahi Teshima built his own replica, costing him $120k and seven years of work and looking pretty special.
—
Do you know of any other famous motorcycles in films? Can you recommend other movie motorbikes where a great bike is one of the cast? Do let me know in the comments below.