Staying safe when you're riding a motorcycle is paramount. Motorcyclists are 27 times more likely to be involved in a collision than other road users (according to research from the Insurance Information Institute).
That means it's important to invest in quality gear. What you wear when on two wheels will help to protect you against the cold, sun, wind and rain, as well as absorb some of the impact should you be involved in a collision.
The human body doesn't do so well when it's thrown from a motorcycle at any speed, but if you're going over 30mph then it's even more important to be protected.
Think back to when you were a kid and you fell off your bicycle – with the cuts and bruises to your hands and knees. If you come off your motorcycle at speed then that experience will be amplified.
Let's see how you can stay safe when on two wheels.
Helmets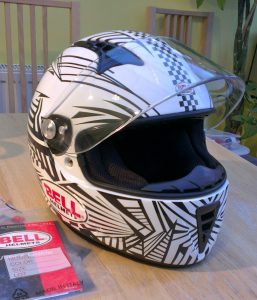 The motorcycle helmet should be your first purchase and is the most important piece to buy: it protects your head during a collision. Lots of people would agree that your head is the most important part of your body, and if you break it then it probably can't be fixed.
Research in Europe showed that motorcyclists who wear a full-face helmet were less likely to experience serious facial injuries and trauma during a crash, so it might be advisable to choose that type.
A motorcycle helmet is there to take the full impact of the collision and absorb energy from an impact. Sometimes onlookers see a rider's helmet break apart upon impact. The biker then survives without any life-threatening injuries because the helmet did its job by dissipating the energy and sacrificing itself.
When you're looking for the best quality helmet, don't buy a used one. Look for a well-known manufacturer that sells DOT approved. [Editor: the DOT rating is just a legal minimum in the US. For a better indication, consider one with a Snell rating in the US, ECE in Europe, Sharp rating in the UK or Crash rating in Australia]
If you want to feel a little more safe then choose a bright coloured one: research in New Zealand proved that bikers who wear a brighter coloured helmet are less likely to be involved in a collision than those who choose black or another dark colour.
The key thing to keep in mind is that the helmet should fit snug on your head when wearing it.
Gloves & Boots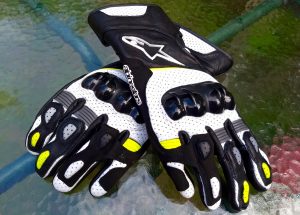 Your hands and feet, being at the end of your body, are fragile and will be the first to take the impact should you be hurled off your motorcycle.
A good pair of gloves should cover your hands completely and be made from material that is abrasion resistant and has hard-wearing, quality stitching.
Look for extra padding or armour on the palms of the gloves because this will absorb some of the energy should you have to reach out during a crash (reducing abrasive injuries to your hands).
When choosing gloves, try them on to see how much movement they provide. They need to be practical too.
[Editor: note that since 2017 it is now a legal requirement to wear motorcycle gloves in France]
Motorcycle boots should be strong and sturdy because they need to take the weight of your motorcycle should it end up lying across you. They also need to be oil resistant, waterproof and have a non-slip base, and that's why it's common for experienced riders to buy leather boots.
When you're looking at the choices, try them on and check that they're rigid enough: if they bend and twist then that's exactly what your feet will do if you end up in a crash. Move on to some higher-quality ones.
Suits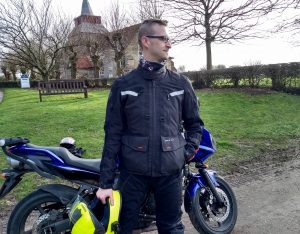 Jackets and pants can be purchased separately, but lots of riders prefer to buy a one-piece suit. They offer the same level of comfort, protection and ventilation as the choices in jackets and pants, and some motorcyclists choose a suit because they feel it offers much better waterproof protection than buying single pieces.
Newer, head-to-ankle suits allow you to zip and in out of your protective gear in under 20 seconds. They also offer the level of protection you want from high-quality material and padding (armor) in the right areas to help absorb impact energy.
You can also buy specialized airbag vests and jackets that detect when a motorcycle has an impact. They deploy an airbag to protect your body and vital organs, but there is currently little research on their effectiveness. [Editor: but it should be noted that since 2018 airbag suits are now mandatory for MotoGP riders]
Armour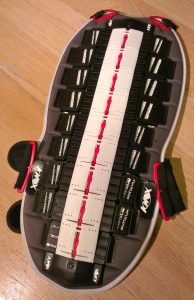 Motorcycle armour protects you from an impact by absorbing any energy that would be transferred to you.
Lots of times this is included in most motorcycle gear, but you can buy extra pieces if you want to add more protection. Just remember that it should fit snug: you want it to protect you in the event of a crash.
Some experienced motorcyclists will switch out their jacket/suit back protector for a newer one. You might find replacements that have a better rating for absorption of impact energy than the old one.
Eye protection
Lots of riders wear additional eye protection. During the day, it's important to stay safe and be able to see past the glare of the sun.
Regular sunglasses could be potentially harmful and won't have added shielding during a collision. Specially made eye protection for motorcyclists can protect your eyes from the sun as well as block any debris from entering the eyes should you be wearing them during impact.
Once the sun goes down, they can be removed and you can enjoy the clear view from your helmet.
It's important to invest in the best clothing and gear to keep you protected and safe while on the road. Rider awareness and anticipating other road users' movements is always key, but if you end up in a collision then you want to be confident that what you're wearing will take most of the impact and reduce any injuries.