I was recently assigned a new work project that required a visit to San Francisco to work with a client for a few days in October, and so of course I got to thinking if I could incorporate some motorbike time whilst out there.  Prior visits to the Bay area, where I had the chance to rent a Harley Davidson Dyna 103, a Road King 107 and Triumph Bonneville T100 were all very memorable. However, I have always wanted to visit Yosemite National Park,  being renowned for its natural beauty. At ~200 miles inland, I've just never had long enough to get there with time to appreciate it within a weekend bike rental.
Motorcycle Trip to Yosemite
For this upcoming trip, I've arranged my outgoing flight 3 days earlier (and actually saving the company money to boot!) to fit in a rough itinerary of:
Day 1 – collect bike in San Fran and ride 200 miles to Yosemite
Day 2 – explore Yosemite, Tioga Pass and ride up to Lake Tahoe
Day 3 – back to San Fran via Sacramento to drop bike off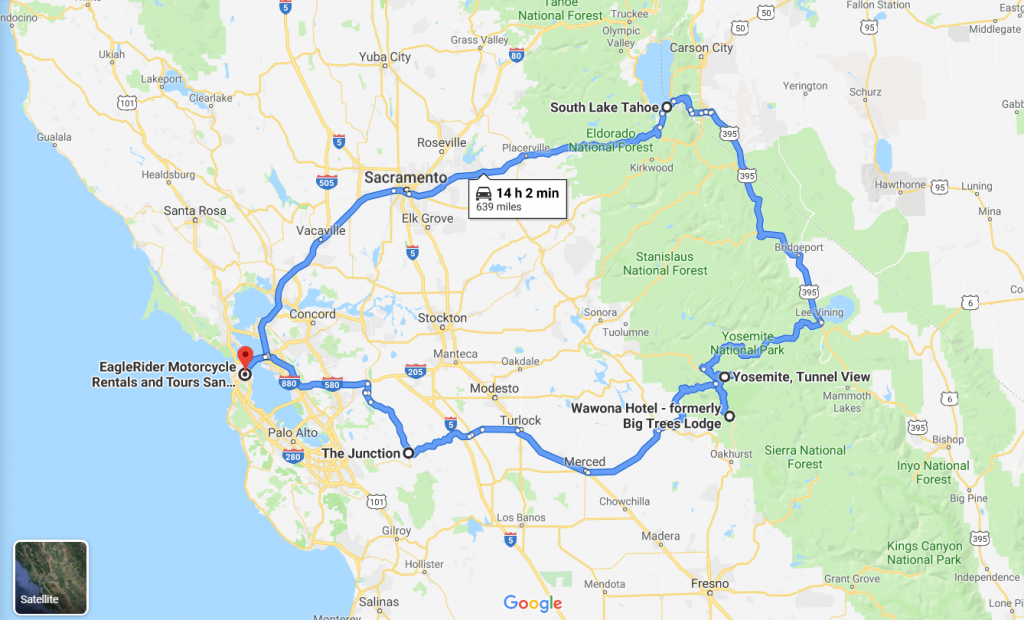 …what bike to book for an adventure into the Yosemite mountains in October? Or more to the point, given the current low value of Sterling, what can I afford?!
With my work trip scheduled Wednesday to Friday, my biking day fall Sunday to Tuesday. This limited my choice of rental somewhat: Dubbleju don't really open Sunday's, and the EagleRider BMW-Ducati-Honda shop South San Fran only opens from noon; hence leaving only the main EagleRider San Francisco motorcycle rental shop in the Mission District as a viable option. Thankfully, they have expanded their range of bikes considerably from my last visit, in addition to Harley's they have a few Triumph's, Yamaha's and Royal Enfield's. But what bike to book for an adventure into the Yosemite mountains in October? Or more to the point, given the current low value of Sterling, what can I afford?! With Harley's and Bonneville's all $130+ and their Tiger 800 a crazy $159, the Royal Enfield Himalayan at $49 was very tempting, especially after being quite tempted to buy one myself. But then I noticed their Yamaha Super Ténéré became available at just $79 – having still not ridden a big adventure bike yet, it had to be done! (and half the price of GS's and Africa Twin's at their other shop) I figured it would be the perfect Yosemite Dual Sport bike! More than capable for the mountainous route, the large tank range will be really useful and it'll take my luggage with no problem.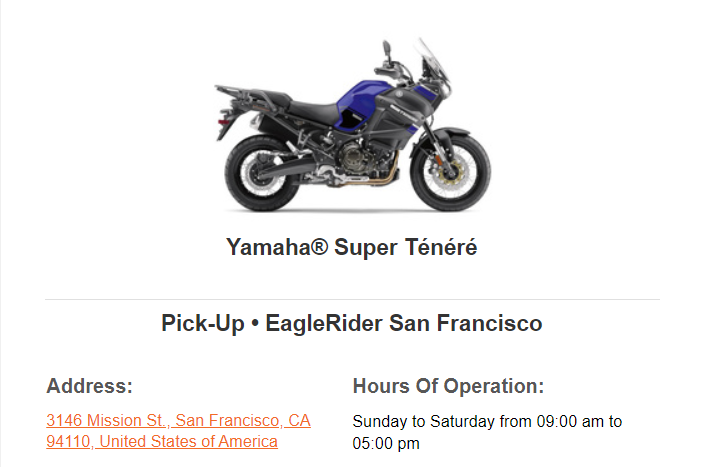 For accommodation, choice within Yosemite Park is limited and nothing super cheap. I didn't fancy staying further away from the park, as I really wanted to check out the famous sunset at Tunnel View, thus I opted for the nearby Wawona Hotel. Not cheap, but it looks like a decent place with an interesting heritage. For other nights I looked at AirBnB options, but as out-of-season basic motels around South Lake Tahoe and Stateline were cheaper and better located near all the bars. Upon returning to San Fran, work has car and hotel all sorted for the rest of the working week, so no worries there.
Final preparations will follow; what to pack, what luggage will fit the Super Ténéré and what gear will suit the weather. Not to mention carting around stuff for my work later in the week! With the trip planned for late October, I will have to closely monitor the conditions on the mountain passes. Early snow could close roads and require a detour on the West side of the mountains. Fingers crossed it stays clement for a perfect motorcycle trip to Yosemite National Park.
I will certainly schedule a stop at the Junction Bar & Grill South of Livermore, always a good biker cafe and good burgers and a great route from San Francisco which I've enjoyed many times previously. I've also been recommended the Stateline Brewery in South Lake Tahoe. If you have other suggestions of good roads, pitstops or cafes I should check out on my journey, please let me know in the comments below.
Full route:

Update: you can find a report and video of this Yosemite biking adventure here.