Back in February I was posted out to California again for a three week work trip, spending time in San Jose and San Diego. During me free weekend I rented a Harley Davidson Road King from EagleRider similar to last September when I rented a Harley Dyna 103. Not my usual kind of bike, but certainly a good laugh and a great way to explore the Bay area, see the sights and occupy a weekend. Sit back and watch my antics on this San Francisco motorcycle rental.
The Road King is a huge Harley (362 kg), 107 cubic inches or about 1750cc V-Twin. Loads of chrome, crash bars, hard panniers and a big screen. To ride it was surprisingly comfortable and relaxed, with oodles of torque to bring on the grins. Being February, EagleRider had some great out of season discounts, and California weather was still perfect for riding the San Francisco roads.
My meanderings were similar to last September, starting in San Francisco, working my way South down Route 1 following the coast, before cutting inland on Route  84 to Alice's Restaurant. Then down Rout 35 and 9 to Big Basin Redwoods State Park and then onwards to Santa Cruz. I then made my way back to my San Jose hotel via Soquel. All great roads and highly recommended.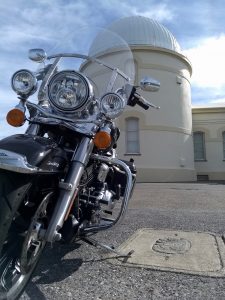 On day 2, I climbed Mount Hamilton again, bumping into some local bikers at the Lick Observatory, before continuing on Route 130 to the Junction cafe. I then cut North up Mines Road, then through Livermore to Morgan Territory Road that skirts around the back of Mount Diablo, then finally cut back into San Fran via the Oakland bridge. Route 130 and the Mines Road were stunning and suitable technical (much foot board scrapping). Morgan Territory Road was a bit gnarly with terrible road surface in places, not ideal for a big Harley.
If you're out in the US, have a couple of days to kill and are near an EagleRider shop, which is very likely as they keep opening up more and more, I do recommend you swing by for a Harley Davidson rental. Certain branches do offer other brands to rent (Ducati, BMW, Honda etc). The bikes I've rented have all been well maintained and come with handy luggage. Basic piss-pot helmets are provided free, but other gear can be hired too. A Harley rental is a great way to get a feel for such a bike over several days without spending a tonne of cash on one.