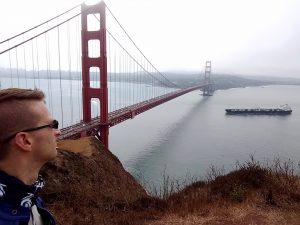 This month I was posted to San Jose for work, but unlike most work trips this one included a stay over the weekend. So, stuck on my tod in California I decided to book Harley Davidson rental bike to explore the area as it's not often you get chance to cruise down the West Coast freeways on a big hog, definitely on many bikers bucket lists and too good a chance to miss. I went to EagleRider San Francisco motorcycle rental, who had a wide selection of Harley's to choose from (but also have others). I initially booked a Sportster 1200, but due to unavailability was given a Dyna Low Rider 103 as an upgrade – nice one!
Harley Davidson Rental Bike
EagleRider put together a great service and covered pretty much everything you need, helmets and jackets to hire, the bikes come with saddle bags for luggage right down to covering the electronic payment of the Golden Gate bridge toll (you can't sign up for an account for this if you're not US resident and no cash payment, unlike other San Fran bridges). I took my own leathers, boots and gloves and hired a lid. Small piss-pot open face lids are available for free and they had a small number of full face lids to hire, however the condition of the one in my size wasn't great (but they discounted the hire accordingly).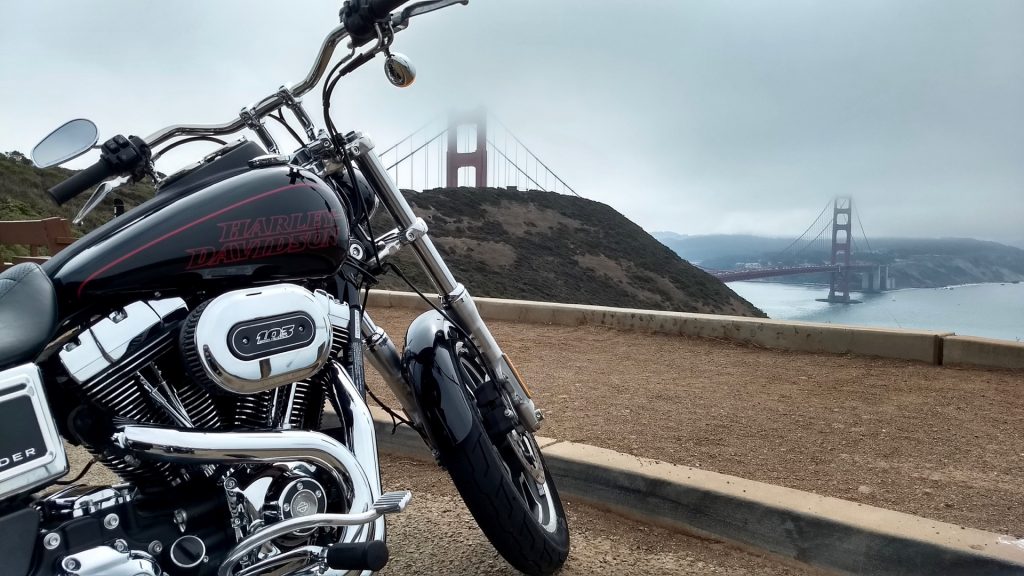 The Dyna 103 had oodles of torque on hand, it always felt as though it had plenty more to give.
Having never ridden a Hog before, it took a bit to get used to it, the feet forward riding position, the crazy torque on releasing the clutch, the indicators (button on each handle and self cancelling), the clocks low down on the tank and lack of ground clearance. However after a couple of miles it all felt natural and effortless . The Dyna 103 had oodles of torque on hand, it always felt as though it had plenty more to give. The clutch needed a light touch, drop it fast and it'll rip your arms off, change down too harsh would easily lock the back wheel and it was a bit fussy finding neutral when hot. The lack of clearance was nowhere near as bad as I anticipated, with pegs only grinding very tight hair pins, but I soon got the hang of well hanging off more. Overall it was comfortable, not too vibey and it brought on big grins throughout the weekend.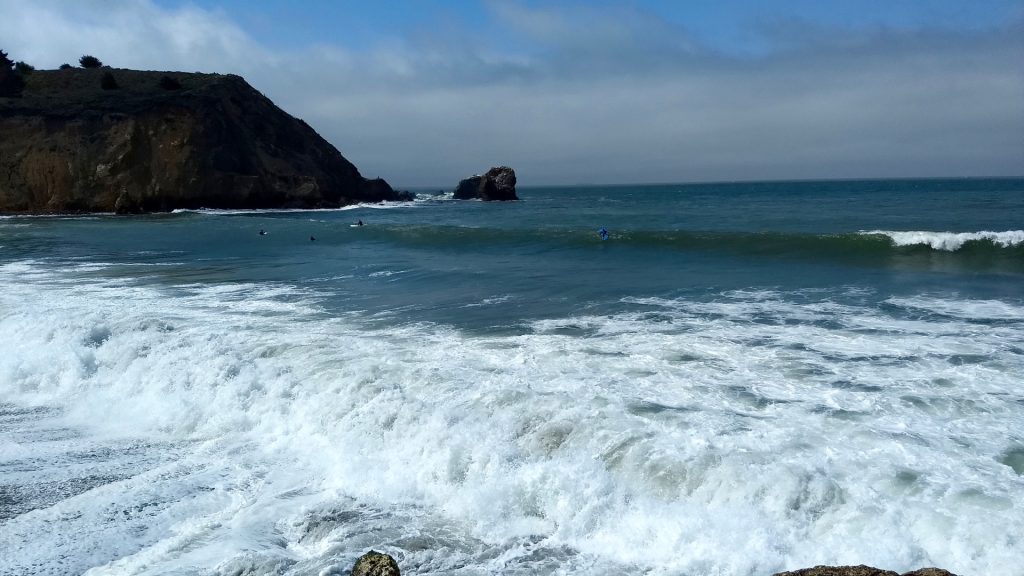 Bay Area Route
My exploration started with a downtown San Fran, checking out the hill terraced streets, trams and city life. I then went North over the Golden Gate Bridge to view the city and Alcatraz Island from the neighbouring hilltop viewpoints. Next I back tracked and took route 1 South following the Pacific coast line to and Half Moon Bay, where upon I cut inland onto Route 92 and 35 to Alice's Cafe at the intersection of route 84. A popular biker haunt high up in the neighbouring hills and forest, that served a mean burger from local beef.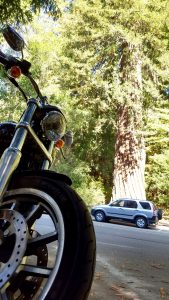 Nourished, then continued along route 35 otherwise known as Skyline Boulevard, which had great hill top views out over San Jose. The 35 joined the 9, and South I aimed towards Santa Cruz, or so I thought until I missed a turn and wound up taking a loop through Big Basin Redwoods State Park. Sometimes the most interesting places are those you stumble upon by mistake, route 236 was perfect smooth tarmac, perfectly banked on every bend, and snaked its way through giant redwood trees. The smell and surroundings with the dappled sunlight poking through the canopy way up above, were both beautiful and a welcome cool down. The visitor centre at the forest centre offered a welcome comfort stop and chance for ice cream, even if I had to dodge countless kids off hiking or camping.
After my redwood diversion, I picked up route 9 again and continued down to Santa Cruz, though progress was slow through many small towns and villages and didn't arrive until late and very hungry. I found a nice Hawaiian Place downtown, Hula's Island Grill which served some top notch fish. Unfortunately I didn't get chance to see the beach and seafront though before it was dark and time to hit the Highway 17 back to San Jose.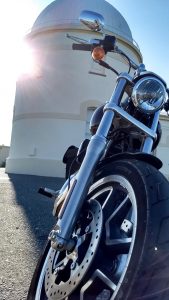 Determined to make the most of the bike on Sunday, I set off super early and aimed the hog at Mount Hamilton and the Lick Observatory. Google maps promised some twisty roads and twisty is what I got. Leaving the San Jose suburbs the Route 130 soon turned into a narrow mountain road with many hairpins and switchbacks. Early on I had some great views out over San Jose, but the road soon snaked between the foothills, through narrow valleys and creeks. Progress was steady, roads were narrow with tight bends, hardly any barriers, huge drops and Low Rider which kept wanting to scrape pegs. I had to adjust my riding accordingly, slower and shift my weight more. The Dyna 103's immense torque really came into it's own when pulling up and round tight hairpins; on my normal Fazer 600 I'd be constantly dropping into first and struggling to keep things smooth as I climbed up 1280m. The views from the top were of course stunning, but also serenely quiet. The Observatory doesn't open until noon, so only a couple of other bikers and cyclists had made the climb this early morning.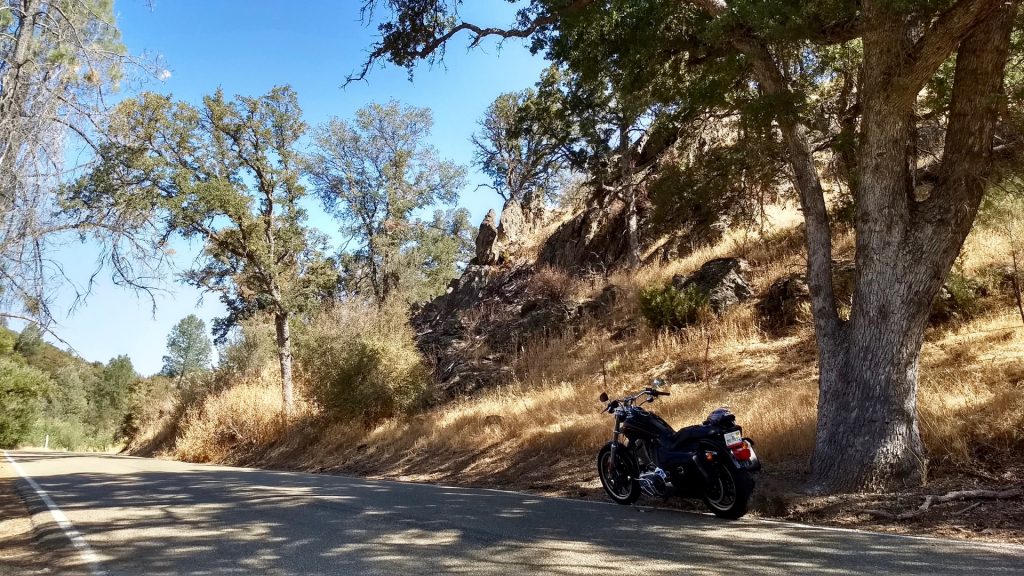 Next I continued inland on Route 130, before cutting North along Mines Road to Livermore. Another interesting and windy route cutting through the hill range, past quiet out of the way ranches and well, not much else to be honest. Very peaceful, barely saw a dozen vehicles the entire 30 mile stretch, a taste for the isolation on the back road through the interior of the US. Dusty, rocky, scrubland, golden sun parched grasses, dried up streams and as the road climbed higher, many birds of prey soared above me on hot thermals.
Livermore was full of vineyards and posh suburbs, I only stopped briefly for gas. Then cut South East to Fremont to check out another bike cafe recommendation. Fremont is trying to conjure the image of past 18th century glories to bring in tourists, the main drag is all themed fronts, and classic vehicles littered here and there and far too many trinket shops vying for tourist cash. The Florence Bar, seemed a decent enough little bikers bar, but bit quiet this Sunday afternoon with just a few locals watching the big NFL game.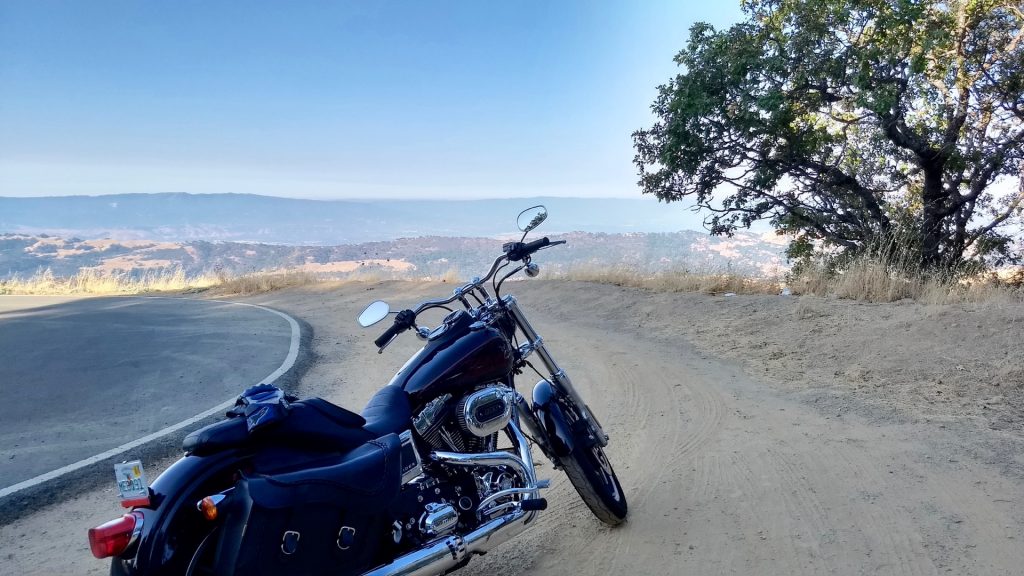 With time pushing on, I had one more destination to squeeze in before I handed the hog back – Mount Diablo. Another tall peak in the locality and another great chance to practice hill climbing. Again, another nice twisty route up, lots of interesting hairpins and perilous drops inches from the tarmac's edge. This location was clearly more or a tourist draw, a $10 fee to take the final section to the summit, many huge illuminated signs telling you to 'slow down and do not pass' and more traffic. 🙁 Especially with 15 mph speed limit for the 10 mile journey to the top – oh come on?! At least many drivers were courteous enough to pull over at various 'turnouts' (lay-bys for UK readers!) The peak is 1173m and had good lookouts in all directions, along with a visitor centre and shop. However time was pushing on.
I had to zoom back down the mountain and hit the highway through Oakland, across the Bay and into downtown San Fran. The Dyna 103 really does have a lot of power, can easily hold it's own on the big highways, it just keeps thundering on, unstressed and always with plenty in reserve for a quick blitz to pass by others.  However with no wind protection, it soon becomes hard work – so glad I opted for a sensible helmet with a visor. It maybe great for leisurely touring, but I wouldn't want to take it on the Autobahn. But as the traffic thickened along Oakland bridge and into downtown San Francisco I was relieved lane splitting (filtering) was legal in California and impressed how well the Dyna 103 Harley Davidson rental performed. I may not have filtered to London standards, but the 103 was easy to handle at low speeds and pick my way between cars, helped greatly by its low centre of gravity it didn't feel like 300Kg at all.
Find some of my favourite San Francisco motorcycle routes here.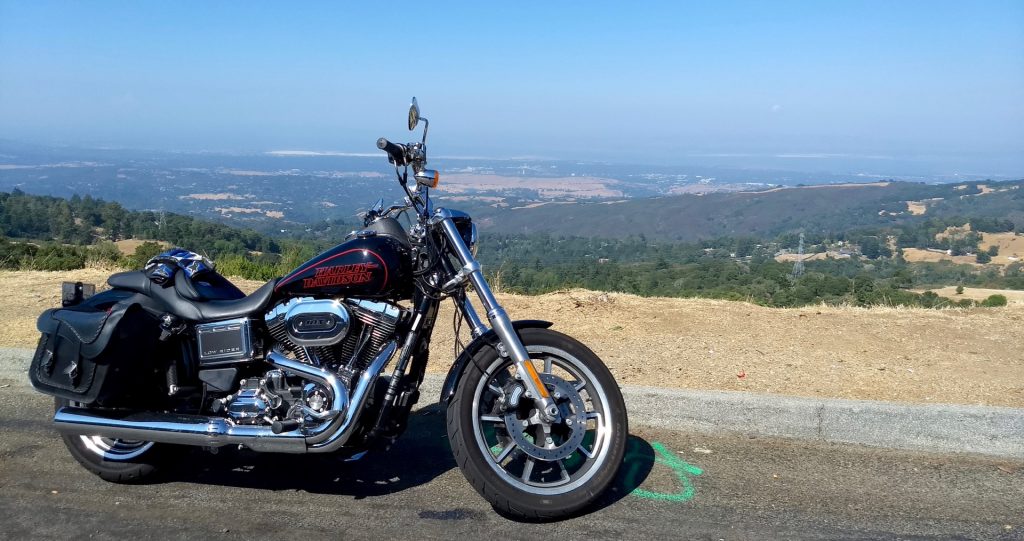 I can definitely recommend EagleRider for Harley Davidson rental and would certainly like to rent from them again to explore more of the US, maybe even one of their longer tours. The HD Dyna 103 was certainly a fun bike to ride, perhaps not one I'd buy myself for year round commuting in London, but definitely an enjoyable change. I definitely wouldn't hesitate to book a Harley rental it again.