I tend to have a love-hate relationship with bus lanes; when you can use them they're great for filtering past long queues of traffic, but with so many not open to bikes or only active at random times it can be a pain to work out when you can take advantage of them. Especially so when you're riding an older bike with no clock! This is exactly the problem with my wife's Honda CBF500. Not wanting to get caught out with a bus lane fine, we bought this Oxford analog clock.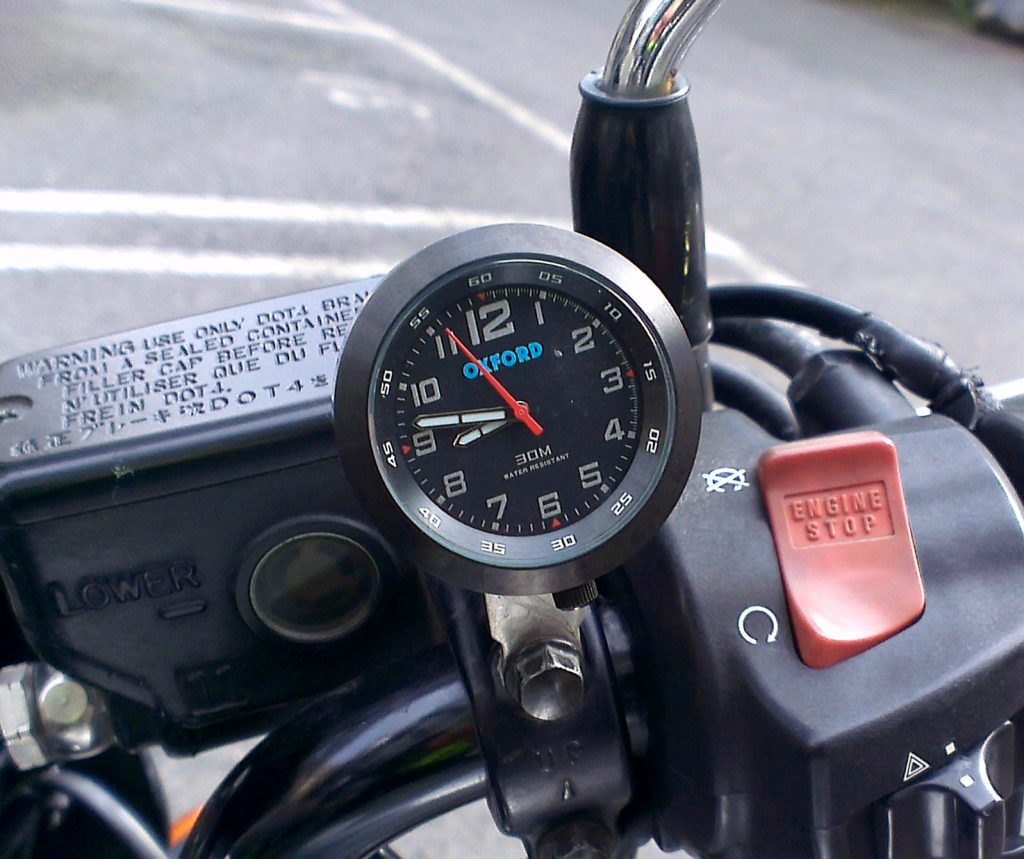 The clock has a solid stainless steel body which feels reassuringly weighty. The clock comes with two mounting options, either with a little metal bar that screws onto the back and attaches to a bolt-on your switchgear/lever mounts; or with a sticky back Velcro patch to attach to a flat surface. On the naked CBF500, I just piggybacked a brake lever mounting bolt (see photo above). The instructions do recommend a dab of thread lock (not included) to secure the bolt into the rear of the clock. We've got the black version here, but the clock is also available in silver or titanium finish.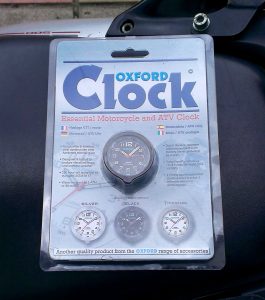 The clock claims to be waterproof to 30m, salt proof and vibration proof. Although we've not tried shaking it to bits whilst scuba diving on the bike in a salty ocean, it is holding up fine to the British weather. The fitted battery is supposed to last 4 years, too early to confirm if this is true, but it can be changed by any good watch shop. The clock isn't backlit but does have luminous clock hands for nighttime, however, it's pretty tricky to catch the time when glancing at it on the move in the dark.
What can I say? – it's a clock, it's pretty simple, it does exactly what it's supposed to, but crucially it seems solid enough to continue doing what it's supposed to do. Some Oxford products have a pretty poor reputation (e.g. security chains and locks), but this Oxford clock is a solid piece of gear that feels like it will last for many years. It's certainly not the cheapest out there at £25-30, and it's only this steep price that I can criticise.
Errata: the supplied battery finally died after 3 years. Replacing it was straightforward; three small screws on the rear uncover the backplate. From there it's a simple job to swap the battery.
Rating 9/10