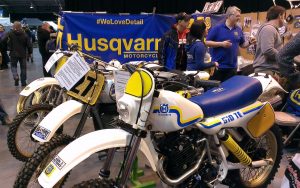 At the weekend I popped by the Classic Dirt Bike Show up in Telford. Being in the area with family and having not checked it out before, it seemed too good to miss. Admittedly I'm no off road dirt biker, but some green lane and trail riding has always been on my list of stuff to try. So with kids in toe we rocked up to ponder all these curious bikes with knobbles.
Failing to get out of bed early, we skipped the outside auto-jumble; with no projects bikes on the go, we weren't after any hard to find parts, though there was clearly lots to rummage through. The show itself was spread over three large halls with loads to see. A big mix of stalls from specialist dirt bike retailers, off-road clubs, plenty of bike dealers, tonnes of second hand bike bargains and many tantalising classics, and many more auto jumble stalls too.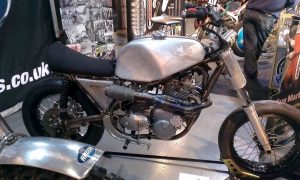 Although there was lots of stuff to check out and plenty of bikes on sale to tempt, there was a distinct lack of entertainment. Beyond some talks from a few biking celebs there was little else. Some stunt riders or trial action would have lightened things up. Similarly, I was a little surprised by the lack of big name manufacturers. But then, I guess this is a classic dirt bike show… and all the new stuff was on show down at the London Motorcycle Show running the same weekend. There were however a few new Beta trials bikes. One highlight, was checking out the bike Guy Martin did his wall of death record on (shown above).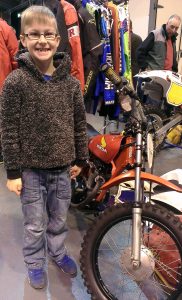 One issue with carting the kids along to the show was every little mini motocross bike we saw had them both nagging. Each little 50 or 80cc tiddler we came across, they desperately wanted. Just a shame we live in London's suburbs where it just isn't practical. 🙁
If you're local, want some cheap bits for your dirt or fancy picking up a new ride for your stable, it's definitely worth popping in. Judging from the number of visitors carrying home new tyres and sets of panels, this is obviously the main draw of the show! In the end I came away with a set of Austin Vince DVD's to keep me dreaming of more adventurous riding out of London…
Check out these few snaps from the show: