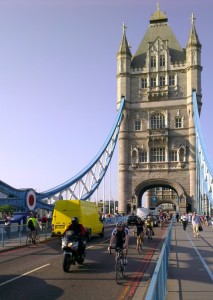 If you live or commute into London, you will undoubtedly have heard about a raft of emission charges, toxicity charges or Ultra Low Emission Zone (ULEZ) charges being bandied about to tackle pollution. With so many charges, consultations and plans afoot it's tough to get a grip of what the hell is actually coming into effect and how it'll affect you and your bike.
Pollution is pretty bad in London, but motorcycles should definitely be considered as part of the solution. Bikes rarely, if ever sit still in traffic jams and have much shorter journey times and thus pollute less. Recent TFL consultations even concluded bikes contribute less than 1% of nitrogen oxide (NOx) emissions. So read on to learn how to avoid the charges and keep biking.
Congestion Charge
This one has been around for a few years, but all motorcycle are exempt (except some larger 3-wheelers over 2m long). It covers the zone shown in the map below. Not new news, but many new charges cover the same area.
T-Charge / ES-Charge
The Emission Surcharge (ES-Charge) or as previously labelled the Toxicity Charge, has just been approved by Sadiq Khan and will come into force on the 23rd October 2017. The key details:
Covers congestion charge zone (above)
Operates Mon-Fri 7am-6pm
£10 a day (in addition to £11.50 congestion charge)
Affects any car, van not euro 4 compliant
Thankfully all motorcycles are exempt from this charge.
London ULEZ (Ultra Low Emission Zone)
The London ULEZ  does affect motorcycles. Past consultations are now over and a two-phased rollout has been confirmed, the first phase of which is now in place.
Now confirmed
From 8th April 2019: charge area covers congestion charge zone (above)
From 25th October 2021: charge area extended to cover the area within North/South Circulars.
Operates 24-7
£12.50 per day
Affects any non-Euro 3 motorcycles registered before 1st July 2007
Note: electric and historic tax class bikes are exempt from the London ULEZ charge. If your bike is Euro 3 compliant and registered before July 2007 you can register an exemption with TFL.
TFL have a vehicle checker tool to allow you to confirm if your vehicle is affected based on its registration plate. However, there have been reports of its data not being 100% accurate, and having many updates over past months. So, I would not take this as gospel and do keep checking.
Watch this space for news and developments on the London ULEZ, as this affects bikers most directly and could potentially many more if things change. Especially those with cheap old commuter hacks.
Finally
So there you have it, for the short term you can keep on biking unaffected. But by 8th April 2019, you'll need a ride newer than 2007. Of course, such a forced upgrade will devalue any pre-2007 significantly.
Update: some recent developments: It now seems any bike with sufficiently low NOx emissions (below 0.15g/km) will be exempt. However, this needs to be proved to TFL on a per bike basis. You can find this info either from your V5c doc, by acquiring a certificate of compliance from your bike manufacturer (albeit at an admin cost) or booking a London ULEZ check for your bike, specifically measured at www.nationalemissionstestcentre.com who are the only certified testers.