If you plan to commute year-round by bike, then here are five super useful mods you should definitely consider for your bike.
Top Box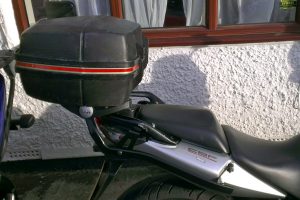 Sure, they're not the most aesthetically pleasing of items and certainly not suited to all types of bikes. However, they are invaluable for lugging a change of clothes and packed lunch to work and the best way to transport heavy security chains that are now sadly essential in the city.
Givi is the market leader for top boxes, but there are cheaper alternatives from the likes of Kappa and others. Although Givi racks are bike-specific, the plates and boxes aren't and can readily be picked up second hand. Do opt for the better rated Monokey kit, rather than lightweight Monolock ones.
Loading best prices...
Rear Hugger & Fender Extender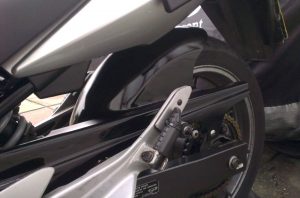 When you ride year-round regardless of weather, wet or dry, you will find loads of crud is thrown up off-road, covering your bike (and yourself). In the colder months, this can include salt and grit too. All of which wreaks havoc on your rear shock, radiator, engine, downpipes etc. Left unchecked and stuff starts seizing up, causing problems and serious headaches later on. Nothing worse than snapping or shearing bolts when performing what should be simple maintenance tasks.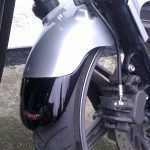 A rear hugger can be a little tricky to fit but are great at keeping your rear shock and linkage clear of crap. A front fender extender is very cheap and can be glued or screwed on easily to help protect your radiator and engine and reduce crud getting flung up onto yourself.
Loud Horn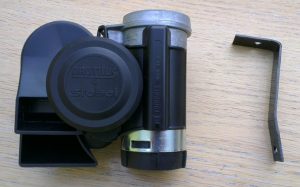 Most bikes come fitted with a pretty poor horn which simply won't get you noticed. Swapping on a louder one or mini air horn can make a surprising difference. Of course, not everyone uses a horn when they could, but they can be invaluable to grab someone's attention when you see them creeping out of a blind junction, about to swap lanes or just to warn pedestrians glued to phones and jaywalking.
I've personally had the Stebel Nautilus air horn and the Denali SoundBomb, both of which has saved my bacon many times, but there are many alternatives about.
Loading best prices...
Spot Lights / Day Light Running Lights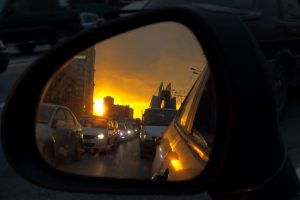 When commuting you invariably find yourself filtering through thick traffic, at dusk or on darker nights your bike will just blend into a sea of lights in people wing mirrors. Additional spotlights of DLR lights can help create a more distinctive shape that is easier for other drivers to spot and hopefully not cut you up.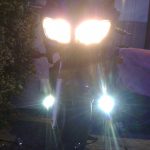 Some spotlights are an option on new bikes but many others are available, from expensive Givi ones to super cheap Chinese LED's off ebay. Obviously quality varies greatly and you get what you pay for, more expensive models are more robust, have better quality mountings and wiring. I recently picked up some super cheap Chinese ones and find they keep rattling loose…
Heated Grips
If you're going to ride year-round, then you need to be prepared for cold hands. Wind chill cannot be underestimated, when the temperature is close to freezing fingers soon go numb with all but the very best of gloves. Although heated grips are not the only method to keep hands warm, they are very cost-effective (~£50) and particularly useful as they will always be handy on your bike. Perfect should you get caught out with the wrong gloves or a late-night ride home.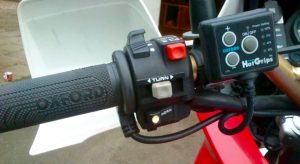 Oxford and R&G are some of the main brands on the market, with many options to suit different bikes.
Loading best prices...
So there you have it, five useful and practical mods for your bike that will certainly make commuting easier. Have you made other mods to help your day-to-day commuting? Comment below and share what you find works well.