For this half term holiday I had the chance to undertake one last ride  for the year, out to North Wales to catch up with family whilst having a blast on the bike. I took Friday off work to ride up, but didn't set off  until nearly lunch as I waited for the rain to abate. The roads remained wet for most of the afternoon and the weather was grey. I took things steady, even though there were many fun and technical bends to negotiate. The route was very similar to the one I undertook last time: London, Aylesbury, Buckingham, Brackley, Banbury, Stratford-upon-Avon, Droitwich, Kidderminister, Bridgenorth, Shrewsbury and finishing in Welshpool. Night fall hit I passed Bridgenorth, where upon I was glad I had the Fazer with decent headlight, and enjoyed the London's novelty that is main beam.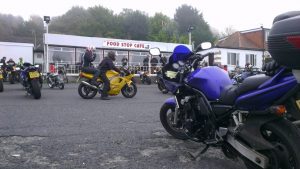 The return journey on Sunday was far more enjoyable weather wise. A little foggy early on, but the sun finally burnt through and made for some excellent riding across middle England.  By the time I hit the M25 at 5pm is was suddenly dark and very, very foggy. The Food Stop in Quatford, near Bridgenorth was my lunch break. A haven for bikers and delivered a decent bacon'n'egg buttie.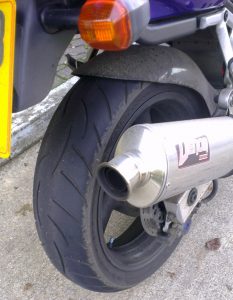 As with any long ride, it was a great chance to hone ones riding skills, by building confidence, making thing second nature and relaxing into the ride. This was especially so for me when riding on the wet roads, something I'm still not 100% at ease with.  On the return journey in the dry I worked on my comfort braking, something I'm still very much guilty of. But I've still got a little way to go on my 'chicken-strips'. 🙂
As with any long ride, preparation is key. For this journey I was having to clean my visor at every stop, so glad I packed a cloth and spray. Some thermal base layers kept me super toasty, especially after nightfall when the temperature quickly dropped.  It is important to carry enough provisions, cereal bars, fruit and drink in particular. I found some re-hydrating Lucazade especially good, as it's so easy to let yourself get dehydrated on a long ride. Ear plugs are also great to reduce noise and fatigue. Studying the route before hand and transcribing it to post-it's to duct tape to bike was super useful as an aide-memoir of the route and road numbers. There's nothing worse than taking a wrong road and making a long journey longer than need be, especially when night is approaching.
With winter fast approaching, this will probably be the last long jaunt until the new year. But with record warm temperatures currently, who knows.