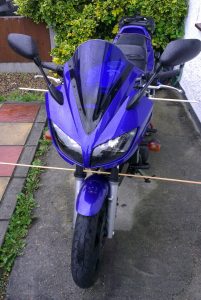 In my last update your will have seen I made quite a mess of the Fazer in a little off in the wet. Over the last couple of weeks I've had a steady stream of parcels from Fowlers and ebay, containing numerous parts to fix up the bike.
Pictured is one of the last fixes to be done, putting the forks back in alignment. There's countless methods to do this, but here I've opted for the two sticks approach, where their length exaggerates any ill alignment, making it easy to correct by eye alone.  The basic  approach is to slacken off all the bolts South of the top fork clamp yoke, realign the forks, then tighten it all up again.
To get the bike back on the road, I've swapped the handlebars (for some Renthal 758's), put new fairing brackets, headlight, fairing, infills, mirror and crash bars. One of the rad hoses had split too, so I've replaced that along with a couple of others I found NOS replacements for cheap on ebay. Remaining is just some cosmetic damage; scratches and dents to the tank, levers and exhaust, plus the Givi rack is slightly bent. All in all, not a cheap job, but just about economic compared to scrapping the bike and replacing it.
Nonetheless, it definitely feels better being back on two wheels. Commuting by tube certainly focuses one's mind on getting the bike fixed up!