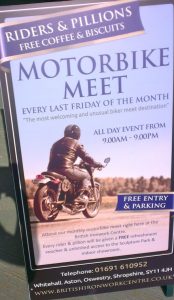 If you're near Oswestry on the A5 on the last Friday of the month, then check out the British Ironworks Centre. They're offering free coffee and biscuits for bikers who pop in, perfect for that ride back from the Horseshoe Pas.
When: Last Friday of the month. Open 9am – 9pm.
Where: British Ironworks Centre. Google Map.
Seasoned London commuter, doing my best to stay rubber side down and never stop moving forward.