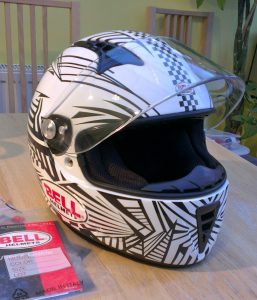 It recently came to my attention Amazon were offering some huge discounts on Bell Helmets
. I wouldn't normally purchase a lid without first trying it on for size, but the prices were so good it was worth taking a risk and distance sales law means returning for a full refund is always an option.
I went for the M3R, which was down from around £200 to £53. Not bad at all. However Amazon have been charging VAT on these helmets, even though they should be 0% rated being safety equipment (Amazon's own help pages also stipulate this). After contacting them, I've been informed they are looking into this and should get a refund of £9 VAT, making this lid even cheaper!
Well, the helmet arrived today, all in good nick and the fit is pretty damned good, although I am an XS according to Bell's sizing chart!  I've not worn it out yet to compare for noise, but first impressions are good, it seems snug and comfy, either way £43 isn't bad for a 5 star Sharp rated helmet.