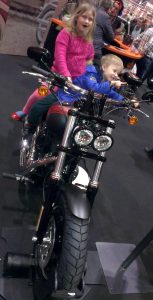 Yesterday we had a family outing to the MCN bike Show down at Excel London, as such not on bikes, but in the car. Bad as we had to pay £15 for parking and get stuck in the rush hour jams on the way home, but good in that we stayed dry and had more room for shopping. 🙂
The show took up a sizeable area of Excel, but ironically was located directly opposite the (push) Bike Show, so cue lots of confused people expectantly finding bikes with (or without engines). A lot of the big brans were present at the show, Yamaha, Honda, Kawasaki, Ducati, BMW, KTM, Harley, Indian, Royal Enfield, etc. However notable there was no Suzuki… On the Friday, the show was reasonably busy, but not too busy and we had plenty to opportunity to sit on many bikes and get a feel for for them. Something the kids loved doing at every step! With Mary's short stature, it was a great chance for her to check out what bikes suited her best. The Ducati Monster 696, Honda CB500 and KTM Duke 390 all seemed good candidates.
Along side the mainstream dealers, there was a classic bike zone and a custom bike zone at the other end of the show. Both packed with some beautiful bikes that had received much attention from their owners.
As with many of these shows there was lot of stalls selling gear and knock down prices. I was planning to pick up some new leather trousers, however I must be a pretty weird size, I'm normally a 30″ waist/34″ leg, but every pair of 30″ trousers I tried on were super baggy and/or just too short in the leg. Ended up walking away empty handed.
Anyway, enjoy these photos from the show.