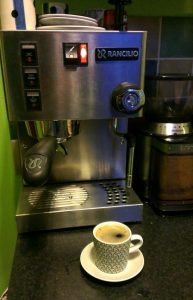 With these chilly, wet and dark mornings, getting motivated to get out of bed and get on the bike and head into work is far from easy. Each morning I'm layering up (the Lidl thermals from last year still holding up well) and downing my muesli, but by far the most important item each morning is a nice coffee.
Cue the Rancilio Silvia espresso machine. With a perfect espresso, I'm ready to hit the road and deal with all the shit drivers out there. Highly recommended!
Seasoned London commuter, doing my best to stay rubber side down and never stop moving forward.