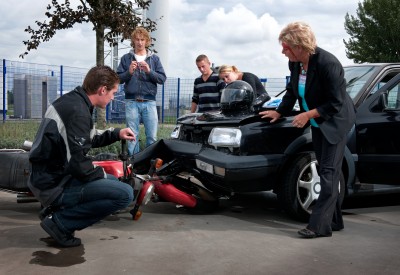 Everyone wants to find cheap bike insurance, of course, but you really need to know what types of things can help you get this low-cost coverage if you want it to be a reality. There are certain things that you can do to drive the cost down. People often do not know that it is within their power to reduce their own payments. It is also within their power to raise their payments. Rarely do two people pay exactly the same amount of money each month, so you need to know how to act so that your payments can be on the low end and not the high end.
Getting Cheap Bike Insurance

Avoid Getting Points / Citations

You should try to keep from getting points or citations as much as possible. Often, this is very easy to do. Obey the posted speed limits when you are on the road. Make sure that you are legally allowed to park in certain places before you park there. Do not run through red lights, even if no one else is coming from the opposite direction. If you have a lot of tickets, the insurance provider will see that you are a dangerous driver, and you will have to pay more since you are high risk.
Avoid Accidents
You should also stay out of accidents at all times. This is always the goal when you take to the road, but it needs to be more than something that you hope for. You should drive defensively. Always watch the cars on the road and assume that those drivers are going to make mistakes. When they do, you will be ready to avoid them. For example, you should not charge ahead if it looks like someone is going to pull out in front of you, even if you have the right-of-way. Your insurance costs could go up when you are involved in accidents, and they can go down if you are not. In my opinion, it is best to use this site when searching for insurance as it will outline exactly what's covered – and what's not.
Only Ride During the Day
More accidents occur at night than during the day. Therefore, some carriers have created policies that give you cheap bike insurance if you only ride during daytime hours. You will have cutoff times when you have to park the bike and take a car or the public transportation system. For example, you may only be allowed to use the bike between eight in the morning and eight at night. If you break this limit, though, your bike will not be insured if you crash.
→ Check out even more motorcycle insurance tips here.