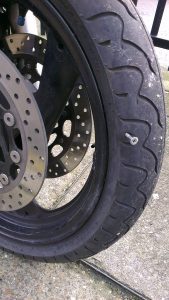 Not a good day today. Whilst on the way into central London, I  felt a bump and heard a slight clatter from the front wheel. It cleared quickly , so I carried on. Big mistake. When I did finally stop I noticed this big screw protruding from my tyre, and air hissing out slowly I had only ridden several miles down the busy A13, with my wife pillion on the back  – eeek!  Damned lucky not to have had a blow out.
Being stuck in Mile End, I rang up nearby Pole Position, who sent one of their chaps round to repair the puncture. They showed me poke the 'strings' of the rubber puncture kit into the tyre and seal the hole, enabling me to get to their workshop and replace the tyre. It only had a 3-6 months of tread left in it, so replacement seemed best option. On went a nice new Metzeler Roadtec Z6 front tyre, which seems to get good reviews and will hopefully put me in good stead for the coming winter.
Lessen learnt: If you feel something dodgy whilst riding, stop sooner rather than later to check it out.