Fuck.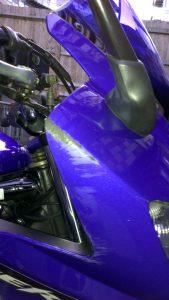 Had my first off this morning. Feel so stupid, was such a novice error. The roads were a bit wet, I was just 5 minutes from home, coming up to a mini roundabout. All of a sudden a car suddenly indicated to come round the mini roundabout, I panicked and hit the brakes hard, too hard. Locked the front wheel and skidded down. Didn't hit any other vehicles thankfully, or have any injuries, but I had the weight of the bike on top of me, scratched it badly and dented my confidence somewhat. Had to hit the emergency off and pissed petrol everywhere.
Put a nasty scuff in the fairing, bent a crash bobbin in turn cracking the belly pan and popped the can off. Not too serious, but the bikes' perfect cosmetics are no more. Everyone says, as a learner you'll inevitable drop your first bike, but it's still bloody annoying.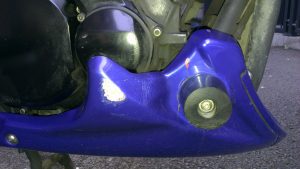 Lessons learnt: be smoother on the brakes, weight the back brake more in the wet and I can actually lift the bike! Oh and put it back in neutral, before wasting ages trying to work out why you can't push the bike to the side of road….