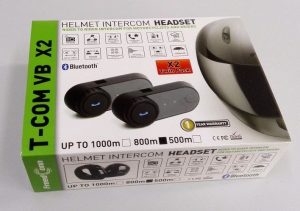 So, you want a motorcycle Bluetooth communications headset for your helmet, listen to some tunes, your SatNav or natter with your partner, friends or pillion whilst you ride. But, you've checked out other Bluetooth headsets for motorcycle helmet offerings from the likes of Sena, Midland, Interphone, Cardo etc in the shops and probably come to the conclusion it's gonna set you back quite a bit of cash. But, you've seen eBay is littered with funny Chinese branded gadgets at far more affordable prices. Sure they may not be the best Bluetooth headsets, just how bad can they be? Well, I took a punt on a pair of T-COM VB Bluetooth headset and this review tells how they turned out.
The first issue is narrowing down what you're buying as you browse the glut of these intercoms on eBay. There are seemingly dozens of subtly different variations, on branding, spec and revision. Ultimately, I just took pot luck grabbing one of the cheapest FreedConn T-COM VB Bluetooth helmet intercom kits I could find from a UK seller. I wasn't keen on waiting 4-6 weeks for a China-based seller to post or risk getting charged for VAT and duty by Royal Mail on arrival. Expect to pay around £40-50 a pair on eBay.
TCOM-VB Bluetooth Headset
Loading...