It was that time of year again for the Scottish Motorcycle Show, a yearly event that is eagerly awaited by motorcycle enthusiasts from all over Scotland and beyond. The show is a celebration of all things two-wheeled and motorized, bringing together manufacturers, dealers, and riders from across the country. With the Birmingham Motorcycle Live show being so far away, the Scottish Motorcycle Show held in Edinburgh is the only convenient show to get to, even if it is a bit smaller than other shows.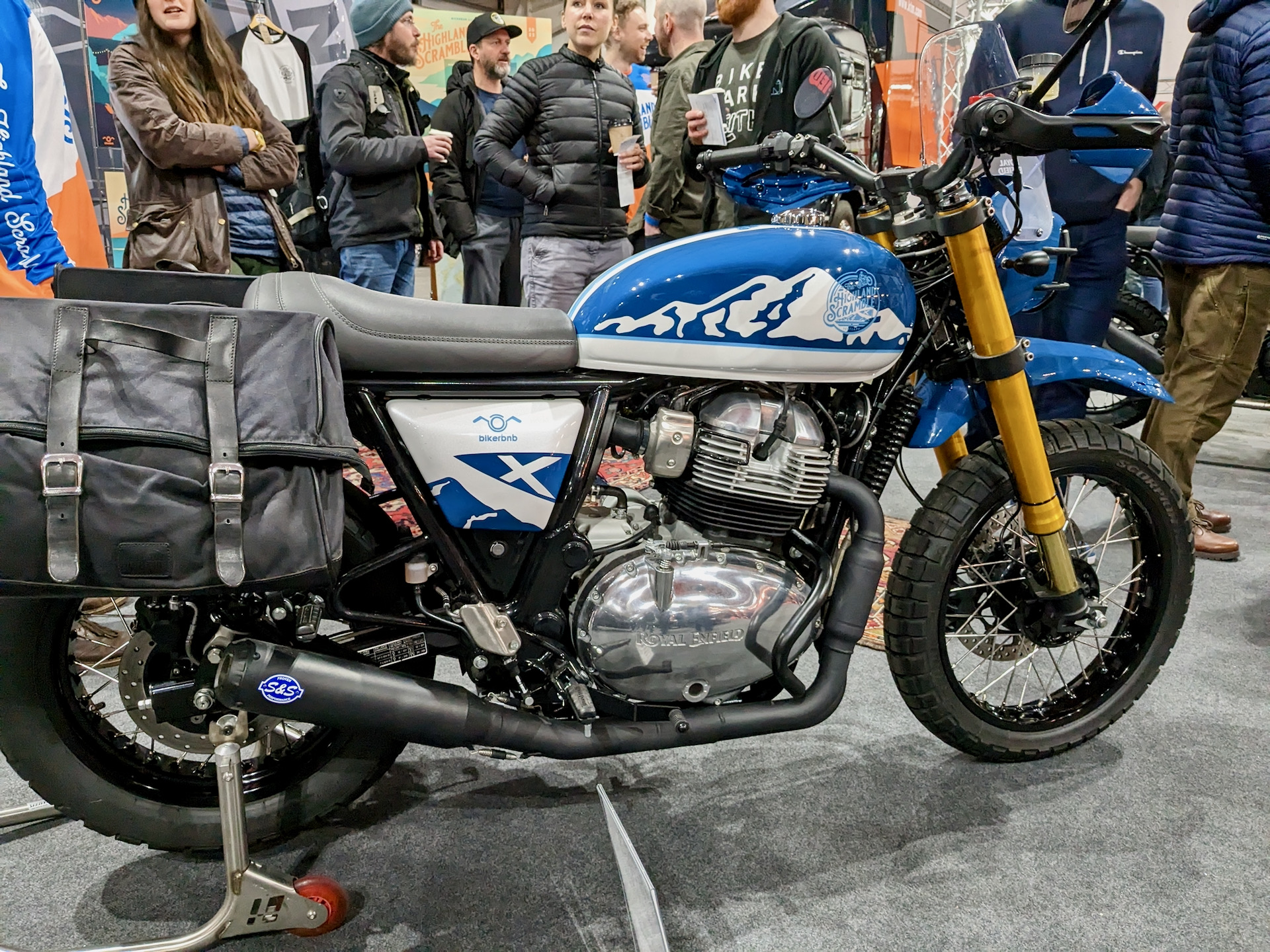 One of the most significant attractions of the Scottish Motorcycle Show is the sheer number and variety of bikes on display. From classic, vintage models to the latest sports bikes and touring motorcycles, the show has something for everyone. Manufacturers such as Harley Davidson, Indian, Triumph, Yamaha, and Royal Enfield all have a significant presence at the event, showcasing their latest models and allowing visitors to get up close and sit on new bikes. Unfortunately, there were still a number of omissions from key manufacturers (like last year), no presence from BMW, Ducati, Honda, Kawasaki or Suzuki.
It was a good opportunity to check out the new BSA Goldstar reincarnation, the new Royal Enfield Meteor variants and the latest Yamaha Tenere 700 World Raid. My daughter turns 17 this summer and was eyeing up various 125cc bikes, the KTM Duke 125, the Yamaha XSR125, the range of Mutt 125's and the Reiju Tango Scrambler. Unfortunately, there were no stands with the latest Chinese offerings like the Sinnis Terrain.
In addition to the manufacturer displays, there are also many motorcycle clubs and organisations exhibiting at the show, highlighting the strong biker community up here. This provides an excellent opportunity for visitors to find like-mind minded bikers to ride and socialise with. Mary was working on the Evolution Womens Motorcycle Club stand, a group that organises many rides, tours and social events for female bikers, and does their best to dispel the common gender stereotypes of the biking community.
Many motorcycle clothing and gear retailers were also present with some reasonable discounts on items (Mega Motorcycle Store were selling ~£200 jackets at around £20-30 less than online prices). However, there was very little women's clothing, much to the chagrin of my daughter in need of a new jacket. Mega Motorcycle Store were the only stand with more than one token women's jacket covered in pink bits! There were also many charities that do great work exhibiting, for example, the IAM and Blood Bikes Scotland.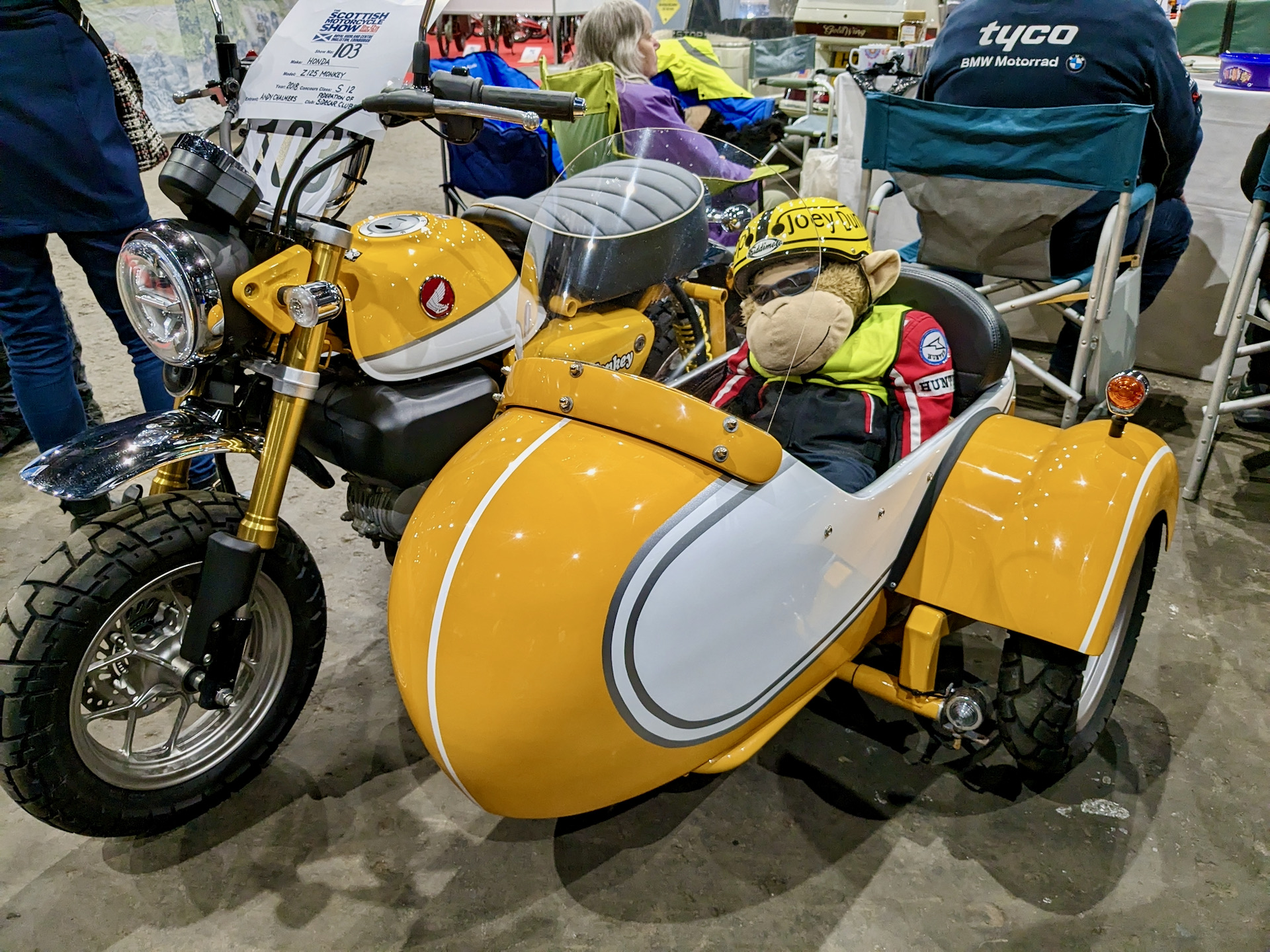 For those who are passionate about motorcycle culture, the Scottish Motorcycle Show also offers a range of exhibitions and displays celebrating the history and heritage of motorcycling. This includes exhibits showcasing classic bikes and memorabilia from throughout the decades. Another exciting feature of the Scottish Motorcycle Show is the range of activities and events that take place over the course of the weekend. There were also some stunt shows, skills challenges and demonstrations.
For many visitors, the Scottish Motorcycle Show is more than just a chance to see some cool bikes – it's an opportunity to connect with other motorcycle enthusiasts and be part of a community. The show attracts a diverse crowd, from young riders just starting out to seasoned veterans, and provides an opportunity for riders of all levels to come together and share their passion.
Overall, the Scottish Motorcycle Show was a good event to pop along to for anyone with an interest in motorcycles. With its wide variety of bikes on display, interactive exhibits, and engaging events, it offers something for everyone and is sure to provide an exciting and memorable experience for visitors. It certainly beats being sat at home waiting for the rain and sleet to clear off at this time of year!