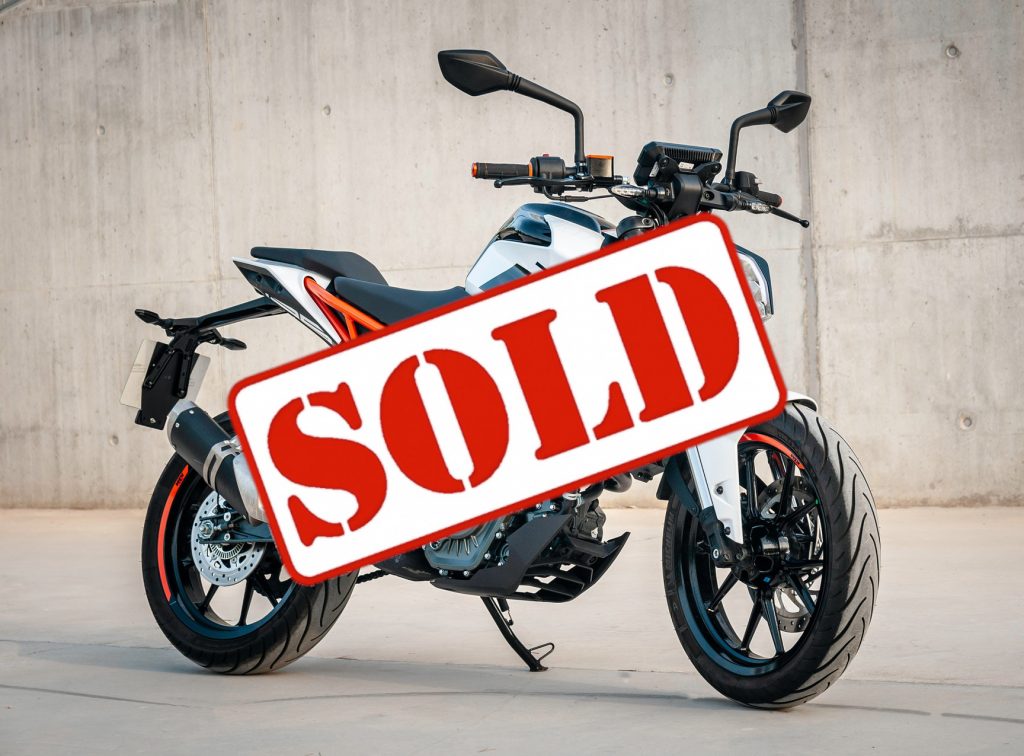 Unfortunately, there's come a time when we as riders know that our motorcycle's time is up. Despite all the memories that we've made with our motorbikes, all the challenges we've faced, all the ups and downs we've encountered, there's a time where we have to sell our motorcycle and say goodbye.
But how do you sell a motorcycle? For one, you don't want to underprice your bike. That'd be cutting its value short. But at the same time, you don't want to overprice your bike for fear of no one buying it.
Today, we'll be teaching you exactly how to sell a motorcycle and what you can do to get the maximum price possible from your bike. We'll give you our favourite tips on selling so that at the end of the day, when it's time to say goodbye, you'll be able to give your motorbike the proper farewell.
If you can't see yourself selling your motorbike, you can always rent out your motorbike to paying customers!
Selling Your Motorbike Step-By-Step Guide
Selling a motorbike is a step-by-step process. You can't skip one step and expect to succeed the rest of the way. Here's how selling your motorbike works:
Step One: Know Your Bike
You may know how to ride your bike but do you know every single detail, feature, and kink within that motorcycle's body? If not, you're probably selling yourself short. From each upgrade to the service history, you need to become a true aficionado when it comes to understanding your bike's features because each feature is potentially money in your pocket.
Furthermore, if you can't answer a potential buyer's simplest questions, then chances are you're not going to be able to sell to them. Plain and simple.
Step Two: Take High-Quality Photos
Taking high-quality photos of your bike is severely underrated. In a digital world, most buyers are going to be looking at the photos you post online, not at the actual model in-person. Therefore, if you're placing blurry, low-quality pictures on the internet for prospects to see, they're most likely going to look at other models with better pictures where they can examine details that are important to them.
Think of it this way: if you're looking at two different listings for the same bike but one bike has low-quality images and the other bike has significantly better images, which one are you more likely to choose?
Chances are, you're going to choose the latter option because you can actually see what the bike entails in terms of quality, shine, and build.
Step Three: Know Your Price
This is where the first step comes in handy. If you know every single detail possible of your bike, you can put a price tag on every detail. This helps you from underselling your motorcycle but you also don't want to overprice your bike.
That's where looking into other purchasing platforms comes in handy. You can use popular websites like Bike Exchange, eBay, and even Facebook Marketplace to see how much your model was sold for in the past.
Then, take the average of all the sold models and if you're happy with the starting price, then you can go from there and negotiate with other buyers. Be prepared to get some lowball offers but remember, bikes naturally diminish in value as time goes by and it's going to take some time before you even get a reasonable price.
We understand that your bike might be your pride and joy but it's a free market and because of this, you're going to need to be realistic about your price.
Step Four: Use Multiple Selling Platforms (And Sell In-Person!)
This is by far my most useful tip and the one that's helped me sell not only motorcycles but other items of value in the past. Don't go with one or two selling platforms. Go with six or seven or maybe even ten if you can achieve it!
Each platform has a different customer base to an extent so by putting your motorbike for sale on ten different platforms, you're reaching hundreds if not thousands of interested buyers every day.
And the one thing that I've found to be extremely helpful is putting ads out in the real world. Just by grabbing a couple of dozen banners highlighting my bike's features and its starting price, I've been able to get hundreds of interested buyers over the years.
If you really want to reach every person possible, we highly recommend using multiple selling platforms so you don't miss out on a buyer who would've bought your bike.
Step Five: Don't Forget the Sales Documents
Another crucial step is to never forget the sales documents because it can make you miss out on a potential sale. (I'm speaking from experience here) When you're going to sell, you need to be ready to sell it, which means you'll need the relevant documents handy.
In the UK you need these documents:
V5C: the vehicle log with details of the current registered owner
MOT certificate: for any vehicle over 3 years old and MOT check is required yearly. Buyers will want to know the number of months left until the next MOT is due
Note: as of 2014, UK vehicle tax is no longer transferable when selling a vehicle. Sellers should cancel their tax and buyers will need to tax the vehicle in their name.
In the US you need the following documents:
Title: this serves as the contract between buyer and seller
Motorcycle VIN: Your VIN (Verification Identification Number) can be found on your motorcycle's steering neck, the bottom of the cylinders, or on your insurance card.
Bill of Sale: While not required in some states, this helps protect you from potential disputes since it publicly records the buyer and seller's signatures, proof of sale, and sales price.
Step Six: Be Open and Transparent
Imagine if you're the buyer and you have some questions about the bike. You want the seller to properly answer every question you have, right? Now, flip the tables back around. As a seller, you need to be prepared to be open and transparent to every question your buyer might have.
Most of the time, these buyers are spending a lot of money to get a bike so not only will most of them be somewhat on edge, but they also expect full transparency. Long story short, be prepared to provide any information on paperwork, past accidents, insurance, features, services, and warranty.
If you want a definite definition on transparency, think of it this way: if it's information you would request from a seller when buying a motorcycle, be prepared to provide it when you're the seller.
Final Thoughts
Selling a motorcycle can be a strenuous process but it doesn't have to be! As long as you follow our steps, you'll be good to go when it comes to departing with your bike. From gaining a full understanding of each of your bike's features to providing the proper paperwork during the sale, we've got you covered the next time you need to sell a bike!