We purchased this Lomo 60 litre dry bag a year ago for the very modest sum of £28 and have since put it through its paces on a number of trips and tours. It's been filled with all kinds of gubbins, strapped it to numerous bikes and carted it to many far-flung places. So, if you're thinking of buying one of these Lomo dry bags yourself, do read on to see how it stood up and what our verdict was.
In case you're not familiar, Lomo are a Scottish firm that specialises in many water sports products, for kayaking, surfing etc (not the other kind of waters sports!) They also sell a number of waterproof luggage options aimed at motorcyclists and cyclists, plus universal items – like this dry bag.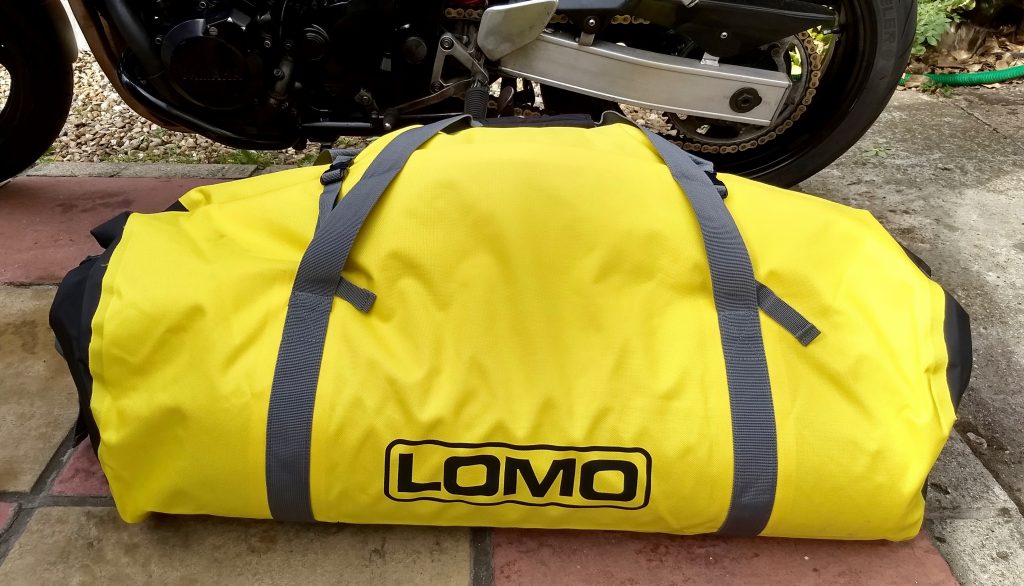 Lomo claim it should survive full submersion too, not something I plan to test whilst on a motorbike!
The dry bag is made from a soft flexible, but durable waterproof material and is built like a very large holdall that's 80cm long, with a width and height of around 35cm (depending on how much you compact the contents down). Lomo also offers a smaller 40-litre version if preferred. I went for the rather fetching Yellow colour, but a black option is available too. There's no zip-top, rather a roll top which you, well roll up, and clip down at the sides. There are then a pair of small clip straps that hold the whole thing tight together. This design provides excellent waterproof protection with no issues of water ingress. Lomo claim it should survive full submersion too, not something I plan to test whilst on a motorbike!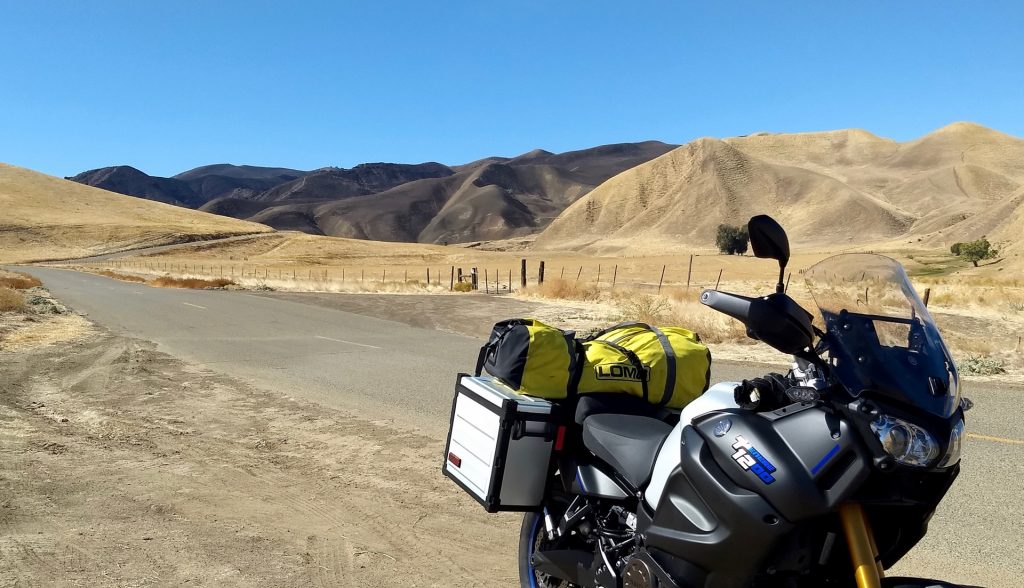 First impressions are just how huge the thing is! It's massive and swallows up so much kit. Mary's done camping trips with tent, sleeping bag, mat, pillow, cooking gear, even kitchen sink, all happily accommodated in it. I recently did a trip to California and easily filled it with a week's worth of clothing, including my biking boots, gloves and trousers on the flights there and back. That's the beauty of the roll-top design, you can vary how much you roll it down and then strap it tight.
On the bike, you typically mount it widthways across the rear seat of your bike and then strap it down with bungees or preferable some Rok Straps. The 80 cm length does mean it can stick out a bit on each side, but not enough to warrant a wide load sticker or drastically dial back your filtering. It certainly helps if the bag is well packed to give it some rigidity and prevent it from sagging down each side. On bikes with hard panniers, it happily sits across these. On the Yamaha Super Tenere I recently rented, the bag stuck out no wider than its panniers but was a bit of faff to shift out of the way to get into the panniers on pitstops.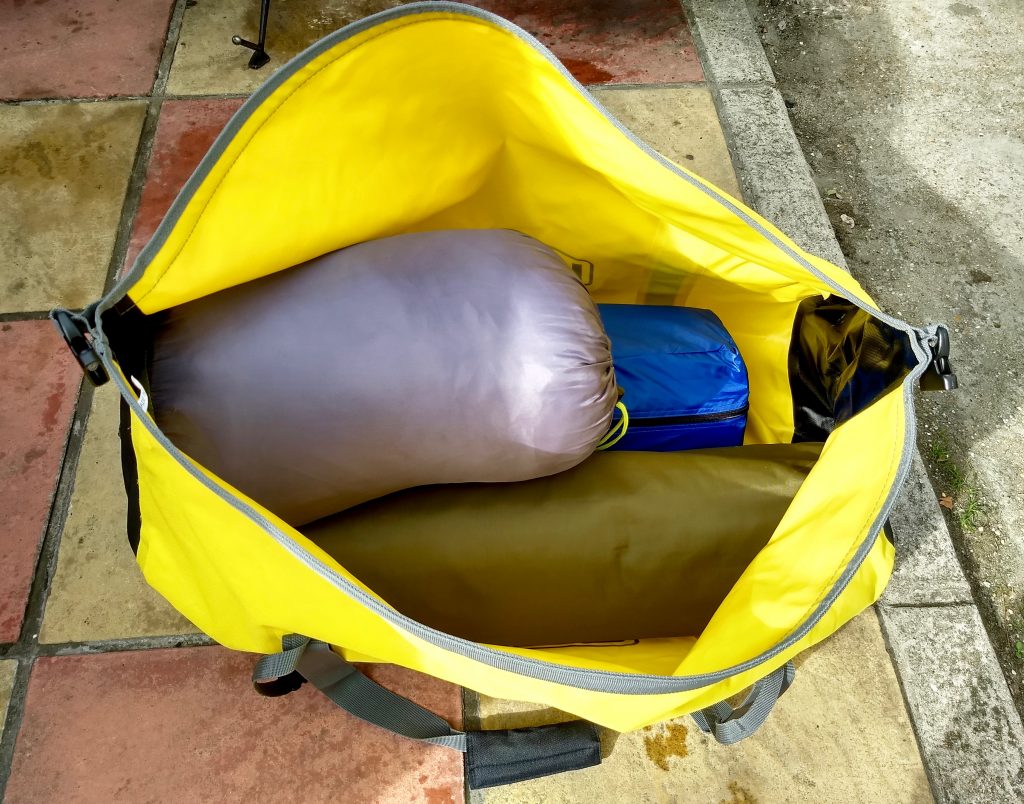 Off the bike, lugging the Lomo bag to your hotel room is less elegant. Its size, bulk and weight from everything you've packed in, make it very cumbersome to lug around. At the airport, I quickly dumped it onto a trolley! It has two grab handles that Velcro together and an optional clip-on longer shoulder strap, which do help but still make it a struggle to carry around. The shoulder strap could definitely benefit from a larger, thicker pad to spread and ease pressure on your shoulder.
From a reliability perspective, one of the seams did break open a bit after about 6 months leaving a two-inch hole. Not sure if it was overly stressed or not, but being stuck on the road some Gorilla glue repaired it and it has held up well since.  Probably should have tested Lomo's warranty service, but never mind. When priced at just £28 you get less precious of it. Otherwise, the bag has done well and shown no other signs of wear. It's survived camping trips, tours of Scotland, being thrown around by airport luggage staff and trips around California.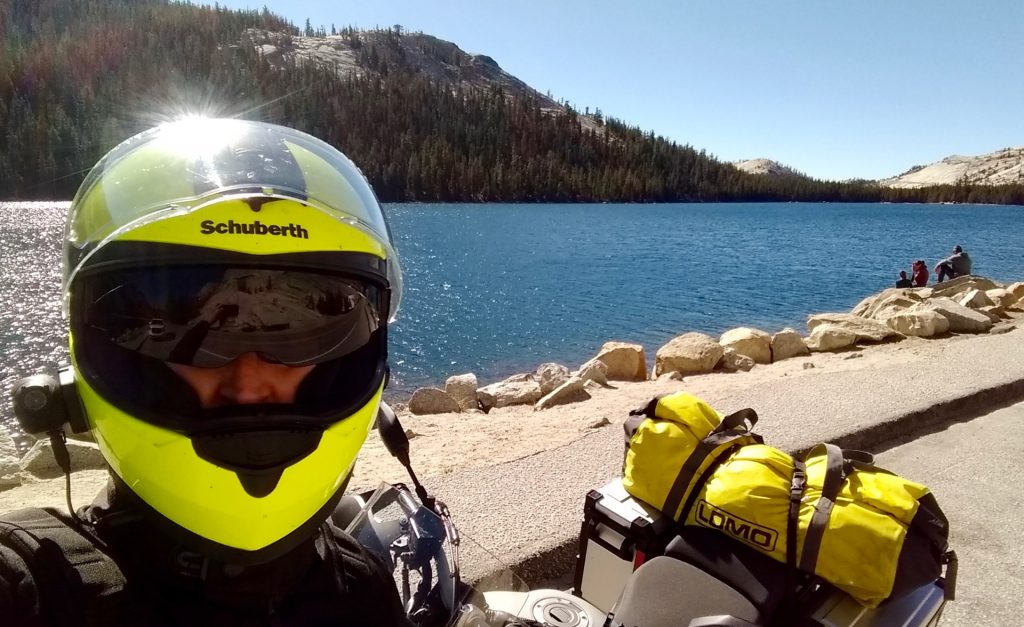 Before drawing a final conclusion you have to remind yourself Lomo sell this bag for £28, yes – twenty eight quid! Let's just put that into perspective: an Oxford 70 ltr Aqua bag costs £60-70, a Givi 40 ltr roll-top bag is £50, an SW Motech 60 ltr dry bag is £70, a big Kriega bag will set you back well over a hundred quid. At this price point, it's a huge bargain and a lot of bag for your money. Alternative higher prices bags may offer better quality, but I would still consider it good value and well worth considering.
Rating 4/5.
More details and buy direct from Lomo here.
Don't forget to order some Rok Straps to secure your Lomo bag to your bike.