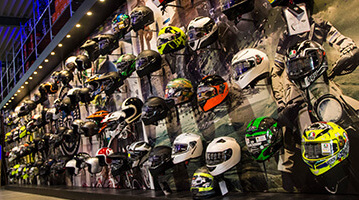 Whether you already own a motorcycle or you're about to buy one when you ride you will need to wear a motorcycle helmet for your protection. Let's face it when it comes to protection – a motorcycle helmet is the most important part of your motorcycle gear. Maybe you have just bought your first bike, and now you're looking for a new helmet – or you just need to replace your old helmet and you simply want to refresh your memory. There are many different brands and types of motorcycle helmets, which is great as there is always something for everyone. The downside, however, is that it is not an easy task to find the right motorcycle helmet for you – one doesn't just 'buy' a helmet. When buying a motorcycle helmet online it is not a straight forward decision – so how do you choose the right helmet?
This article has been made in cooperation with FortaMoto.com
Step-by-step: Choose Motorcycle Helmet
You can run through the following steps to help you decide which types of motorcycle helmets best suits you:
What kind of bike do you ride?
Which type of rider are you?
Size and fit for your head
Safety and protection
The above steps will be explained below.
1. What kind of bike do you ride?
Your type of motorcycle will be very determinative for your riding posture, and your riding posture will come in handy to help select a suitable motorcycle helmet for you. Of course, you can choose to wear a racing helmet on your chopper, or a retro helmet on your racing bike – but specific features and characteristics only do the helmet justice when used in the correct position and on the right bike. For example, if your bike has a windshield, then spoilers and ventilation intakes will have less of an effect – because the air will be diverted around the helmet. The aerodynamic properties in this case will be subordinate to e.g. comfort.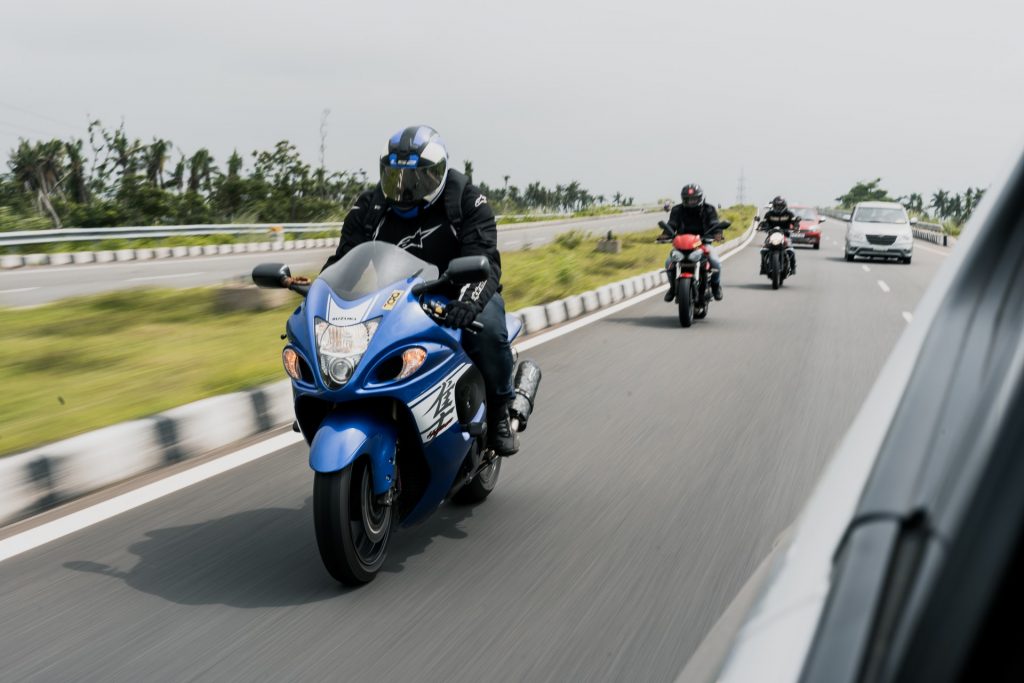 Let's say there are 3 different riding postures for on a motorcycle: straight up, three quarter and sports. Straight up means that you're not leaning forward. On a touring bike or an adventure bike, you will usually be seated straight up and sat somewhat back – relative to the middle of the bike. Typically you will take less wind on this type of bike, so your best choice would usually be a touring helmet aimed at comfort. Three quarter is the riding position for most naked bikes or semi-sports bikes. You will lean forward more, but these type of bikes will generally offer less aerodynamics and resistance to riding-wind. This means you will catch a lot more wind. There are helmets made specifically for naked bikes, but depending on your bike – you can also look at (super) sports helmets in some cases. Sports riding position is the position you would take if you ride a sports bike. Leaning all the way forward, with your head tilted back behind the windshield, to take the most aerodynamic shape possible. A constant airflow streams over the windshield, so it's important that the helmet has strong aerodynamic properties. (Super) sports helmets are often equipped with a spoiler and they are lightweight, but they do not offer any luxurious features such as a sun visor, or a comfortable inner lining.
2. Which type of rider are you?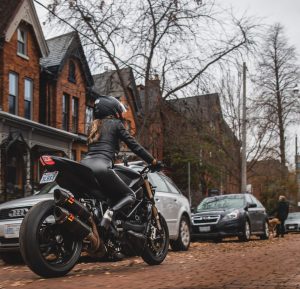 Try and figure out which kind of rides you usually do, and when you like to ride. Do you often ride in and around the city? Then you probably should look at an open face helmet or a modular helmet, which are both very practical in the city. An open-face helmet will offer you less protection, but it will also give you better visibility. A modular helmet is versatile and practical, mainly due to the movable chin bar. Do you ride long distances between work and home? In that case, it would be wise to look for a comfortable helmet, maybe even with the possibility of adding a built-in communication system – which you can use to talk to other riders, listen to music or receive navigation instructions. Do you like to open up the throttle on your steel horse? Make sure you get yourself a sports helmet, preferably one that matches with the colours of your bike or racing suit – or you could pick up a cool replica of a MotoGP rider. Or do you like to ride off-road? If so, a motocross helmet would be ideal as it offers a lot of protection against stones flying up off the ground and mud clods – the big peak will shield your eyes from strong rays of sunshine.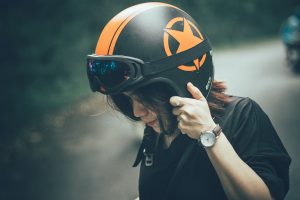 Another important thing to determine is if you ride all year round, or only when it's nice and sunny outside. Do you ride in autumn and winter? Then definitely check if your (future) helmet has an anti-fog visor, or even better: a Pinlock anti-fog lens. During these seasons you will probably appreciate having a helmet that covers your full face. In summer you might prefer an open face helmet, or a full-face helmet with large ventilation openings – to help you keep cool.
These first two steps should narrow down exactly what types of motorcycle helmets to consider. Next, we look at sizing and fit.
3. How to size a motorcycle helmet
Circumference
The size of a motorcycle helmet is largely decided by the circumference of your head in centimetres. To determine your head size you need to use a flexible measuring tape (preferably a tailors measuring tape) and pull it around your head, just above the eyebrows and just above the ears. The circumference that you have measured will largely decide the size of your helmet. A good online motorcycle helmet store will have a size guide, indicating the corresponding sizes per brand and circumference. But hold your horses, size isn't everything…
Fit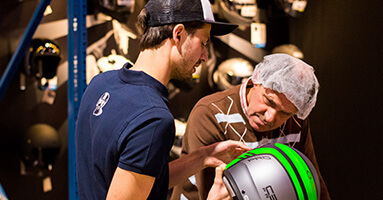 The shape of your head is very important when it comes to choosing a new motorcycle helmet. If we were able to view ourselves from above, we would all have a seemingly egg-shaped head. You can look in the mirror, or have a friend take a good look at your head. Is your head visibly more round than oval? Or maybe a little longer than average? It is often mentioned on a good motorcycle helmet website which shape and fit a helmet has. A few popular examples would be HJC, Shark, Scorpion and AGV – which all have a fairly oval shape. If you're looking for an intermediate oval helmet (which is generally the most popular category) then definitely check out Shoei motorcycle helmets, Bell, Arai and Simpson. The popular round helmets are also some of the biggest names: Schuberth, Nolan, X-Lite and Caberg.
If you're having a hard time finding a helmet that fits you properly, it is often worth contacting your dealer to enquire about smaller or larger cheek pads and centre pads. Shoei even has the Personal Fitting System, a unique concept which allows selected Shoei dealers to customise the fit of every Shoei motorcycle helmet.
This system is currently only available in the Netherlands, but it is expected to expand into other countries in Europe.
4. Safety and protection of motorcycle helmets
In Europe it is mandatory to ride on the public roads with an ECE approved motorcycle helmet. It is important to check the certification of a motorcycle helmet before buying one. The ECE certification indicates that a helmet meets the minimum safety requirements. However, this does not mean that every ECE approved helmet offers the same level of protection. It is very likely that an Arai priced at £700 odd will offer a much better level of quality and protection than a simple £100 helmet. Apart from the ECE certification, there are other institutes that test the safety of motorcycle helmets. DOT, SNELL and SHARP are some of the more well-known institutes in this industry, they all have different philosophies and safety requirements.
It is important to know that it is recommended to dispose of an old motorcycle helmet after an accident, or after dropping it on a hard surface. Although the outer shell may look fine, it is always possible that the inner shell will have a crack or a tear. Needless to say, this does not positively affect the shock-absorbing quality of a motorcycle helmet.
Final Word
There is no need to claw the thin ice when looking for a new lid. Take a good look around and don't rush any more than necessary. Motorcycle helmets are something you will be using for around 5 years, so make sure to get the right one for you. Take your time to consider exactly what type of helmet will suit your riding. Hopefully, this guide has also given you tips on how to size a motorcycle helmet to get a good fit that will be both comfortable and safe.