I've had the 2003 FZS600 for many years, but I recently picked up a 2007 FZ6 S2 a couple of months ago. Both formidable and affordable commuter tools that promise plenty of fun on the twisty roads too. But how do they really compare? On paper, they appear similar, both inline 4 cylinder 600cc sports tourers, but the devil is in the detail and only when used daily do the differences become pronounced. 
On the Road
FZS600 2003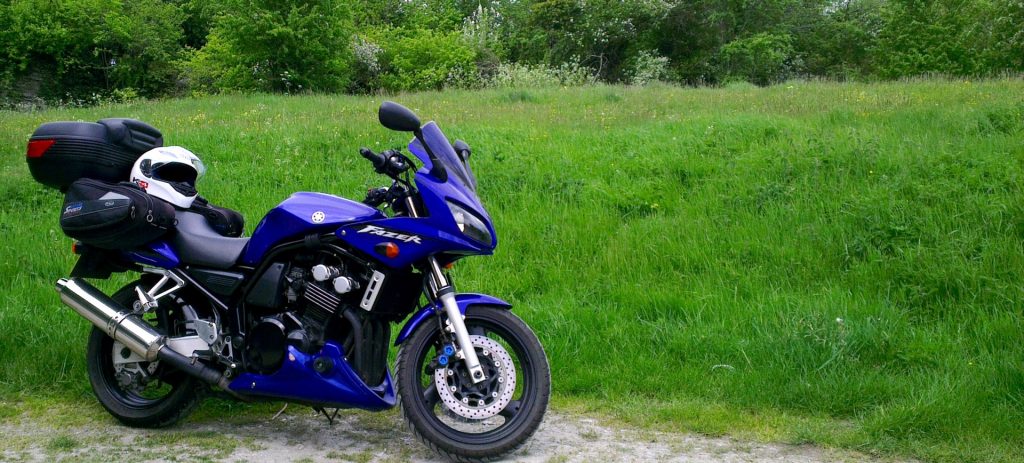 The 2002-2003 Fazer's were the last in the line and have a number of upgrades over earlier models: a 21 litre tank, 'fox-eye' style fairing and headlights which illuminate the road better too. Decent usable mirrors, pre-load adjustment on forks and better pillion pegs and grab handle. Much of which is borrowed from the FZS1000, but all worthwhile features.
it feels very nimble and so naturally tips into bends that the corners just flow together effortlessly
Handling on the road is good, it feels very nimble and so naturally tips into bends that the corners just flow together effortlessly. The narrow 110/70 front tyre helps here, although this makes tyre choice limited – with Metzeler M7RR my current goto choice. It revs well, building up in a fairly linear fashion, not crazy torque but enough to easily lift the front when throttling away from lights. Rider position is a nice compromise – halfway between upright and tucked down, whereby you can happily tuck in for high speed or sit more upright for town riding. It's comfortable with a reasonable peg to seat distance for my 6'1″ height.
FZ6 S2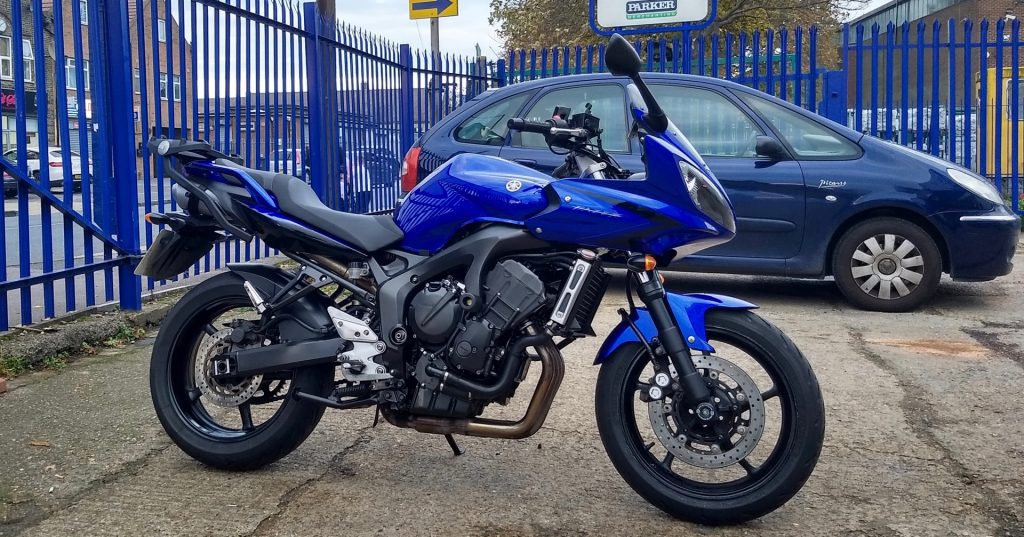 On paper the FZ6 only has a couple more horses and torques compared to the FZS600, but on the road it has noticeably more low down and usable grunt. Definitely feels more eager off the line and enough torque to rarely need the upper half of the rev range for day to day urban riding. But get out of town and it really winds up to bring on the grins, you can really feel the engine's lineage to the R6 it's derived from. Through the bends it feels planted, however it doesn't tip into bends as naturally as the FZS600, a bit more persuasion is required. Possibly tyre differences? – it's wearing new Pilot Road 5's. The clutch also has a heavier action compared to the lightweight one on the FZS600. Fuelling feels fine and smooth, no complaints here as I know earlier models had bad reports.
The S2 variant has a few upgrades over the earlier FZ6's: improved fuelling to address snatchy throttle complaints, an extra catalytic converter and lambda sensor to meet Euro-3 emission standards, a redesigned fairing and clocks, black frame and a redesigned aluminium swing arm with more modern chain adjusters. ABS was also an option from new. All making it the preferred choice when buying second hand, and Euro-3 compliance making it essential if you ride in London.
Comfort wise, the ergonomics of frame and tank fit better, with ones knees tucking into a better defined space, which helps with gripping tank etc. Riding position feels more upright with the bars raised higher (though I have been using Renthal low bars on the FZS600). I am finding the seat to peg distance a bit tight for my ~32″ inside leg and do get knee ache after an hour's ride. Particularly when using the rear brake, which seems awkwardly high and need an uncomfortable ankle angle to cover for low speed filtering.
Build and Practicalities
FZS600 2003
Commonly the first item to fail on the FZS600 are the mild steel downpipes, whose 4-into-1 collector box under then engine soon rusts into swiss cheese. Second to go is the underslung rear caliper which doesn't hold up well against the elements and is prone to seizure unless cared for meticulously. Thus stainless downpipes and the 'blue spot' caliper off a FZS1000 are popular upgrades.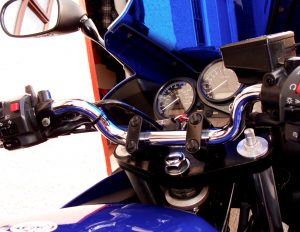 On the plus side, the huge fuel tank is epic – easily achieving 200 town miles or 230  twisty miles before popping on a fuel light. Perfect for touring and longer commutes. Under the seat there's acres of space for tools, puncture and first aid kits, provisions, wallet, kitchen sinks etc. Easily foldable mirrors are great for tight filtering and the dual headlights light the road up well (far better than the older 'box-eye' pre 2002 models).
The analogue clocks are looking at bit old school, but fit the bill perfectly, and I definitely prefer a big strong orange fuel light on the dash compared to a small blinking LCD black square of the FZ6…
FZ6 S2
The FZ6 has a number of design features that appear minor at first, but make a lot of sense for long term use. The front fairing is made of multiple parts with the sides which always get scuffed in a drop being replaceable alone. Similarly, the indicators are mounted below the fairing, to avoid cracking it when punched in after a drop. The main headlights don't light until the engine is running, which could be a life safer if battery charge is touch and go. Though only the left light is on for dipped beam which just looks odd – even if supposedly safer as easier for others to identify as a bike at distance. Nonetheless, it illuminates the road at night just fine.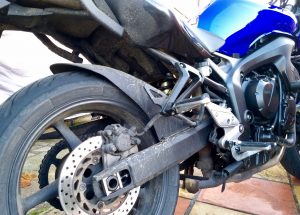 The aluminium frame and swing arm certainly look the part, should aid handling and offer piece of mind against corrosion. The rear shock is also better protected from elements with no underslung pivot and dog bones. With stainless steel downpipes and a rear hugger fitted as standard too, the FZ6 is well setup as an all weather bike without worry of costly repairs.
On the downsides, under seat space is limited due to the exhaust. I also worry how hot it is going to make my ass in the summer… The exhaust layout also means limited after market options which can be quite pricey. No pre-load adjustment on the forks is a bit of a downgrade from the FZS600. The coolant overflow tank and radiator mountings at the front of the engine get the full brunt of elements and don't stand up well, quickly corroding. And of course that fuel tank, although it may be on par with other competitor bikes, 130 miles until a fuel light is a big disappointment after the FZS600. Having to fill up twice on a day's ride out is a real drag.
Servicing
FZS600 2003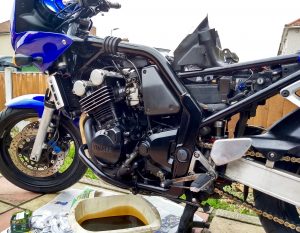 The key bug bears when servicing are:
Lack of access to oil sump bolt, so can't use a sprocket or torque wrench. It also means oil pours out over the frame and side stand switch.
Air filter is located under the tank hinge, so extra faff of tank removal is necessary to service it
Accessing the oil filter behind hot downpipes is a bit of faff
Coolant system cap is located under the tank, so faff to access
110/70 front tyre limits choice, with few of the latest crop of models available in this size (e.g. no Metz Roadtec 01, Michelin PR4 or PR5)
FZ6 S2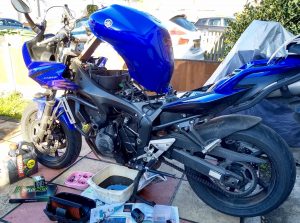 The key issues with servicing on the FZ6 are:
Almost no room to access spark plugs. Haynes book recommends removing tank, air box,  battery, radiator… yeah sure we're gonna do that!
Pivoting the tank up needs some fairing infill panels removing
Dip stick for checking oil is a little more faff than an eye glass window.
Clutch adjustment at the lever doesn't use two locking nuts, just a single one that lock at whole 360 degree increments, so no finer adjustments possible. Awkwardly, the lower clutch adjustment is hidden under the air box.
Otherwise, the FZ6 is a doddle to service, with almost everything accessible with the tank pivoted upright.
Conclusion
Both the FZS600 and the FZ6 are great bikes, whether for a first big bike, a commuter hack or a no nonsense bit of weekend fun. The FZ6 has a little more refined design and gives a bit more usable torque whilst meeting later emissions standards. However, the FZS600 wins on a number practical fronts and in many ways did so much right, it was always going to be difficult for the FZ6 to improve upon it.