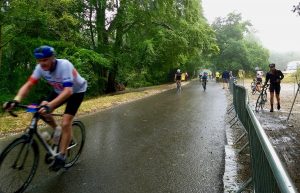 Well you've got to love the Great British Summer… Insane, heatwave for weeks, then the weekend you're scheduled to spend on the bike, it pours down something chronic!
Last weekend I volunteered to help our with the Prudential Ride London cycle endurance race, scheduled to have around 40k Lycra warriors tackling a 100, 46 or 19 mile route. My job was to carrier a cycle mechanic pillion with a tonne of tools and supplies and sweep up those stopped with bike or medical trouble. I feared I'd be dealing with loads of heat exhaustion and dehydration cases, but no, we were dealing with countless punctures and freezing wet cyclists instead. I lost count of how many inner tubes we got through, with many cyclists hit by repeated punctures.
The weather was terrible and after several hours stuck in the rain my Alpinestars Goretex Jet Road gloves and SMX-6 WP boots both gave in and were sodden. My old Rukka gear held up better, but was still damp on the inside. I can't wait to get my new Hideout Hi-Pro laminate gear… Still, I was far more comfortable than those doing 100 miles in saturated Lycra!
Well done everyone who took part, it was a tough event and a lot of cash was raised for charity. Sadly, two did not complete the day, my best wishes to their family and friends. RIP.