You've all heard the news of the London ULEZ coming into effect from April 2019 that will penalise all pre-Euro 3 bikes within central London. That's generally anything older than 2007 will be hit with a £12.50 a day charge, with London only being the start – many other UK cities have already started similar proposals, so if you're running a cheap old commuter hack, time is ticking.
the recent motorcycle crime epidemic is making insurance premiums prohibitively high on anything of value or large capacity
We'd all like splash out on a new bike, but not all of us have the financial luxury and PCP deals are rarely economical for a daily commuter doing big yearly miles. Even worse for those who live in inner London, the recent motorcycle crime epidemic is making insurance premiums prohibitively high on anything of reasonable value, large engine capacity or desirability.
So where does that leave a seasoned commuter on a budget needing a ULEZ motorcycle to replace their trusty and reliable commuter hack? Here are some suggestions of practical Euro 3 compliant bikes for city commuting that won't break the bank both to buy or to insure.
BMW F650GS 2008 – 2013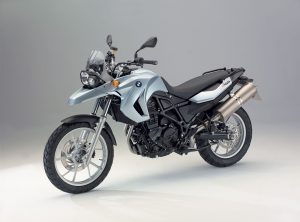 With a nod to the big adventure GS's that have been ridden many ways around the globe, the F650GS makes for a very practical commuter bike, if confusingly named. Unlike the F650 is replaced, the F650GS has is in fact an 800cc parallel-twin engine. In the city, it wins for it's sitting upright riding position giving great visibility over cars and ease of riding, it's super economical (easily exceeding 70mpg) with an under-seat fuel tank to lower the centre of gravity.  It is very easy to lower, so can suit the shortest of riders (especially as it's very lightweight too); whilst tall riders can hunt down the Dakar edition with increased suspension height. With some suitable tyres, it will happily hit some byways and dirt tracks opening up other avenues for weekend riding.
Downsides: although perfectly capable on the motorways, don't expect high-speed fun. Not the cheapest.
BMW F800S / F800ST 2006 – 2013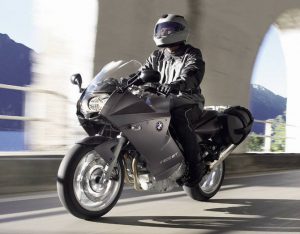 Sharing the same 800cc parallel-twin engine from the above F650GS, the F800S and ST offer a more street and sport-touring slant. They have a less upright posture, fairing, single-sided swingarm, belt drive but all in a super reliable and high-quality BMW package. The ST comes with full fairly, bigger screen, luggage etc. Although the silky smooth engine and handling is great on bends out of town, many complain it lacks character. Ultimately, what do you want from a year-round commuter? The F800S certainly ticks all the boxes for a quality and comfortable mile munching commuter with great economy. Especially as second prices are very reasonable compared to other choices here.
Downsides: gear changing can be clunky and awkward.
Honda CB600F (Hornet) 2007 – 2013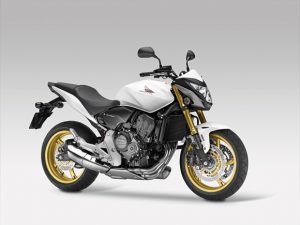 This release of the classic CB600 Hornet introduced a new fuel injection Euro 3 engine, though still an inline 4 it is in fact a detuned version of the CBR600 RR engine. A practical and economical (~50mpg) bike popular with London couriers that won't bore you. It's lightweight and agile, making it ideal for the city, yet has plenty of torque and grunt (100bhp, 47ft.lb) for fun at the weekend, all in a reliable and high-quality package that Honda is known for. Other bonuses are the ABS and the Honda HISS alarm/immobiliser that was an option.
Downsides: many examples are well-worn commuter or courier hacks.
Honda NT700V Deauville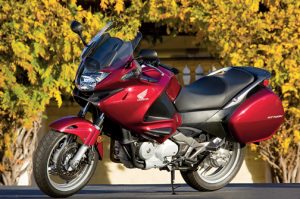 Often mocked as being the Dullsville it is often dismissed as the boring bike which no one can understand why Honda keep selling it, or to who for that matter. However, if you're after a no-frills economical commuting tool that'll run without fail 365 days a year whatever weather and will be the last bike to be stolen from an inner London motorcycle bay (whilst your fun bike is safe in your garage at home) – then look no further. Why do you think so many London couriers ride them? 2006 saw an updated Deauville hit the market to meet Euro-3, but also came with more power from its V-Twin engine. The shaft drive simplified maintenance, the built-in panniers will carry your suit and butties to work and the fairing will give you plenty of protection on a long motorway commute.  Definitely worth considering if you're doing big commuting miles (58-60 mpg / 220 mile range), pillion your partner to work or have space for a dedicated commuting bike alongside your weekend hooligan machine.
Downsides: Bit on the heavy side at 257 Kg wet. Can be tricky staying awake whilst riding 🙂
Kawasaki ER-6n / ER-6f 2006 – 2016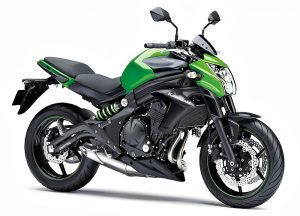 Kawasaki's take on the budget middleweight bike market, based on a parallel-twin engine, it's light, easy and smooth to ride. It's no wonder it's so popular with new riders, but looks can be deceiving as the ER-6 dominates the lightweight class at the Isle of Man TT, albeit in race trim. Nonetheless, it's testament to the core design of the bike and its engine, that's very much apparent when you wind up this little bike. For day to day commuting economy is good (55 mpg+) and no complaints on reliability. Available in naked 'n' or faired 'f' variants.
Downsides: On pre-2012 models, look out for cracked downpipes by the muffler and cracked top engine mount from minor prangs.
Suzuki GSX650F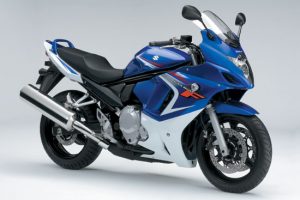 It's easy to dismiss the GSX650F as simply a Bandit in Gixxer clothing, but ultimately this is a no-nonsense and very practical bike. It's got a very smooth inline 4 engine new for 2007 to meet Euro-3, tuned for a sportier slant than the Bandit, that will do a very economical 57 mpg. Rubber-mounted bars reduce vibration, the plush seat and more relaxed rider posture than a true GSX-R and full fairing make this a comfortable bike for long commutes, touring or two-up journeys. A great option if you like the Gixxer styling, but necessitate more day-to-day practicality.
Downsides: spot heavy at 216 Kg dry and prone to corrosion if neglected.
Suzuki SV650 2007 – 2014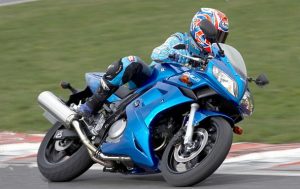 The super torquey V-Twin SV650 has long been a popular middleweight bike, favoured by new riders and forever loved by experienced bikers alike. 2007 saw the twin spark engine to meet the Euro 3 standard, which continued until 2014. (The 2016 SV650 was really a rebrand of the SFV650 Gladius). The SV650 is easy to ride and fun to hustle around the track thanks to its great chassis and super-smooth clutch and gearbox. It's super reliable, has a decent economy, perfect for a day in, day out commuting. It's plenty plush enough for touring. It's available in naked, half faired or fully faired versions
Downsides: some reports of tall riders finding bike a bit cramped. Can pick up corrosion if not well maintained through the winters.
Yamaha FZ6 S2 2007 – 2010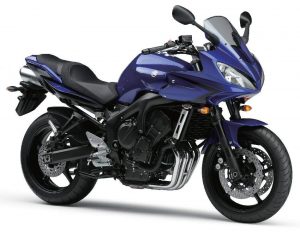 The FZ6 was a fuel-injected replacement for the classic Fazer 600, now using a detuned R6 inline 4 engine. The S2 variant appeared in 2007 and addressed many initial issues of poor fuelling amongst other improvements. It's a high revving mini sports tourer, nimble enough to cut through traffic, fun enough weekend blasts (90 bhp) and practical enough for long-distance with its bikini fairing and decent tank range /economy (~180 miles / 55 mpg).
Downsides: under seat exhausts give a hot bum in summer.
Yamaha XJ6 Diversion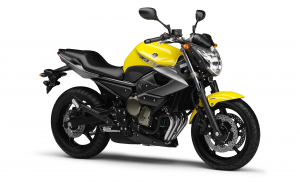 The XJ6 shares a lot with the above FZ6.  It has the same engine, albeit detuned for less power but more useable lower down the rev range. And this is the theme across the whole bike, less a rev-happy fun machine, more a practical, smoother, comfortable and easy to ride budget machine. In fact, many prefer the XJ6 to the FZ6 for these reasons. It's lowish seat and narrow tank is favoured by short riders and its tight turning circle is perfect for filtering through thick traffic. Second-hand prices are very favourable, with many young models going very cheap.
Available as naked XJ6, half faired XJ6 Diversion or fully-faired 'F' version
Downsides: Prone to corrosion on exhaust collector box, suspension linkages and other aspects of finish don't hole up well.
Go Small Capacity!
If you're not commuting far, an alternative plan is to just go small. It's not like you need a middleweight, let alone a litre bike in central London. The nimbleness of a small 125 or 250 will likely cut through traffic far easier, fuel economy and running costs will all be far lower.
However, insurance is still an issue here, comparison sites offer me quotes on a Honda CBF125 at a third more than a Yamaha FZ6 of identical value! And forget any small motocross-style bike, just too big a theft magnet in the cities with high insurance premiums accordingly.
Conclusion
Although it's clear the days of a dirt-cheap commuter hack for under a £1k are gone, there certainly are choices out there to beat the London ULEZ. Some decent and versatile enough to provide weekend fun out of town or long-distance touring, others best suited as a sole commuter alongside your weekend fun bike.
What's your choice of city commuter? Do you have other suggestions for good budget commuter hacks for ULEZ London?