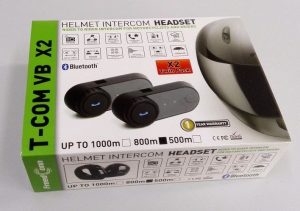 So, you want a motorcycle Bluetooth communications headset for your helmet, listen to some tunes, your SatNav or natter with your partner, friends or pillion whilst you ride. But, you've checked out other Bluetooth headsets for motorcycle helmet offerings from the likes of Sena, Midland, Interphone, Cardo etc in the shops and probably come to the conclusion it's gonna set you back quite a bit of cash. But, you've seen eBay is littered with funny Chinese branded gadgets at far more affordable prices. Sure they may not be the best Bluetooth headsets, just how bad can they be? Well, I took a punt on a pair of T-COM VB Bluetooth headset and this review tells how they turned out.
The first issue is narrowing down what you're buying as you browse the glut of these intercoms on eBay. There are seemingly dozens of subtly different variations, on branding, spec and revision. Ultimately, I just took pot luck grabbing one of the cheapest FreedConn T-COM VB Bluetooth helmet intercom kits I could find from a UK seller. I wasn't keen on waiting 4-6 weeks for a China-based seller to post or risk getting charged for VAT and duty by Royal Mail on arrival. Expect to pay around £40-50 a pair on eBay.
T-COM VB Helmet Bluetooth Intercom Review
Specification-wise, the T-COM ticks all the main boxes on functionality:
Rider-to-rider intercom, with 800m range
Bluetooth capable
FM Radio
Waterproof
Rechargeable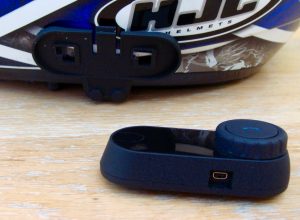 The box contained everything needed for two lids: two intercoms, two mic and headphones sets, two clip-on bracket mounts, two sticky back Velcro mounts, two USB charging cables (a proprietary UCE6 variant), two mains adaptors and a single manual. The choice of a proprietary USB plug is annoying and leaves me hunting for the exact charging cable supplied, rather than using any one of the million other USB cables scattered around the house. When touring, I have to make sure I pack the specific cable, rather than share cables with my phone or camera. No chance of picking up a replacement on the road at any old supermarket or gadget store, but they are readily available on eBay.
Installing the Bluetooth Helmet Intercom Kits
Installation of this Freedconn Bluetooth headset is reasonably straight forward but does require a little time and care. I fitted these to Schuberth and HJC helmets, so your mileage may vary for other lids. (Edit: more recently we've also fitted the intercoms to Shoei Neotec lids with no bother too) You have a choice of mounting brackets: one with a sticky back Velcro pad to slap straight on the side; the other a plastic U shaped bracket to slip around the lower edge of the lid.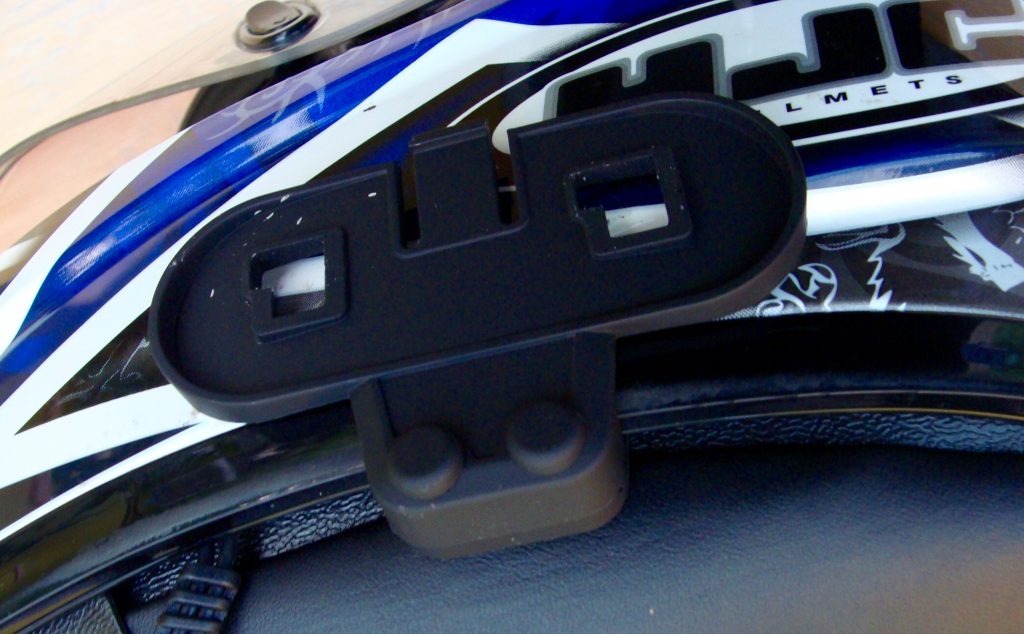 This U bracket then has a couple of screws (two mini screwdrivers supplied) to tighten up to clamp it firm. I found this little more faff, it would always still slide about a little and the intercom doesn't unclip very easily – such that I bust one bracket trying.
The next job is fitting in the headphones and mic. This involves stripping back some of your helmets padding and threading the wires around. Your lid probably already has a bit of a gap in padding for your ears, where the headphones can be stuck on (more sticky back Velcro). Though a bit of trial and error is required to get them positioned just right. The mic is a more rigid boom extending from one headset which can be flexed to position it as required. Threading the wires sometimes needs a bit of thought to find the gaps where it can be poked out from around the helmets padding. Also, the right angle USB plug that goes into the intercom angles forward, which seems wrong as the cable needs to double back to the rear of the lid. Thankfully there's just enough cable length to make things fit. The headphones are a bit chunky, so some comfort is sacrificed, Mary took a while to get hers positioned to avoid discomfort, but then she does have a tonne of ear piercing, including conch and tragus!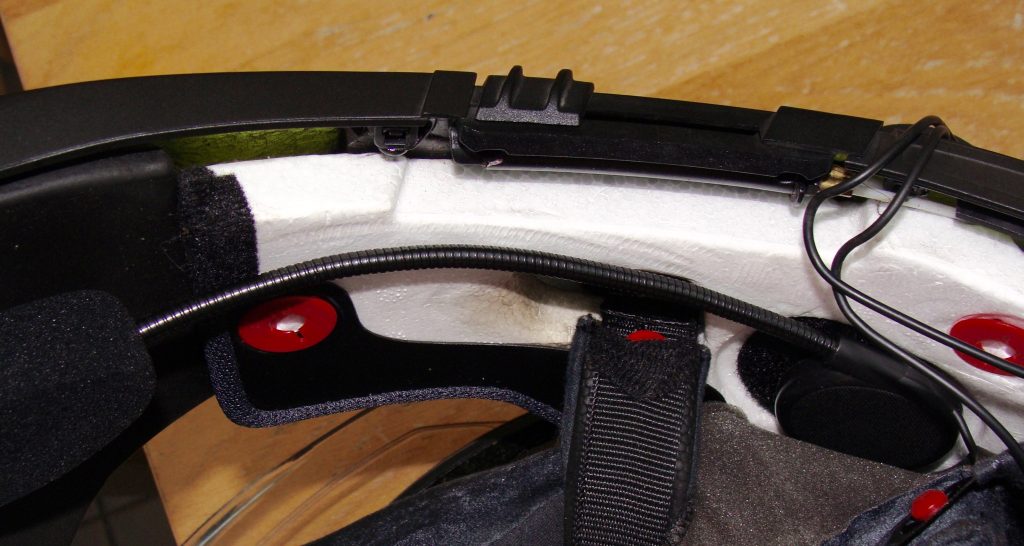 Some helmets have a dedicated recess to stick the earpieces in, for example, the Shoei Neotec. This is very handy, but because the microphone boom comes out from the side of the earpiece, it can hinder such a depressed mounting.
The final setup step is the pairing of the intercom to one another and to your Bluetooth phone and/or SatNav. This was the usual button holding combo shenanigans one expects, but thankfully the manual explained this well in pretty decent English. Pairing with our old HTC One phones, new Samsung and Motorola phones and a Garmin SatNav posed no issues.
Testing Clarity of Motorcycle Bluetooth Communications
…but above 50mph wind noise started to drown out the headphones making it tricky to decipher voice or identify songs.
On the road, I found the T-COM VB intercom performed surprisingly well. The sound quality was perfectly acceptable. The dials and buttons on the intercom were easy to use while on the move and with gloves on, that is, once you remember which button to use. Volume is controlled by turning the jog dial and holding it. This could be a little awkward whilst on the move, but OK. The volume range is not huge, with minimum still just audible and the max not so loud as to deafen. Below around 50mph, all was clear and easily audible, but above 50mph wind noise started to drown out the headphones making it tricky to decipher voice or identify songs.
Mary and I particularly enjoyed the rider-to-rider intercom function, definitely a novel experience being able to chat throughout an entire ride out. Even if a quick button press starts or stops chat, we'd just keep the channel open and just chat away.  With the SatNav hooked up, it would interject with directions, but continue the open chat channel afterwards, the other rider just gets a couple of beeps to indicate such. Definitely a bit annoying if you're riding through a few junctions and your SatNav is blurting out lots of directions one after another. However, it's probably a bit much to expect multiplexing of multiple audio sources together at this price point.
We encountered no issues with range, haven't checked if they manage exactly 800m, but we only had them cut out once when I left Mary at a red light and carried on for half a mile round a few streets back home. The intercom channel audible deteriorates as you hit the limit of the range, rather than just suddenly cutting out.
I also found most radio stations way to chatty or full of commercials and plain distracting when riding.
The FM Radio function is a nice extra, activated with a button press combo and then using the jog dial to seek between stations. To be honest, the reception can be hit and miss, with static often creeping in. I also found most stations way too chatty, full of commercials and plain distracting when riding.
Slapping on some decent tunes via my phone was definitely preferable. The T-COM headset gave very reasonable playback via the standard A2DP Bluetooth standard and a quick spin of the jog dial, skipped boring tracks. There was the occasional momentary cut out, which seemed to coincide with pulling up at red lights along with side traffic, so I suspect it was down to interference with other nearby devices.
Reliability
One of the original intercom pair I purchased developed a fault after about 18 months where it would not pick up any audio from the mic. Due to their low price, I simply brought a single replacement which has worked fine ever since.
As for battery life, I've no complaints at all, we've still yet to experience them running flat whilst out. Even with rider-to-rider chat non-stop on a 4-5 hour ride out, listening to music or using a SatNav for an 8-hour ride to North Wales. Edit: 4 years later, I am finding battery life on our oldest intercom is not as long as it once was, and it will cut out after around 6 hours of solid rider-to-rider chatting. It does, however, give you regular audible beeps to indicate it's running flat, which is handy so you can stop chatting to conserve the remaining battery life.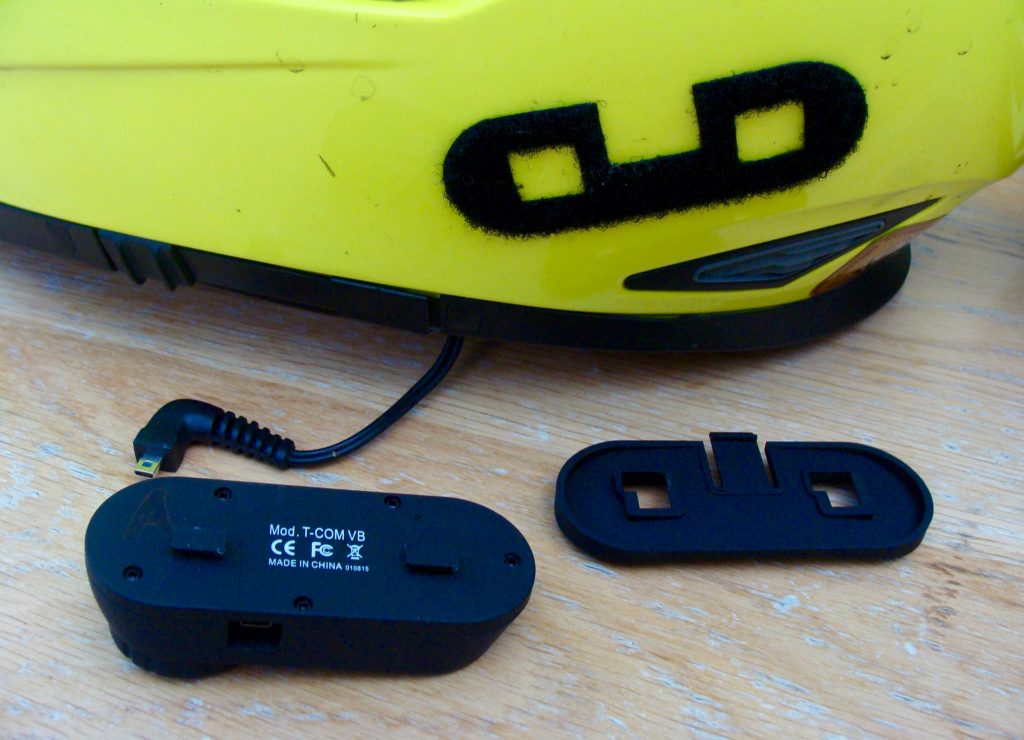 One aspect that has been annoying is the Velcro to attach the intercom to the helmet, which over time begins to fail. Numerous times they have fallen off at speed! Thankfully the cable has acted as a tether so I've not lost them. As a replacement, I just opted for a reel of generic sticky back Velcro which I've cut to the appropriate shape, which works out cheaper than being the specific replacement mountings.
Freedconn Intercom Review – Conclusion
Overall, it's really hard to fault the T-COM VB Bluetooth helmet intercom kits for the money. At £20-25 each, we're basically talking beer money, for a really useful motorcycle Bluetooth communications gadget that performs pretty decently. Even if the built battery life starts to suffer in a couple of years, I wouldn't think twice about buying another. Ditto, if I lost the stupid proprietary charging cable, just as cheap to buy another whole intercom. In perspective, even a replacement battery for a Sena intercom will set you back £35! As such, the Freedconn T-COM VB is a great Bluetooth headset for motorcycle helmet at a great price.
Rating 5/5.