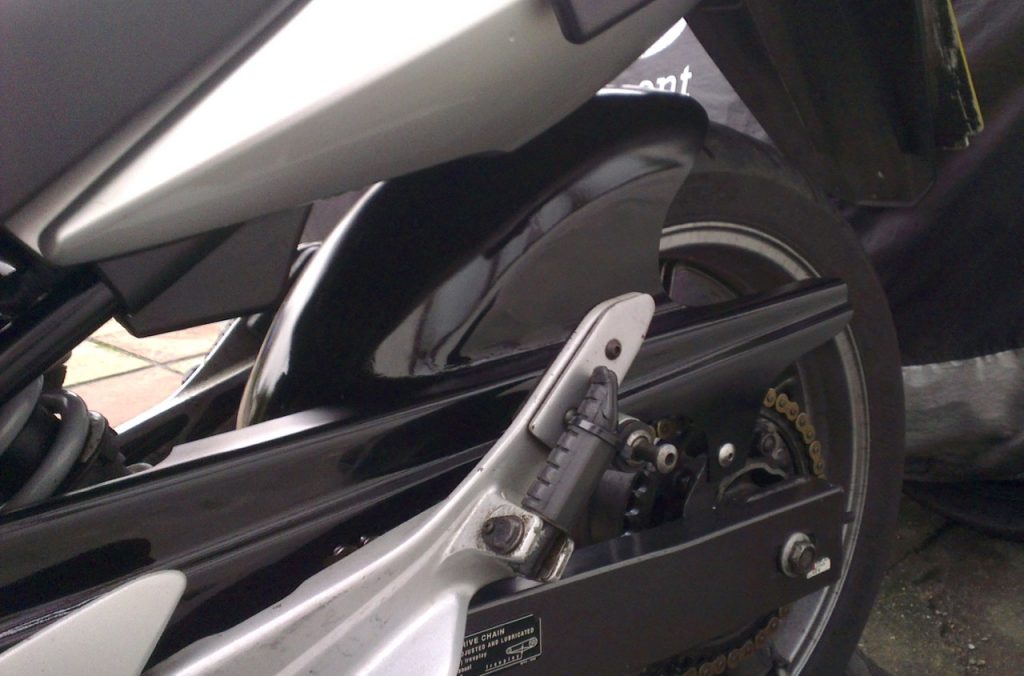 Following the absolute nightmare I previously had removing the rear shock from Mary's CBF500, I was adamant not to let the newly refurbished shock also get ruined by the elements. By default Honda, in their infinite wisdom leave the shock completely unprotected from the rear tyre and all the curd and wet it flings up into the wheel arch – yeah, nice one. A rear hugger is a perfect solution to help keep the swingarm, shock and most of the wheel arch protected.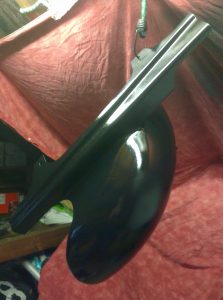 I picked up this cheap fibreglass hugger off eBay, reduced due to minor (but hardly noticeable) cosmetic defects. It arrived already primed, so I set about spraying it with some gloss black and lacquer rattle cans. It took a few layers and much sanding with wet'n'dry paper, but I finally got an acceptable finish. It's always hard to get a really good finish with rattle cans.
Fitting was straightforward, but space in the wheel arch was cramped and to position the hugger in place, I had to unbolt the shock and jack the bike right up. I figured this was easier than removing the rear wheel. One mounting bolt hole was a couple of millimetres off but easily remedied with a small file.
All in all, this hugger should do a good job keeping the worst of the winter weather at bay. However, in hindsight, even though I picked this hugger up cheap (£35), the cost of sandpaper,  paint and lacquer mounts up (~£15) and I think paying a bit more for a solid ABS plastic one would have been less hassle and a better bet. For example, M&P is selling a plastic Red Fox hugger for £65 and a Pyramid Plastics one is about £70.