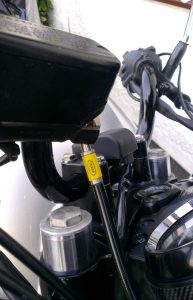 The front brake on Mary's CBF500 had been feeling a bit spongy since we bought it and just didn't inspire much confidence. At first, we dismissed the poor stopping power due to a single disc and two pot caliper with some basic organic pads in. But no, it was most definitely spongy with either old fluid, air in the system or duff rubber hose.
Since I was planning to drain the brake fluid, replace and bleed the system, I picked up some Hel braided hose to fit at the same time. With just one line to one caliper, replacement hose would be cheap and didn't make it worth my while not changing them at the same time. With some forum discount codes floating around, they came delivered directly from Hel for £23 – bargain! Although I was a little boring and just opted for basic black lines with default silver banjos, rather than any of the multitude of other colours they are available in.
The hose fitting was a doddle, all bolts and banjo joints fitted perfectly. Bleeding took a little more effort and some persistence, to finally expel all the air bubbles out of the system. The results were much better though, brakes with a nice solid bite
Hel braided brake lines definitely get my recommendation. I've been using them on my Fazer for the last year and now they've vastly improved things on Mary's CBF.