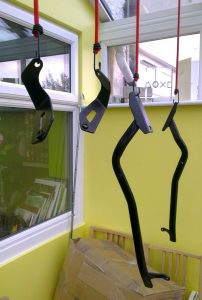 Apologies it's been a bit slow around here, been suffering from some broadband issues which have hindered updates and have been off the bike away with family for the Christmas/New Year period.
Progress lowering Mary's CBF500 has been good, but slow. Rear shock refurbished, shortened and refitted, front forks dropped, low seat sourced (NOS genuine Honda one found!) and dropped bike off at a local workshop to shorten side stand today. Along the way, I hit some issues with the wiring loom full of water and a join corroded away, requiring some patching up. 🙁  Watch this space for a full low down on lowering the a CBF500.
Plenty of new accessories have been purchased ready to fit to the CBF500 though: Givi rack, Acerbis hand guards, rear hugger and crash bars. Also picked up better looking front fender and fuel tank cheap to replace the current ones with a little cosmetic damage. Almost all bits have been sourced cheap second hand, some needing a lick of paint to tart up, definitely going to be a commuters hack / rat bike!
Overall, progress has been slow due to no garage and crappy weather, allowing me to only spend a few hours working on the bike at weekends. Nevertheless, Mary should be commuting into the city on the bike later this month, fingers crossed.
Mary also treated me to a Drift Stealth 2 camera, definitely better than my old Roadhawk Ride. So I hope to get round to some new videos published later this year.