Back home after tiring day walking around the London MCN Show down at the Excel centre. Pretty local, so seemed a good plan, however in hindsight it's debatable if taking the two kids was also a good plan. Much moaning, whining, squabbling and numerous toilet stops later, we're feeling pretty damned drained!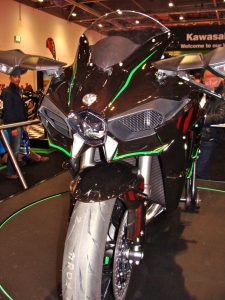 The MCN show is not huge, certainly not a patch on the Brum show at the NEC, but still visited by all the main manufacturers; Honda, Yamaha, Suzuki, Kawasaki, KTM, BMW, Ducati, Harley, Victory, Moto Guzzi. There was also an Ariel stand, some Lexmoto and Peugeot scoots on show too. No Royal Enfield's this year though. No brand spanking new releases unveiled, but it did give me chance to check out first hand the new Yamaha R1 and Tracer, the Kwak H2 (No H2R on display though).
There were many stalls showing off and selling their wares, but no massive bargains to be had. The age of internet shopping makes everything else seem expensive in comparison. In fact, we didn't bother buying anything at all! It was still good to check out various products first hand though.
Being a Fazer rider, it was interesting to check out the new Tracer that will replace this line. Can't make my mind up on the styling, also seemed very wide, I envisage many car mirrors being taken out by the huge lever guards when filtering in London.  However I loved the styling on the MT-09 Street Rally. Mary was very taken by a BMW F700GS, in particularly one with the lowering options, which let her almost put her feet flat (unheard of on anything other than 125's and cruisers). The new Ducati Scrambler ticked the boxes style wise, will be interesting to see how this sells against eh Triumph Bonneville Scrambler. Kawasaki were showing off their new H2, but no touching. Impressive, but definitely not an everyday bike and £22K.
It was also cool to see a few motorbike celebs, talking, riding, or just mooching about: Carl Fogarty, John McGuinness, Chris Walker, Henry Cole etc. There were a few Lyrca clad booth babes for the manky old bikers to leer over, but fewer than last year.
Overall, worth a half day visit. Check out these few snaps from the show.