In London, I use my horn a lot (ooh-err!) As such, I found my standard horn a bit inferior and decided to pimp it for a large and loud motorcycle air horn that everyone would make everyone sit up and take heed of (ooh-err!)
Enough of the double entendre's, let's get down to business with this Stebel Nautilus Compact air horn. Hailing from Italy, Stebel has a well-established reputation for producing quality horns that make a lot of noise. Their Nautilus horn has been around for a number of years and is popular for its convenient size and noise, but even better, they have this Compact version which is perfect for motorbikes.
I purchased my Stebel Nautilus Compact off eBay a few months ago from a seller in the Netherlands who supplied it as a kit with all the necessary wiring, connectors, relay etc. I paid just under £40 including postage – bargain!
Thankfully, the Fazer has plenty of space within the bikini fairing to accommodate the horn. I have however seen others who have split the horn in two to ease mounting and connecting an air pipe up between halves.
My first job was making a specific bracket for the horn. I used a length of drawn steel (from B&Q), which I then cut, bent and drilled accordingly. I recommend making a template from a piece of card first and do make sure your chosen position doesn't hinder the forks when turning… Once I had the right shape, I gave the bracket a lick of Hammerite to keep it rust-free.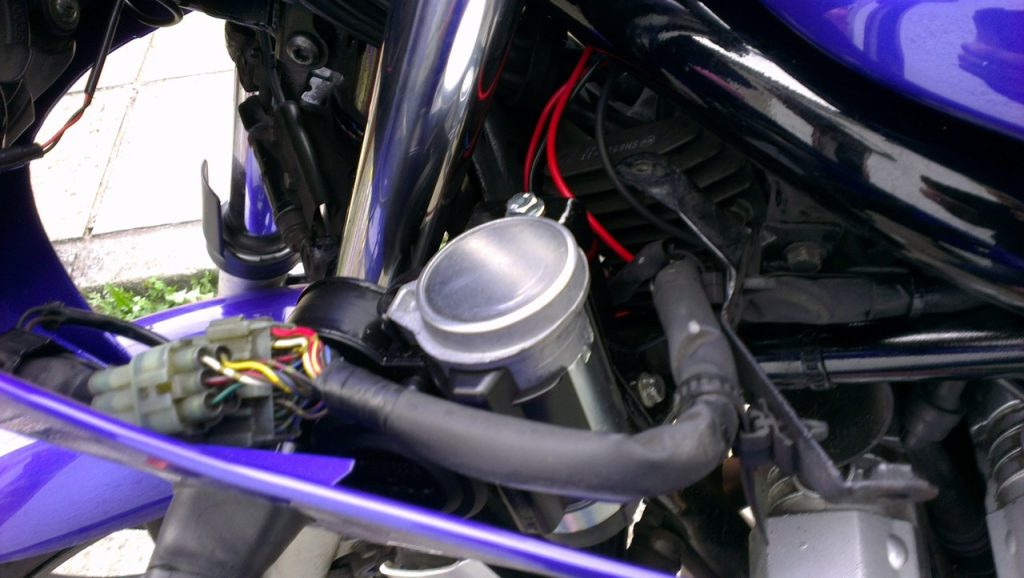 The next job was wiring. To get the most out of the Nautilus you need to power it directly from the battery via a relay hooked up to the original horn switch. This is nowhere near as complicated as it seems. The relay (hidden behind the rectifier in the above photo) has four connectors, two go to your existing horning wires, one to the battery live, and one to a suitable ground. By default, the Stebel Nautilus is not supplied with any wiring, but many sellers will bundle it with all you need, just double-check. Wiring diagrams are also supplied for wiring the Nautilus in parallel with an existing horn if you so desire.
And here it is, the finished horn all fitted. My fairing does partly obscure the horns but isn't enclosed enough to affect the sound much.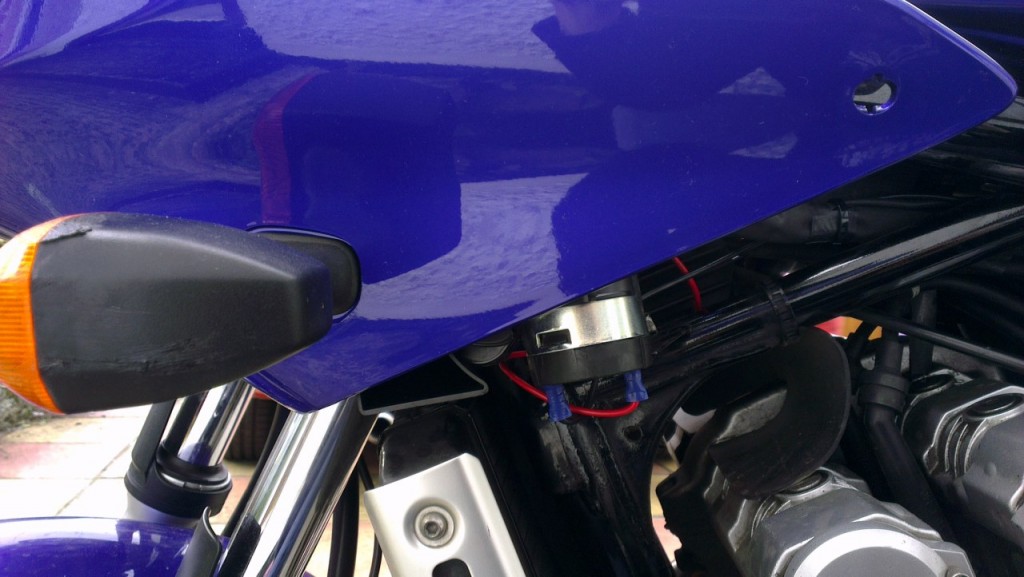 How does it sound? It's definitely loud, certainly louder than the stock Yamaha horns. With a reputation of being one of the loudest horns out there and an on-paper spec of 140 dB, I was, however, expecting a little louder to be honest. It is however only rated at 140dB at 4″ away, at 2m it's just quoted at 115 dB. I think it's just a case of overly exaggerated expectations. Being an air horn, it has a very distinctive sound too. Below is a video of the Nautilus in action, showing exactly why it's an invaluable gadget.
Stebel Nautilus Review Verdict
Overall, the Stebel Nautilus is definitely a worthwhile mod that is fairly cheap and easy enough to fit. Barely a day goes by in London when I don't have to resort to this horn and I genuinely believe it has saved my ass many a time. As such I can highly recommend it.
Rating 5/5
More info on the Stebel Nautilus Compact is on the Stebel website.