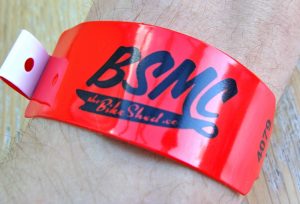 At the weekend the Bike Shed MC were hosting their annual show down in Tobacco Dock, East London, having outgrown their usual Shoreditch haunt. The event was a huge showcase of the best custom bikes, cafe racers, cruisers, bobbers and other random hand built two wheel mayhem. The weather was lovely, but unfortunately this was a family outing, so the bike remained at home. But that didn't stop hundreds of other bikers descending and enjoying the chilled out atmosphere. But I couldn't help wondering if I'd fit in better with a well trimmed beard, waxed moustache and a full sleeve tattoo. A peculiar blend of '50s rockabilly and Chap was very much in vogue.
I couldn't help wondering if I'd fit in better with a well trimmed beard and waxed moustache…
It was good to check out all the funky bikes, even if I'd be hesitant to take any out on the streets of London myself, style over substance seemed to pervade in many instances. Knobbly tyres and Hessian wrapped pipes are definitely this seasons look. Front mudguards are optional and the more belts on show the better.
Hope you like the snaps of all the best bikes we saw. The kids pinched my camera for most of the show as they were getting a bit bored, so please excuse the odd framing or any not quite in focus. They were pissed they couldn't sit on all the bikes like at the last show we went to!
Seasoned London commuter, doing my best to stay rubber side down and never stop moving forward.