Today I'd like to address the things that you need to have with you when you are taking your motor cycle off for a long haul excursion.
There are five things that I think are absolutely essential if you are going to hit the road to take a trip.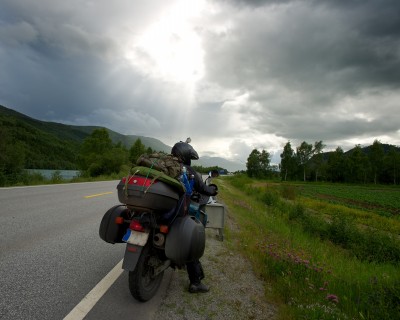 Camera
Whether it's a video camera or a still camera, it's always good to take a camera with you so you could preserve the memories that you find out on the road and that at the final destination with those who didn't get the grand opportunity with you on your trip.
Water
Water is essential of life and if you leave home without it, it's a sad sad day. You can take water in a water bottle if you got room to carry it in your saddle bags. You can take a hydration pack as soon it seems many miles. Or, if you are wearing some side of jacket that has armour in the back, you have got a pocket to store bladder with a hose that can come up to the neck. Water simply is one of the most important items you can take with you on any long haul.
Tire Repair Kit
The next thing I'll like to talk about is tire repair. Tire repair is very important. This progressive kit is a really neat unit. You've got plugs, patches and a little bit of seal. Just enough to get you to the next place. You can have a professional take a look at your tire.
This slime kit is an excellent choice if you don't want to remove your wheels from the motorcycle. You pump this slime in, you air it up with the mini compressor and you should be able to get to your next destination.
Tool Kit
Another thing that I really believe in is a tool kit. Not just an average tool kit but a tool kit specific for your motorcycle. Cruise tools makes great units for metric, Harley and sport bikes. They give you the tools needed to make essential motorcycle repairs on the road. Not too little, not too much.
Fuel
Last and definitely not least, fuel. You won't get very far without it! Learn the range of your motorcycle and learn to work with it. Try and fill it up before embarking on your trip and always err on the side of caution.
These are the items I personally take with me when I hit the road if you think I've left anything out please feel free to let me know in the comments.