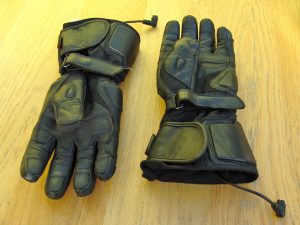 Sods law. Weather turns cold again and my lovely Gerbing's XR12 Hybrid heated gloves pack up again. 🙁
As great as they are, I'm really beginning to have doubts about their reliability. Bought them new in November (4 months ago). Two months in, one controller had an intermittent connection fault. Last week the spare controller I purchased, has started exhibiting the same problem. One hand keeps cutting in and out at random.
I dig out the replacement controller I was sent, but this one randomly won't turn on, just flashes blue when you press the button. Apparently this means it's getting a feed of less than 11V from the battery. OK, but why then does the other controller still turn on? And why does it start doing this after a long run and momentarily stopped for a refuel?
So I persisted with that for a week, but now my left hand glove won't heat up at all. From neither controller or either wire on each. 🙁
Have sent the whole lot back for replacement. But in the meantime, it's barely above freezing out there, I've reverted to my Alpinestar Jet Road gloves with wooly gloves underneath and still getting numb fingers after 5-10 mins on the road. I'm hoping they won't take too long to send out replacements, they turned the last controller around in a couple of days. However I've lost a lot of confidence in the Gerbing's. Don't get me wrong, they're great when they work, but when you're paying top dollar, they need to work for more than a couple of months…
Seasoned London commuter, doing my best to stay rubber side down and never stop moving forward.