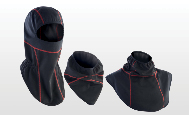 This week Aldi supermarket are doing lots of basic motorcycle gear cheap. Pop by and check it out. Details of what's on offer can be found here.
My wife had a quick look, came back with a couple of different neck tubes. Seem reasonable, though not super thick, but very cheap. They also have some Kevlar trousers, but very thin denim and minimal padding on knees only.
Still, you might find something useful.