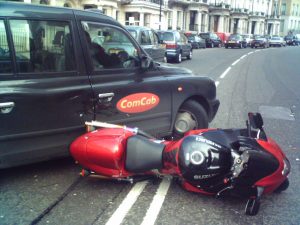 Close shave this morning. Filter through the Limehouse Link, between two lanes of traffic doing around 10mph. Suddenly an Addison Lee minibus suddenly swaps lanes right in front of me. His indicator blinked once before he had moved across. I hammer the horn and swerve to his left, to find him, moving back over to the left lane. Luckily escaped with just a clip of the mirror. Fucking moron.
Be warned Taxies, be they black caps, private hire or whatever, are often the most dangerous of drivers on the streets of London. Often behaving unpredictably and erratically, with little or no indication of what stunt they're about to pull. Watch out for:-
Sudden U-Turns, be it across you, or from opposite direction into you.

Sudden lane changes.
Sudden stopping and starting.
Give them all a wide berth and treat with extreme caution…